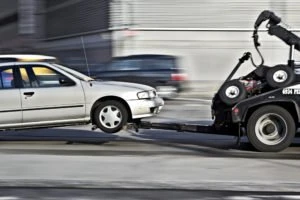 Tow trucks are frequently seen across the State of Florida. These trucks are used to help move vehicles that have been immobilized. For example, they can move a vehicle that has been damaged, impounded, or parked unlawfully. Commercial tow trucks are often a welcome sight. However, sometimes they are involved in motor vehicle accidents. The injuries and damages sustained in a truck or car accident caused by a tow truck are typically very severe. The irregular shape of a tow truck makes them very dangerous in truck accident cases.
If you or a loved one has been injured in an Englewood tow truck accident, you may be able to claim financial compensation. An Englewood tow truck accident lawyer near you will be able to help you with your accident case. If you contact our law firm, you will be able to schedule a free consultation with one of our personal injury lawyers. They will be able to advise you with your best legal options.
At The Law Place, we have practice areas all over the State of Florida. Our law office is open 24 hours a day, 7 days a week. If you have suffered injuries in a crash, contact us today to schedule your free case review at (941) 444-4444.
What Are Englewood Tow Truck Accidents?
A tow truck accident in Englewood, Florida, can leave victims suffering incredibly serious injuries. Tow trucks are complicated pieces of machinery, and when they are involved in a truck or car accident, a great deal of harm and damage can be caused.
For example, tow trucks have very complicated mechanical systems that can cause major complications that can cause a truck accident if not managed properly. If the tow truck cable that is connected to another vehicle is defective or not used correctly, there is a great risk that the car could become free from its restraints, endangering other road users. An Englewood tow truck accident can also occur when a truck driver fails to properly connect the braking system of the towed car or vehicle to that of their truck.
A commercial tow truck accident of this nature in Englewood is not uncommon. If you or a loved one has suffered injuries in a truck accident, the accident lawyers at our law firm will do all they can to ensure that you win the financial compensation that you deserve. Don't hesitate to give us a call today for some free legal advice in a free case evaluation.
What Are the Different Types of Tow Truck Accidents in Englewood?
Our legal team has worked on countless accident cases and has helped many people achieve the justice that they are entitled to. From our experience, we have found that some of the most common types of accidents involving trucks in Englewood, Florida, are:
Rear-end collisions.
Head-on collisions.
T-bone collisions.
Sideswipe collisions.
Underride collisions.
Regardless of your type of accident, if you have been involved in a crash, truck accident Englewood Attorneys at our law firm will be able to help you with your case.
What Are the Causes of Tow Truck Accidents?
A motor accident in Englewood can occur for a range of reasons. Some of the most common causes of commercial tow truck accidents in Englewood, Florida, are:
Distracted driving.
Reckless driving.
Disconnected vehicle.
Poor weather conditions.
Poor vehicle maintenance.
No matter how your accident or why your accident occurred in your case, if you have experienced harm through no fault of your own, the chances are that you will be entitled to compensation. Phone a lawyer at The Law Place today to find out how we can help you.
Who Is Liable in a Tow Truck Accident?
The National Highway Safety Transportation Administration (NSHTA) has published data reporting that every year in the United States, approximately 4,000 fatal accidents involve large trucks. This is a truly staggering number of cases. The attorneys in our legal team will wish to determine liability when they begin work on your case. To prove liability, an attorney will need to prove that a truck driver's duty of care was breached.
There are a great number of parties who could be responsible for your case. An attorney will try and seek financial compensation from the negligent party's insurance company, and they could be:
The truck driver.
The trucking company.
The mechanics.
The truck manufacturer.
A government body or organization.
If you want help determining who the liable party is in your case is, call a truck accident lawyer at our law firm today for a free case evaluation. Don't let a negligent truck driver get away without facing just consequences.
What Are the Most Common Injuries Suffered in a Tow Truck Accident?
There are a variety of injuries that people can suffer in these accidents. No matter how serious or how minor you may think your injuries are, we highly recommend that you seek professional medical attention. Our attorneys can help you recover any medical costs in damages from your insurance company later on. Some of the most common injuries suffered include:
Spinal cord damage.
Traumatic brain injuries.
Back injury.
Broken bones and fractures.
Lacerations, cuts, burns, and bruises.
Internal bleeding.
Internal organ damage.
What Damages Can I Win Following an Englewood Tow Truck Accident?
If you have been injured and in a truck crash in Florida, you must seek medical attention immediately. Your health is very important. Don't worry about the medical expenses. The lawyers in our legal team can help you file a personal injury claim for compensation. Your accident case may be eligible to recover the following in compensation:
Medical bills.
Pain and suffering.
Property damage.
Lost wages.
Reduced earning capacity.
If you are curious to discover how much your truck or car accident case may be worth in compensation, call our accident lawyers today at our office. They will be able to examine your crash by gathering all of the necessary evidence. This can include medical reports, police reports, wage slips, and much more.
Do I Need to Act Quickly?
You must seek legal advice from a personal injury law firm as soon as you can following your accident. Florida's legal statute of limitations is outlined under Florida Statute 95.11 and states that accident victims have four years to file a claim for compensation following their accident. It also states that families only have two years to file a claim of wrongful death if they have lost a loved one in an accident.
This is really no time at all. If you don't act quickly, you risk your case being barred and you being unable to ever claim.
Phone to Schedule Your Free Consultation With The Law Place Today!
The laws in Florida can seem daunting and complicated, but we can help you navigate them. If you have suffered an accident, we can help you achieve some justice. We understand that no amount of money will ever replace your pain and suffering, but we can help lessen some of the financial stresses and burdens you may be facing.
We have practice areas all over Florida, so no matter where you have suffered your accident, a lawyer at our firm can help you with your case. Contact our attorneys at our office now to schedule your free consultation at (941) 444-4444.