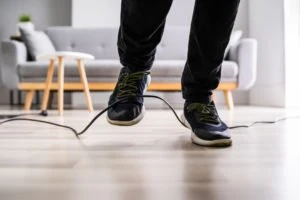 Over a million slip and fall accidents occur all around the State of Florida every year. From unsafe premises, wet floors, trip hazards, and inadequate signposting of risk, it seems that slip and fall hazards are everywhere.
If you've suffered an injury at the hands of a negligent property owner due to a slipping or tripping hazard, you should contact The Law Place today. No matter the size or scope of your case, we'll be able to provide sound legal advice, help you to understand your options, and support you through this difficult and uncertain time.
We have a great deal of case experience within all areas of personal injury law, including premises liability, medical malpractice, motor vehicle accidents, boating accidents, and more. So, we're confident we can help you to achieve the maximum compensation amount for your case.
Book your free consultation with one of our Englewood slip and fall lawyers today on (941) 444-4444.
Slip and Fall Cases in Englewood, Florida
The most common causes of slip and fall injuries in the State of Florida as a whole include:
Spillages that have not been properly sign-posted.
Slippery or wet floors such as wooden decking or swimming pool areas.
Poor weather conditions.
Unclean or cluttered premises with trip or fall risks such as uncovered wires.
Muddy areas that become slippery due to rainfall.
For this reason, it is likely that a slip and fall case can occur in premises in Englewood such as:
Public and private pools.
Bars and nightclubs.
Restaurants.
Supermarkets and stores.
Workplaces.
What Are Your Rights if You've Been Involved in a Slip and Fall Incident?
Your rights in an Englewood slip and fall accident depend on the type of property you fell in as well as your relationship to that property. Your legal rights could be affected depending on whether you are:
An invitee – If you are an invitee, you have been directly invited to enter a property by the property owner, for example, if you are invited into somebody's home or if you enter a building to fulfill its desired purpose, such as a grocery store.
A licensee – If you are a licensee, you have entered a property without being directly invited, or you have used the property for something other than its intended use – for example, if you enter a store to use the bathroom without purchasing anything.
A trespasser – If you are a trespasser, you have entered a building site or premise without any permission or when specifically forbidden to do so. This could be the case if you enter an area marked 'no trespassing' without permission or if you break into someone else's home.
Who Can Be Liable for a Slip and Fall Accident?
If you've suffered an injury from an Englewood slip and fall accident, your lawyer will work to determine who could be liable to pay for any damages caused.
Liable parties could include:
A property owner – A property owner could be liable if they did not clean up a spillage, did not signpost a wet floor or were aware of a potential slip and fall risk without acting to prevent it. A property owner could be someone who owns a public building or could be a homeowner whose premises you slipped in.
An employee – An employee or individual could be responsible for your accident if they disobeyed company protocol for slipping or tripping hazards which led to an accident.
An employer – If an employer-provided unsafe working conditions resulting in a slip and fall accident, you could be held liable to pay for damages. They could also be liable if one of their employees caused a slip and fall risk, but correct protocol or training was not in place to deal with and signpost these hazards.

You – If you have trespassed on a property or are an invitee who behaved unsafely within a premise, you could be held liable for causing your own accident.
Comparative Negligence for a Slip and Fall Accident
In some cases, it may be possible for someone who has become injured by slipping or falling to have contributed to the accident. This could be the case, for example, if:
You slipped on a wet floor next to a swimming pool, but you were running (when signs at the pool forbade this).
You tripped over some exposed wires, but you were in an area of a public building where you were not allowed to be.
You trespassed on a dangerous area closed to the public, such as an active construction site.
In the event that an accident victim causes or contributes to the accident has occurred, Florida's Comparative Negligence rule will become applicable.
Under this law, total damages for a slip and fall case in Englewood, Florida, will be reduced based on your share of fault. You can still claim as long as you are less than 50% at fault, call today to find out more.
How Can an Englewood Slip and Fall Lawyer Help Me?
Many victims of slip and fall accidents do not pursue legal action because they don't think their incident was significant enough. However, it's always a good idea to receive legal advice as it is very likely that you would benefit from the help of an attorney.
An experienced Englewood attorney from a reputable Florida law office will be able to help you by:
Proving Negligence
The first thing that an Englewood slip and fall accidents lawyer will need to do in order to determine whether or not your case is viable is to prove that some type of negligence occurred. For this to be determined, your lawyer will need to prove:
The property owner, building owner, or employer owed you a duty of care – This means that they were responsible for acting in a legal manner and ensuring your safety was not endangered. This could be done, for example, by signposting slip and fall risks.
This duty of care was breached – Whilst the responsible party owed you a duty of care, they did not follow this either by breaking the law or by using inadequate safety measures.
A slip and fall accident occurred, resulting in an injury – Your personal injury lawyer will need to collect sufficient evidence that an accident did actually occur. This could be done by using surveillance footage or by interviewing eyewitnesses.
This accident and injury occurred as a direct result of a breach of duty of care – In a premises liability case, it will need to be proved that any injuries caused are directly linked to this breached duty of care rather than occurring due to another factor such as carelessness or recklessness on behalf of the accident victim or another outside factor.
Pursuing Compensation
By working with a slip and fall lawyer who also specializes in personal injury, you'll be able to either pursue a personal injury claim against the at-fault party or take them to court for trial by a jury.
If your case is successful, you could receive compensation for damages such as:
Pain and suffering
Lost wages in the short-term whilst you are recovering from injuries as well as through long-term absence from work due to disability.
Medical bills including ambulance travel, X-rays, diagnostics, and associated health care costs, such as medication and rehabilitation.
Defending You in Court and Reducing Liability
If any property owners are claiming that you were partially or fully to blame for your slip and fall injuries, you could be facing some level of liability. This could potentially affect the level of compensation you could be entitled to and could even mean that you might be liable to pay for any property damage caused by the accident.
For this reason, it's important to work with an experienced Englewood slip and fall lawyer. Your lawyer will be able to build a strong defense in your favor whilst also building an argument to hold the person responsible for your accident accountable. This will help make sure you receive the right level of compensation for your case.
Contact The Law Place
Slip and fall injuries can have devastating consequences for those who suffer them and can even cause permanent damage to the spine, the neck, and even limbs. If you've been involved in an Englewood slip and fall case, you should never assume that you should simply suffer your injuries in silence. You could be entitled to receive compensation, no matter the size or specifics of your accident.
Here at The Law Place, we work with clients just like you all over Englewood and the wider State of Florida. We support those who have suffered a personal injury through the legal process, giving invaluable guidance and advice to make sure they get the compensation they deserve and to hold property owners accountable for their negligence
With the help of one of our Englewood slip and fall lawyers, you could be entitled to receive payment for damages, including lost wages, medical bills, pain and suffering, and more.
So, don't hesitate. Get in touch with our law office today at (941) 444-4444.