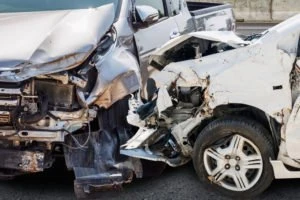 Truck accidents can be catastrophic, and, sadly, in most cases, they are caused by driver negligence. According to The Florida Department of Highway Safety and Motor Vehicles (FHSMV), truck accidents account for 1 in every 10 highway crashes nationally.
Truck accidents in Englewood typically occur at intersections, which are a common feature of Florida's roads and highways. Intersections have their own stops signs and lights, and these come with their own set of dangers. Accidents happen at intersections when drivers fail to yield, give right of way, speed, and run red lights – all of which are extremely dangerous actions.
If you or a loved one have been injured in a truck accident at an intersection in Englewood, then it is a smart idea to seek advice from an experienced truck accident lawyer at The Law Place. Our dedicated team of lawyers has over 75 years of experience between them.
To find out if our law firm can help you secure compensation for your damages, contact us now at (941) 444-4444 for a free consultation.
Why Truck Accidents Cause More Damage Than Other Motor Vehicle Accidents
Commercial trucks are very large in size, and 18-wheelers and dump trucks are some of the largest trucks that can be found on the roads of Englewood. This means that when an accident involving one of these trucks occurs, serious damage is likely.
The large and heavy goods that they transport make them even larger and more dangerous. Because they are so heavy, they need a longer amount of time to break. So when another vehicle suddenly brakes in front of them, it is difficult for an accident to be prevented.
Trucks also have big blind spots, and this can cause accidents when the truck driver attempts to change lanes and can't see a smaller car or truck on the road.
Victims of truck accidents are often eligible for large personal injury settlements because of the serious damage trucks can cause. Call our law office today for a free case review.
How Do Truck Intersection Accidents Happen?
Although the rules at intersections are made clear to all motor vehicle users, many drivers, for one reason or another, do not abide by these rules, and this leads to accidents. Reckless driving behavior at an intersection can cause a T-bone accident or even result in a head-on collision, both of which have the potential to cause serious injuries and even fatalities.
Factors that may lead to an Englewood truck accident at an intersection include:
Negligent driving – Any form of dangerous driving such as road rage, improper lane changes, and cutting off other drivers has the potential to cause accidents. Speeding, driving while distracted, and road range are all just some examples of

negligent

driving.
Failure to obey traffic signs and signals – When a driver speeds past a stop sign or runs a red light, they put others on the road at serious risk of harm.
Driving under the influence (DUI) – Alcohol, drugs, and other controlled substances slow down reaction time and hinder a driver's ability to drive safely. Therefore, if they drive under the influence, they increase the risk of an accident.
Improperly trained truck drivers – Trucking companies are responsible for sufficiently training their drivers and checking the driving record of anyone they employ. They could be held accountable for accidents if they failed to do so, and this led to a collision.
Driver fatigue – Truck drivers work long hours to meet deadlines and often skip essential rest breaks. If they are fatigued at the wheel, this can cause serious accidents.
Rushing – Truck drivers are often under a lot of pressure and rush to make their deliveries on time; this causes them to speed and drive recklessly, which can lead to accidents.
Improperly loaded cargo – Issues can arise if the truck's cargo is not secured properly or if the truck has been overloaded. If cargo spills onto the road or the truck is off balance, there is little that can be done to prevent a truck accident.
Poorly Maintained Trucks – Commercial trucks require regular and thorough maintenance. Their safety systems, tires, lights, brakes, and axles should all be checked to avoid mechanical faults that could cause an accident.
Failure to yield the right of way – If a truck driver pulls out into oncoming traffic or makes a sharp and sudden left turn, and they cut off another vehicle, this can cause a T-bone collision. A car accident like this usually happens without warning, and at high speeds, making them one of the most catastrophic types of accidents.
Weather conditions – Water puddles on the road can cause trucks and cars to hydroplane, which makes it difficult for them to stop at an intersection. Heavy fog can reduce visibility, making it difficult for drivers to see other vehicles, signals, and road signs. There is little a driver can do about bad weather, but they should adjust their driving accordingly, slowing down and giving themselves more time to break.
No matter what the circumstances of your Englewood truck accident were, you could be owed compensation for your injuries. Call The Law Place for a free consultation to find out more.
Filing Personal Injury Claim in Englewood
Because Florida is a no-fault state, as per Florida Statute 627.740, all drivers are required to have personal injury protection (PIP) insurance. This means that even if you were not at fault for the collision, you still need to file a claim with your own insurance company for your damages. A qualified accident attorney from our law firm can handle this for you and ensure that you are awarded a fair settlement.
Depending on your policy, insurance companies will usually cover minor injuries and award you a certain amount of compensation. In the case of serious injuries, Florida law does allow victims to claim against the negligent party in order to cover the full extent of their damages. A personal injury lawyer from our law firm can make a claim for damages such as:
Past, current, and future medical bills.

Lost wages and any future loss of earnings.

Wrongful death.
To find out more about damages that you could claim following a vehicle accident in Englewood, call The Law Place for a free consultation.
What Will a Tampa Truck Accident Lawyer Do for Me?
If you have been involved in an Englewood commercial truck accident at an intersection, the trucking company will typically send out their own crash scene investigator. They will look for ways to avoid fault and reduce their liability. A skilled lawyer from our law offices can get started investigating your case straight away. They will:
Respond Quickly
We will conduct an investigation into your case straight away. We will gather valuable information from the scene, contact witnesses, and collect other relevant evidence.
Inspect the Vehicles
If you contact us straight away, we might be able to investigate the vehicle before any repairs are made, or the vehicle is destroyed. We will take pictures of the damage, which will give us clues about how the accident happened. We will also request data from the truck's black box.
Consult With Experts
Testimony from witnesses and those involved in the accident can vary and prove to be unreliable. This is why we consult with reconstruction professionals who can analyze the crush damage, roadway conditions, and other circumstances of the crash.
Liability in an Englewood Truck Accident Case
Truck accidents are typically very complex. It is difficult to work out where the fault really lies in these cases. A number of different parties could be held responsible for the accident, and all of them could be liable in some way.
The Trucking Company
Trucking companies have a big responsibility to protect their drivers and other people on the road. They must adhere to strict safety guidelines, and if they fail to do so, they can be held accountable for accidents. The trucking company might be at fault for your accident if they failed to properly train the driver, forced the driver to skip breaks, failed to maintain the vehicle, or failed to run background checks on the driver.
The Maintenance Company
If a truck accident occurred due to a mechanical fault, the mechanics who repaired the truck are solely responsible for any accidents that occur as a result.
Mechanics are not usually affiliated with the trucking company, so they can also face liability.
The Cargo Loaders
Some commercial trucks can carry weights of up to 40 tonnes. However, if the truck has not been loaded correctly, the weight can shift during a journey, and the driver can lose control. Under these circumstances, the loaders of the truck can be held liable for your injuries.
The Truck Driver
As mentioned, when a truck driver fails to operate their truck in a safe manner and puts others at risk, they have failed in their duty of care and can be held accountable for their negligent actions.
To find out more about how we can determine liability in your case and hold any negligent parties accountable for your injuries and damages, call us for a free consultation.
How Long Do You Have to File a Personal Injury Claim in Englewood?
According to Florida Statute 95.11, you have four years from the date of the accident to file a personal injury lawsuit in Florida. However, in the event that your injuries prevent you from making a claim within this time limit, you may still have some options.
However, exceptions to this rule are extremely rare, and you should not wait to start the claim process. If you wait, evidence can be lost, destroyed, or become unreliable. The sooner you contact a lawyer and start the legal process, the better your chances of receiving a fair payout will be.
Contact Our Law Firm Today
If you have been injured in a serious truck accident at an intersection in Englewood, then it is crucial that you have a skilled accident lawyer on your side who can fight for a fair settlement for your injuries.
The Law Place has handled cases like yours for over 75 years, so we have the skill and knowledge needed to win your case and ensure that the at-fault party is held accountable for their actions.
For the best possible legal representation for your case, contact us today. One of our lawyers can manage your case and support you throughout the entire process, allowing you to focus on your recovery.
For a free, no-obligation consultation, call us at (941) 444-4444. Our phone lines are always open, so there is always someone available when you need them most.