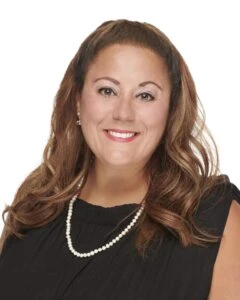 AnneMarie Rizzo is a former Assistant State Attorney with extensive trial experience in the State of Florida. AnneMarie is the only female in the State of Florida with the Forensic Lawyer Scientist certification. She graduated with her Bachelor's degree from the University of Florida, Magna Cum Laude, and from the University of Florida Levin College of Law with her Juris Doctorate. AnneMarie also holds a Masters Degree from the University of Florida in Pharmaceutical Sciences and a Graduate Certificate in Forensic Toxicology. AnneMarie feels this advanced education helps her to have a formal background in using science to help build and argue her clients' cases. AnneMarie teaches on a national and statewide level helping lawyers to better litigate their cases in court. AnneMarie has tried many cases involving complex legal and scientific matters from accident reconstruction to toxicology to proper scientific testing methods. AnneMarie has handled and tried cases from minor misdemeanors to homicide cases such as Vehicular Homicide and DUI Manslaughter.
AnneMarie has been featured on multiple news media stations due to her advocacy for her clients discussing topics high profile cases, personal injury cases, and criminal cases on TV outlets such as the local ABC, CBS, and Fox News affiliates. She was also on CNN when she handled a bond hearing for a high profile case. The herald tribune has featured AnneMarie on multiple occasions about her cases because of her unique legal arguments and about cases she has handled. Check out this article about AnneMarie's Lawyer Scientist Certification:
https://www.heraldtribune.com/article/LK/20151208/News/605206357/SH
Our team of dedicated attorneys fight and win for Floridians.
AnneMarie is on the executive board for the DUI Defense Lawyers Association and is President Elect. She also has served as the President of the local chapter for the Florida Association of Criminal Defense Lawyers and as a Director At Large for the statewide Florida Association of Criminal Defense Lawyers. She also is a member of the American Chemical Society. Moreover, AnneMarie has served in the community as Chair of the local Bar Association Young Lawyers Division Law Week Committee where she recruited attorneys to teach high school students about the legal system. She also has served as a Guardian ad Litem. In addition, she has spent time serving as a presiding judge over Teen Court proceedings. AnneMarie has been involved in other local organizations such as the Florida Association of Woman Lawyers, Inns of Court, and Junior League.
We're here to serve you. Our phones are open 24 hours a day.
During her tenure as an Assistant State Attorney, she specialized in prosecuting Domestic Violence and Criminal Traffic cases. She assisted hundreds of victims involved in violent relationships in criminal prosecution and assisted victims at hearings seeking protective injunctions. AnneMarie leaves a legacy of winning four separate, consecutive jury trials in the same trial week. She was appointed as a Special Prosecutor by the Governor of Florida to represent the State of Florida on a DUI case in Lee County in 2007 which resulted in another favorable jury verdict for her at trial. She quickly gained the reputation of being an aggressive and zealous advocate for her clients.
We're Florida's top litigation team with over 75 years of combined experience
AnneMarie has trained law enforcement officers and prosecutors across the state specifically in the areas of evidence based prosecution and trial advocacy in Domestic Violence and Criminal Traffic. She also has trained medical doctors at SHANDS UF and Child Protective Investigators with the Department of Children and Families in the areas of domestic violence and family dynamics. AnneMarie has successfully completed the Advanced DUI School hosted by the Florida Prosecutor Attorney Association. She also has successfully completed the Horizontal Gaze Nystagmus Course sponsored by the Institute of Police Technology and Management, a course designed to train law enforcement to effectively identify impairment in individuals suspected to be driving under the influence. (A field sobriety exercise regularly used on the roads today) AnneMarie also attended and successfully completed the Trial Advocacy School at the National Advocacy Center held at the United States Department of Justice in South Carolina. AnneMarie also has attended and was awarded the certificate of successful completion for intense studies at the National College of DUI Defense at Harvard University. Furthermore, AnneMarie was awarded multiple certificates of completion for her studies at Axion Labs as it relates to Gas Chromatography and Mass Spectrometry as well as being awarded certificates of completion for Mastering Scientific Evidence Seminars.
In her free time AnneMarie enjoys spending time with her family and friends, traveling, and thoroughly enjoys scuba diving (especially with sharks).
To speak with Ms. Rizzo about your DUI or criminal offense case, call The Law Place to schedule a free consultation.