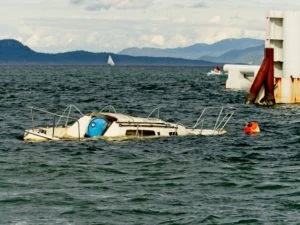 Florida is one of the most popular States for boating, with some of the most well-used and beautiful waterways in the United States. However, this also makes Florida a hotspot for boating accidents and waterway injuries.
The Law Place are a Florida law firm dedicated to supporting boating accident victims all over Englewood and further afield. We work on your behalf to make sure you receive the compensation you deserve for your injuries, pain and suffering, property damage, and even the wrongful death of your loved ones.
We have a number of practice areas within personal injury law, including motor vehicle accidents, slip and fall cases, property negligence, medical malpractice, and more. Our case experience and success record within these areas speak for themselves, with many of our injury and accident attorneys receiving an AVVO rating of 10.0 – the highest possible rating.
Book your free consultation with one of our Englewood personal injury attorneys today on (941) 444-4444.
Personal Injury Law and Boating in Englewood, Florida
When pursuing a personal injury case for a boating accident in Englewood, there are some key legal definitions and principles you will need to understand. Due to the specific legal requirements of this area of Florida law, you should always make sure to work with a boating accident lawyer who is also trained in personal injury law. This will make sure your case runs smoothly.
Proving Negligence
In order to pursue a personal injury claim following a boating accident, it will need to be proved that:
An individual, company, or manufacturer acted negligently. This could be the case if they violated Florida boating laws or behaved unsafely on a waterway.
That this negligence directly resulted in an accident.
That serious injuries were caused by the accident. According to

Florida Statute 327.353

, serious bodily injuries include a physical condition that causes a significant risk of death, disfigurement, or impairment to any organ
Common Types of Boating Negligence
Examples of types of negligence that can cause accident and injury include:
Boat operators using their watercraft whilst intoxicated. According to

Florida Statute 327.35

, a watercraft operator will be considered intoxicated if they have a blood-alcohol level of 0.08 or more grams of alcohol per 100 milliliters of blood.
Boat operators becoming distracted whilst driving.
Reckless waterway use.
Speeding.
Boating companies hiring inexperienced or untrained drivers.
Boating companies or boat owners providing insufficient or damaged safety equipment such as life jackets.
Boat manufacturers providing fault equipment.
Failing to prepare for poor weather conditions.
If an individual violates any of these laws resulting in an accident in which an injury is caused, they are guilty of negligence and will likely be liable to pay for any damages they have caused.
Who Could Be Held Liable for a Boating Accident?
If it can be proved that negligence caused a boating accident, your injury and accident lawyer will then need to determine who was liable or at fault for the accident. Liable parties can include:
Boat operators.
Boating and travel companies.
Boat passengers.
Boating equipment manufacturers.
Other waterway users.
It is also possible for more than one person to cause or contribute to an accident – including accident victims and those who become injured. Under Florida Statute 768.81, 'in a negligence action, the court shall enter judgment against each party liable on the basis of such party's percentage of fault.' Following this, the determined amount of damages will be awarded to each individual proportionately.
So, it's important to bear in mind that if you are pursuing a personal injury case based on negligence, other parties involved in the accident could also be pursuing a case against you. For this reason, it's important to work with a personal injury and accident lawyer in order to reduce the amount of liability you could face and ensure you receive the full amount of compensation you deserve.
How Can an Englewood Personal Injury Lawyer Help Me?
You'll need to find an Englewood personal injury and accident lawyer as soon as possible after your boating accident. This is because time will be working against you from the moment the accident occurs. Your memories, as well as any evidence, will start to become less reliable the longer you wait. So, you should start looking for an Englewood law firm to support you immediately.
There are a number of essential ways an Englewood boating accident lawyer will be able to help you, including:
Helping You to Navigate Your Insurance
After a boating accident occurs, you'll need to work out whether your insurance will cover any damages. Exactly what you're covered for and how much will be determined by the type of insurance you have.
If you do possess accident and injury insurance for boating accidents, you should still work with legal representation before contacting your insurance company. This is because personal injury lawyers are familiar with this area of the law. They can help you to avoid reporting anything that may jeopardize your claim and help you to receive the maximum level of compensation you could be entitled to.
Filing a Claim or a Lawsuit to Pursue Compensation
A boating accident can cause devastating consequences for accident victims. These types of incidents can come with high associated medical costs, severe injuries, time away from work, and even permanent disability or disfigurement.
If this is the case for you, you have two options in order to receive compensation under personal injury law:
Pursue a claim against the at-fault individual – The aim of filing a personal injury claim is to achieve an out-of-court settlement to cover any damages. This is a much quicker process and is also more private.
Sue the at-fault individual – You also have the option of filing a lawsuit against the person at fault for your boating accident. This is a long and generally more expensive process, but the amount of compensation you could be awarded tends to be much higher than an out-of-court settlement.
By pursuing either of these routes, you could be entitled to receive compensation for:
Medical bills.
Property damage to your watercraft.

Wrongful death

if a family member or loved one was killed in a boating accident.
Helping You to Collect Evidence After a Boating Accident
If you are looking to pursue a claim or a lawsuit in order to receive the compensation you are entitled to, you'll need to collect as much evidence as possible. A personal injury and accident lawyer will be able to help you collect and document any evidence, including:
Photographs of the crime scene – These could be photographs you have taken yourself immediately following the accident, or they could be taken after the boating accident occurred. These can be essential in determining how much damage was caused and can even shed light on who might be liable for the incident.
Information about your injuries – You'll need to photograph your immediate injuries as well as how they progress over time. You'll also need to keep any medical bills as well as paperwork regarding any time you are unable to work.

Surveillance footage – If any watercraft involved in the boating accident were fitted with cameras or if there were general surveillance cameras at the scene of the incident, this will be useful in determining liability.
Witness testimonies – Accident lawyers, are trained in acquiring information from any eyewitnesses as well as determining the reliability and trustworthiness of any witnesses.
What to Do if You're Involved in a Boating Accident?
In order to protect your legal rights and fulfill your obligations, after a boating accident, you will need to:
Remain at the scene of the accident if you can – As long as you are not prevented by your injuries from remaining at the scene, you will need to do so until you have provided your details to law enforcement officers. This does not include information protected by your

Fifth Amendment

right to withhold self-incrimination information.
Render aid – According to

Florida Statute 327.30

, it is your legal duty to render aid and assistance to anybody who becomes injured in a boating accident you are involved in, including making arrangements to transport them to a medical professional.

Report the accident – If law enforcement is not aware that an accident has occurred, you will need to report the incident to the

Florida Fish and Wildlife Conservation Commission

, the local sheriff's department, or local police.
Contact The Law Place – Personal Injury Lawyers Serving Englewood
If you've been involved in a car accident or boating accident, get in touch with one of our personal injury and accident lawyers serving Englewood. Here at The Law Place, we've been working for over 75 years to support clients all over the State of Florida. We can support you to safeguard your future and ensure that the person at fault for your boating accident is held accountable for their actions.
You don't have to give up hope for a rich and fulfilling life after being injured. Our Englewood personal injury attorneys can help you to receive compensation for your boating accident and can also help if you have another type of personal injury, including medical malpractice, car accidents, property negligence, as well as slip and fall cases.
Book your free consultation and free case evaluation with one of our Englewood personal injury lawyers today by calling our office on (941) 444-4444.