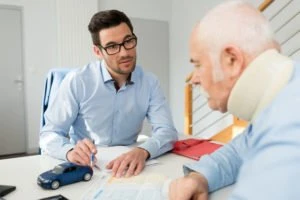 When accidents happen, and it isn't your fault, the chaos and trauma that follow can be horrific to deal with. You are most likely in an extremely emotional place, tempers are probably high, and you may be dealing with injuries on top of everything. It can be really easy to feel lost and stressed out in this situation.
Thankfully, Florida is clear on the law regarding these incidents. Bradenton is no different. When an accident happens that isn't your fault; you are entitled by law to seek compensation for your hardships, injuries, and damages when someone else's negligence has caused them.
However, although the law allows for this, it is extremely complicated, and navigating the different complexities of the law can prove impossible alone. When you are already dealing with the immediate physical and mental issues that the accident has caused, you are probably not in the right frame of mind to tackle the legal system. This is where a skilled Bradenton personal injury lawyer can really help lighten the load.
Here at The Law Place, we have an entire team of skilled attorneys in Bradenton, FL. They have been dealing with personal injury cases for a number of years now and have sat at both sides of the courtroom. This gives them an unrivaled ability to fight for you.
Give us a call at (941) 444-4444 for a free consultation. The phone lines are staffed 24/7.
What Damages Will a Personal Injury Attorney Help Me to Claim in Bradenton?
Thankfully, in most accidents across the state, both parties leave with their lives and relatively unharmed. For those who aren't so lucky, these accidents can lead to their quality of life being affected forever.
This happens when the accident causes injuries that are permanent, including mental trauma. When this happens, it is the job of your personal injury lawyer to seek compensation for the following damages.
Medical bills – A good level of medical insurance is not always enough to cover the most serious of injuries. When the policy does not stretch far enough, this can lead to the victim being severely out of pocket.
Loss of wages/earnings – If, as a result of your injury, you cannot work in the same capacity as you did before the accident, then you will be able to claim for the missed wages. You can also claim for any potential future loss of earnings too.
Intangible losses – There is a range of different losses that cannot be easily calculated mathematically. Nevertheless, they can still be claimed for. Common examples are mental trauma and loss of enjoyment of life.
Bradenton is ruled by the same set of laws as the rest of the State of Florida, which means that you may be entitled to claim for something called punitive damages. These are only awarded in extremely rare circumstances. Your Bradenton personal injury lawyer will be able to inform you if you are eligible. To seek these damages, you will have to be able to prove that one of the following applies:
Purposeful misconduct – If another party has injured you with intent, the court could award punitive damages.
Gross negligence- In rare cases, where the defendant's actions are seen to display a blatant disregard for human life, the court might also award punitive damages.
Personal Injury Law – Assigning Negligence in Bradenton
The first task an attorney faces in every personal injury case is for us to figure out whether the other party acted in a way that is classed as negligent. Negligence is defined by law as the failure to behave with the same level of care as another individual would in the same situation.
Figuring out whether the other party is negligent is how we will start to assign liability. If we can prove liability for your injury lies with another party, then you are entitled by law to seek compensation.
The court will expect the plaintiff to prove the following to assign liability:
That the other individual or party had a duty of care for the victim, a common example of this is the shared use of the road, which every driver on the road assumes when they get into a car.
That the other party did something to breach this duty of care and acted negligently, for example, speeding and failing to stop at a red light.
The injuries of the victim are a result of that negligence.
The incident led to the victim suffering from economic and non-economic loss.
Injured in Bradenton? What You Should Do and What You Should Not Do
We sincerely hope that if you are reading this article, you are doing so pre-emptively and not in the aftermath of an accident. In both situations, you will do well to remember the following advice.
After a Bradenton personal injury accident, there are certain things you should do and certain things you should avoid doing. By following these, you will ensure you have the best possible chances of compensation later on down the line.
We will start with what you should not do. These are the actions that could make it harder to claim:
Never apologize or say something that someone could be used as an admission of guilt or to reduce liability. This is an extremely common mistake and can cause major problems.
You should also avoid letting anyone from an insurance company record what you say. Often they will call you up and inform you that the call will be recorded. They might disguise this with the guise that they are calling to give a compensation offer.
These are the two most important things to remember as they will not only lower your chances of a claim, but they could even lead to the blame being placed on you.
Next, let's talk about the things that you can do to enhance your chances and help your attorney. Bradenton, Florida, sees a lot of accidents every single year. These are the things you should do:
The first thing you must do is to prioritize your safety and health. This is the cardinal rule in any accident. Make sure you are safe before doing anything else. As soon as you are as safe as you can possibly be, call emergency services. This is for two reasons. Firstly, emergency services will be able to make everyone as safe as possible. Secondly, they will make a formal report of what they see. This can be used as evidence by your attorneys.
Collect as much evidence as possible. If you are in a position too, you should take pictures, draw sketches, collect witness contact information, take down the badge numbers of police, note car registration, everything you possibly can.
If you do not require immediate medical attention, make sure you take yourself to the nearest hospital at your earliest possible convenience. This is crucial, as injuries can lie dormant and then surface later on with severe consequences. It is also very useful to have an early hospital visit on record.
What Type of Personal Injury Accident Cases Do We Cover in Bradenton?
Here in Bradenton, we deal with a broad range of personal injury cases, including:
Car Accident Cases in Bradenton
Bradenton, just like the rest of Florida, sees an unusually high number of car accidents every single year. In fact, Florida is one of the most dangerous places in the country to be on the road.
This means that a large percentage of car accident cases are dealt with by our personal injury attorneys. Bradenton personal injury lawyers, like those found at The Law Place, know how to negotiate the confusing Florida laws that surround car accident cases and will know the best way to deal with your specific needs.
Motorcycle Accidents in Bradenton
Motorcycle accidents, by their very nature, have a lot more potential to result in serious life-changing injuries. These injuries can result in a loss of quality of life. People may not be able to enjoy the same hobbies they used to before their accident.
Bradenton personal injury cases are bound by Florida law. This means that there are ways that you can seek compensation for your accident. You may be able to seek compensation for a range of things, like pain and suffering or lost wages. You may have to do this by bringing a lawsuit against the third party involved.
Commercial Truck Accident Cases in Bradenton
Commercial vehicles weigh, on average, 15 times more than the average car on the road. This means that the potential for injury skyrockets when accidents happen.
As the risk is so high when driving these vehicles, Florida law has several additions that regulate truck drivers. These regulations require trucking companies to train and monitor their employees. Safety checks should be carried out, and there are restrictions on the time drivers can spend behind the wheel, which should be strictly followed.
This means that when there is an accident involving a commercial truck, the line of investigation is a lot more in-depth compared to a normal car accident. The company, the driver, the systems in place, the vehicle checks, all of these will have to be investigated.
The pure power, weight, and size of these vehicles mean that the injuries caused are usually a lot more serious. This means medical bills could be astronomical, and there is also a much higher chance of accidental death. This means that if you have been involved in an accident with a commercial truck driver, it is of vital importance that you seek the help of a skilled and knowledgeable attorney.
Slip and Fall Cases in Bradenton
If you are involved in a personal injury accident, and it happened on someone else's property, you may be entitled to seek compensation from the party responsible if it is due to their negligence. If the owner of the property has not done their job and carried out the right level of maintenance or has purposefully ignored hazards, they could be found negligent.
These can be tricky cases and are hard to navigate alone. Your best option if you are unsure what to do after such an injury is to get in touch with us for a free consultation. We can advise you on where you stand in terms of Florida law.
What Is the Compensation Process in Bradenton, Florida?
Every single case that comes through our door is different. This is the same with every single law firm. Every case has varying levels of evidence and factors that are unique to it. However, they often follow a similar framework:
Evaluation
The very first stage is what we call the evaluation stage. During this period, you will most likely call an experienced Bradenton personal injury lawyer like those found here at The Law Place. Make use of your free consultation to explain to your potential personal injury lawyer what happened to you.
They will then inform you of what they think you should do next and where they think you stand in terms of injury law.
Investigation
If you agree to the terms laid out in the initial meetings and hire a personal injury attorney, then they will begin investigating for you. They will start by getting in touch with any officers from the accident scene, contact any witnesses, and they will see what they can find themselves. They will seek police reports, look for CCTV footage, and may get in touch with specialists known as expert witnesses. These could be crash specialists or experts in specialist equipment.
Calculate a Fair Compensation Value
If you want to recover any damages, your Bradenton personal injury lawyers will have to prove them. This will be done by providing evidence such as bills, losses, and a detailed report.
All of this will help them to calculate a compensation value, which they will send in a demand letter to the other party. If they accept this, then you will get your money and pay your fees, and that will be the end of it.
Filing a Personal Injury Lawsuit
If the insurance company refuses or undervalues your claims, your Bradenton accident lawyer will now begin the process of filing a lawsuit. They will advocate for you and use the strong case they have built for you after your injury. If you do not receive a settlement value you are happy with, they will use this case to fight in court.
Personal Injury Claim Deadlines
Under Bradenton, FL., law, you must make a claim after an accident within two years. If you do not make a claim within these deadlines, then you will forever forgo the chance to do so. It doesn't matter how strong your evidence is. If you do not make a claim in time, you will never be able to do so.
Regardless of the deadlines, you should make your claim and contact a personal injury lawyer as soon as physically possible for the best chances of a successful claim. The sooner you get in touch, the sooner they can investigate for you, and the less evidence will begin to fade.
How Do I Find an Experienced Personal Injury Attorney in Bradenton?
It may seem like a difficult task to find a skilled law firm that you can trust to give you the best legal advice. But it doesn't have to be.
Here are our tips for finding a good attorney/law firm:
Avoid flashy advertisements. Instead, look for firms with a strong reputation that come from past clients. If you can get a recommendation from a trusted friend or family member, this is the best method.
Always ask to see examples of the attorney's wins and losses. If they do not or will not show you this, then they should be avoided. A good attorney will be more than happy to show you their wins and provide referrals.
How Does My Bradenton Personal Injury Attorney Get Paid?
The majority of personal injury attorneys work on a contingency-fee-basis. This means that you do not have to spend money upfront to acquire their services, only when you win. This normally means your personal injury lawyer will work on a percentage, which means that if you win, they get a set percentage of your winnings. It also means that if you lose your case, you do not have to pay. This makes it much more appealing to victims, as they do not have to worry about losing their case and being out of pocket.
Speak to One of Our Bradenton Personal Injury Attorneys Today
Here at The Law Place, we have a dedicated hard working team with a long history of success spanning 75 years. We fight compassionately for our clients to seek the compensation they deserve, so they can live the rest of their lives as well as possible.
We have dealt with cases just like yours before and have fought from both sides of the courtroom. When you hire us, you don't just get a lawyer; you get the team that supports them. We work together for our clients and are ready to fight for you today.
Call us at any time for your free consultation. Our phone lines are never off. We are here waiting to take your case to court and defend you from those who have wronged you. We fight tooth and nail so you can rest easy.
We offer a free consultation, so call now to speak to one of our experienced personal injury lawyers at (941) 444-4444.