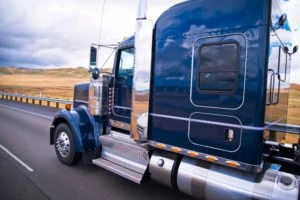 It is easy to see why bad truck accidents happen when you compare the minimum length of a trucking trailer at 48 feet with an American standard-sized car of 15 feet. Statistically, fatalities inflicted in a truck accident are twice as likely to happen. Not to mention the likelihood of those involved sustaining serious injuries.
For this reason, there are many laws in place in the State of Florida that seek to govern the actions of commercial trucking companies and limit their ability to create potentially dangerous situations. If you or a loved one has been affected by a truck accident, then you have the right to seek compensation from the trucking company responsible for the vehicle involved. In order to increase your chances of getting a good settlement, you need to hire a personal injury attorney who has previously worked on cases just like yours.
At The Law Place, we take pride in our track record of happy clients who we have helped get their life back to normal after facing the stress of an auto accident. We have over 75 years of combined experience that we use to ensure every client receives the best advice possible. Many members of our team boast an AVVO rating of 10.0, which is given based on factors like experience, success rates, and client testimonies. We can assure you that you will be in good hands when working with an attorney from The Law Place. Call us to schedule a free consultation today. Our lines are open 24 hours a day, 7 days a week so contact us now at (941) 444-4444.
Truck Accidents in Englewood Florida
Trucking is a huge business in Florida, with the state seeing thousands of trucks traveling on its roads and highways every day. Another huge industry in Florida is the tourism trade which attracts thousands of visitors annually. This combination makes the roads of Florida some of the busiest in the entire country, but unfortunately, also some of the most dangerous. In fact, a recent study showed that 98% of all the semi-truck accidents that happen in Florida result in a fatality, whilst 22% cause serious injuries.
Common Causes of Englewood Truck Accidents
There are many reasons why truck crashes happen. Driving is a dangerous occupation because there are so many things that can wrong, from weather conditions to human error. The following is a list of some common causes of truck accidents in Florida:
Driving whilst distracted – Truck drivers are often expected to work to extremely tight deadlines, which often leads to them performing tasks behind the wheel that take their concentration off the road. Often drivers must eat and drink or reply to important messages. Other times they try to break the tedium of a long drive by browsing the internet or watching TV.
Bad truck maintenance – Every trucking company is legally required to maintain its vehicles properly. Trucks must be fitted with a fully functioning rig and must be subject to thorough and regular mechanical inspections before every trip they make. However, these restrictions are often ignored by trucking companies in order to save time and money. Vehicles are allowed on the road with electrical faults, bald tires, defective brakes, and other issues that can quite easily cause a serious accident.
Impaired driving – Commercial truck drivers are required to work for long stretches of time, often missing government-sanctioned breaks in order to meet their deadlines. This leads to drivers taking stimulants to keep focused or to stay awake, and this results in impaired driving. Furthermore, many drivers may have been prescribed medication used to treat chronic pain, and taking too much can also lead to impaired driving. Driving whilst under the influence of drugs or alcohol is a criminal offense known as a DUI, which is one of the most common causes of truck accidents in Florida.
Reckless driving – Being expected to meet constant deadlines can make a job extremely stressful. This often leads to drivers making reckless decisions like missing breaks, speeding, or running red lights. Furthermore, truck drivers are a lot more likely to feel impatient or angry behind the wheel when they are tight for time. This is another common cause of reckless driving, seeing drivers tailgate, failing to indicate before making maneuvers, and failing to yield.
Overloaded trailers – Strict regulations have been put in place that limits the amount of cargo a truck can carry at any one time. However, these regulations are often ignored by trucking companies that overload their vehicles so that they don't have to complete as many trips, saving time and money. Overloading a truck makes it much more difficult to perform emergency stops or to turn safely, often leading to serious accidents that cause severe injuries.
Driving whilst fatigued – Long journeys without breaks often leaves drivers feeling fatigued and unable to concentrate. This leads to slow reflexes and an unusually slow response time. Due to the increase in truck drivers falling asleep at the wheel, federal laws were put in place that legally requires every driver to take regular breaks that allow them to rest properly. However, as we have previously mentioned, these laws are often overlooked in order to complete deadlines and cause a high risk of harm to those around them.
Establishing Negligence in an Englewood Semi-Truck Accident
When you hire a personal injury lawyer, it becomes their job to establish negligence in order to present a successful claim. This means that they must figure out exactly who was at fault, which can be multiple parties, and collect evidence proving this. The following is a list of possible parties who may be found responsible for your accident:
The semi-truck driver – Your attorney may be able to find evidence that suggests the truck driver changed maintenance records, drove under the influence of drugs or alcohol, or acted negligently, leading to your accident. Any good lawyer will ensure that they present evidence that shows their actions were the direct cause of your accident. In doing so, they should be able to successfully secure your compensation.
The trucking company – The truck driver involved in your accident is almost certainly working for a trucking company that is also responsible for the maintenance of the vehicle and the actions of their drivers. Trucking companies have a legal responsibility to make sure that their staff has received adequate training, that their vehicles meet regulations standards, and that they are properly keeping maintenance logs. Failing to meet any of these makes them liable for any accidents that occur as a result.
A third party – After investigating your accident, your attorney may have found evidence proving that a third party was responsible or partly responsible for the incident. This may be an employee of the supplier who overloaded the truck or the mechanic who used faulty parts when repairing the vehicle. These people will be held responsible and considered negligent in court.
Due to the complex nature of truck accidents that involve more than one at-fault party, you need to ensure that you hire an experienced personal injury attorney. Contact The Law Place today and schedule a free consultation with a member of our team.
Seeking Compensation Following a Truck Accident in Englewood, FL.
Every driver in Florida is required to own personal injury protection (PIP) that will cover the cost of medical bills, lost wages, or any other damages that occur as a result of an accident, up to a certain amount.
However, if you have been involved in a serious truck accident, the cost of your injuries and damages will more than likely exceed this amount. Many victims of serious auto accidents are left with no choice but to hire an experienced lawyer and file a personal injury claim.
Trucking companies, on the other hand, have extremely high claim limits with their corporate liability policies. These are higher because of the seriousness of the damage that their trucks can cause. This means that if a trucking company is responsible for your accident, they have the means to pay you what you deserve. A skilled lawyer will be able to negotiate with these companies on your behalf and get you the settlement you deserve. However, if you are unhappy with their offers, you can always take your case to court in front of a judge and jury.
Types of Compensation You May Be Entitled To
A truck accident lawyer will be able to assess your case and tell you exactly what types of compensation you are entitled to. The following is a list of potential damages you may have faced and could include in your claim:
Medical bills – This can include money for travel to and from appointments, medication, doctor's bills, and any ongoing treatments you may need. You can claim for both past and potential future expenses.
Pain and suffering – This can be hard to calculate in terms of money as it takes into account any emotional, physical, or mental suffering that you have faced. However, a good attorney will be able to do this for you.
Lost wages – This can include any wages you have lost in the past and any potential future earnings that you will lose.
Property damage – If you have been involved in an accident, your vehicle will more than likely have sustained damage. However, you can claim for any other property damage you have faced, such as a broken cell phone.
The Law Place
If you or a loved one has been involved in a truck accident that wasn't your fault, then you need the help of a skilled personal injury attorney to help you get the compensation you deserve. At The Law Place, we will work tirelessly to collect sufficient evidence that proves the at-fault party is responsible for your injuries and that they should cover the costs of your pain and suffering.
We have a team who boast over 75 years of combined experience in dealing with cases just like yours. Call us today and see exactly how we can help you by scheduling a free consultation. We offer free, impartial advice that tells you exactly what options you have for the future. Don't let the actions of someone else affect the rest of your life. Contact us today at (941) 444-4444.