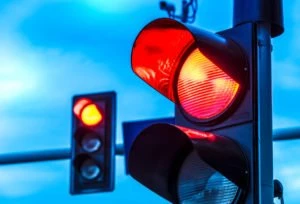 The State of Florida is well-known for being a dangerous place for drivers. A huge number of car accidents happen every year because of the amount of traffic on the road, in addition to reckless and careless driving. Traffic signals have been installed all throughout the country to prevent accidents from happening and to ensure that traffic runs smoothly. When a driver fails to obey these traffic signals, they increase the chances of an accident happening massively.
In addition to traffic signals, drivers must yield the right of way to other road users in situations laid out by law. The law provides that drivers must yield the right of way to another driver at an intersection, yield to motorists turning left, and yield to pedestrians when required, amongst other situations. Drivers who don't follow these rules and regulations are putting the lives of all other road users in danger. If you have or a loved one has been involved in a car accident resulting from a driver failing to obey a traffic signal, you should seek legal assistance as soon as possible to ensure that you receive compensation for any injuries you've suffered.
At The Law Place, we are skilled in managing car accident cases, as we have over 75 years of combined experience in numerous practice areas. Our team of personal injury lawyers can advise you on whether you may be entitled to compensation for your failure to obey traffic signals accident. We offer a free consultation so you can come in and speak about your case with no commitment required.
Call us today to schedule a free consultation. Our phone lines are open 24 hours, 7 days a week.
Right of Way Laws in Englewood, Florida
Depending on the particular situation on the road, there are different traffic laws that determine who has the right of way. In relation to a stop and yield intersection, Florida Statute 316.123 states that:
Stop and yield signs determine which driver has the right of way.
Drivers are required to stop at a stop sign unless there are police or control signals in place that say otherwise. Upon stopping, drivers must yield the right of way to other drivers approaching from the intersection.
The right of way is always given to the first driver who comes up to a four-way intersection.
When coming up to a stop sign, drivers should slow down to ensure that they have enough time to brake.
In situations involving pedestrians and drivers, Florida Statute 316.60 states that:
Pedestrians must always walk on sidewalks when they are there.
Pedestrians must follow all traffic signals.
When there is no sidewalk, a pedestrian must face oncoming traffic by walking on the left side of the road.
All drivers must allow pedestrians to cross at a crosswalk with a permitted time signal.
When there is no time signal present, and a pedestrian has entered the crosswalk, drivers must stop to allow them to pass.
Drivers must not overtake another driver who has stopped to let pedestrians pass at an unmarked intersection.
It is necessary that drivers follow these laws in order to keep the roads safe and to ensure that no one gets injured. However, when a driver does not follow these rules, and a car accident happens as a result, they can be found liable for any injuries or property damage that occurs.
Common Signal Violations in Engelwood, Florida
Many failures to obey traffic signals result from drivers being distracted. There are many reasons an individual may be driving while distracted, but some typical causes include:
Using a mobile phone.
Eating or drinking.
Talking to passengers.
Road rage.
Driving under the influence of alcohol or drugs (DUI).
When a person engages in distracted driving, they become less aware of their surroundings and are unable to react as quickly as they are required to. In many cases, drivers fail to see traffic signals, road signs, a pedestrian crossing, or a school crossing sign, which can result in a car accident. If someone drives while distracted, it can result in them exhibiting the following road behaviors:
Driving too slow or speeding.
Swerving between lanes.
Driving through red lights and stop signs.
Not obeying a traffic signal.
Failing to yield.
Tailgating.
Unsafely overtaking other vehicles.
Failing to indicate.
The chances of a car accident happening increase substantially when drivers behave like this on the road. In many cases, these accidents can lead to those involved being seriously injured and the rest of the victim's life being impacted by their injuries.
Common Injuries From a Car Accident
The injuries you suffer from a car accident will vary depending on the severity of the crash, how fast the car ran through the red light, and the weight of the vehicle involved. Some common injuries seen by our personal injury lawyers in these cases include:
Fractured, broken, or sprained bones.
Burns, lacerations, cuts, and gashes.
Injuries to the neck, including whiplash.
Head injuries including concussions or traumatic brain injury (TBI).
Emotional trauma, including PTSD, anxiety, or psychological distress.
If you have suffered any personal injury or property damage as a result of a failure to yield car accident, an injury lawyer can help you file a claim to receive the compensation you are owed.
Liability for Car Accidents in Florida
In order to receive compensation for any personal injury you've suffered as a result of an auto accident in Englewood, it is required that you find the other party liable for your injuries. An injury lawyer can help you make a claim against the negligent driver provided that they can prove the following elements:
A duty of care – All drivers in Florida owe a duty of care to keep the roads safe and to take all reasonable steps to prevent an accident from happening.
A breach in this duty – If a driver broke a red light or failed to yield the right of way, this can amount to a breach in their duty to you.
Causation – Accident lawyers can demonstrate that there was a link between the breached duty and the injuries you suffered.
Damages – It is necessary to show that you suffered damages as a result of the accident. This can include personal injuries, damage to your property, lost wages, pain and suffering, or wrongful death.
Damages for a Failure to Obey Traffic Signals Accident Case
Depending on the particular circumstances of your case, you may be entitled to a wide range of damages. Some of the most common damages sought after motor vehicle accidents include:
Medical bills – You can claim compensation for any medical expenses resulting from the accident. This can include bills for hospital appointments and any future medical expenses you incur.
Loss of wages – If you have been left unable to work because of the crash, you can claim for any lost wages, including potential future earnings.
Property damage – You can be compensated for damage to your vehicle, including valuable items contained inside at the time of the crash.
Pain and suffering – These types of damages are available if you have been left physically or emotionally distressed because of the crash.
Wrongful death – If someone you love has died in a car accident, an injury attorney can help relieve some financial stress by claiming expenses for the funeral and a loss of income to the family household.
Dealing With Insurance Companies
As stated under Florida Statute 627.7407, Florida is a no-fault state, meaning that you are required to seek compensation from your own insurance company prior to contacting the insurance company of the at-fault driver. The law requires that you have personal injury protection of at least $10,000 in order to operate an auto vehicle in the state. However, it is often the case that the damages you suffer go far beyond what is covered under this policy, and you are required to make a claim under the insurance policy of the negligent driver.
Insurance companies in Florida are known for being difficult to communicate with as their main priority is to make a profit. When speaking with them, it is important that you give as little information as possible and do not say you are at fault. They will often use the information you have given them to devalue your claim and prevent them from paying you out the compensation you are owed.
Our law firm recommends that you speak with one of our accident lawyers prior to contacting your insurance company. They can give you free legal advice on how to communicate with them and advise you on how best to proceed with your personal injury claim. If you decide to choose us as your legal representatives following the free consultation, we will speak with the company on your behalf to ensure that you receive the compensation you deserve.
Contact The Law Place Today
Car accidents are extremely stressful and traumatic, particularly when you have suffered serious injuries that resulted from a driver being negligent. On top of this is the added stress of trying to receive compensation for the damage you have suffered. Navigating the Florida legal system alone can be difficult, which is why we recommend seeking legal assistance from a car accidents lawyer as soon as possible.
Here at The Law Place, we have over 75 years of combined experience in numerous practice areas, including with many car accidents. Our law firm offers a free case evaluation where you can speak to one of our accident lawyers regarding your case. They can give you honest legal advice as to whether you have a valid compensation claim for your injuries. If you decide to proceed with us as your legal representatives, we will do everything in our power to ensure that you get the compensation you deserve. Our firm has built a strong attorney-client relationship due to our hard work and dedication over our many years of practice.
Don't hesitate to contact us. The sooner you do, the better chance we have at getting you compensation for your injuries.
Call today for a free consultation. Our phone lines are always open.