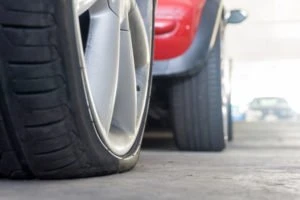 A tire blowout is a sudden loss of air pressure in any tire, which may be accompanied by an explosion-like sound. They're caused by excessive strain on a tire, which results in impact damage, little air pressure, overloading, extreme heat, or a combination of the above.
When a tire blows out on a truck, it can result in a dangerous truck accident. Because of their large size and heaviness, trucks can often cause severe injuries and even fatalities when they crash due to a tire blowout.
If you or a loved one have been involved in a truck tire blowout accident in Englewood, then you should contact The Law Place today. With over 75 years of combined experience, you can trust that our team will be able to help you win the compensation that you deserve. So, to begin your journey to justice, get in touch with us today and schedule a completely free consultation with one of our skilled attorneys!
Our main office is open 24 hours a day, seven days a week, so don't hesitate. Call us today at (941) 444-4444.
What Are the Most Common Causes of Truck Tire Blowouts in Florida?
Unfortunately, truck tire blowouts are one of the most common causes of truck accidents in Englewood. This is mainly because Florida's high temperatures hugely impact the tires, which can lead to the heated tires getting worn down at a quick rate and becoming defective.
Despite how common they are, many truck drivers are oblivious to the threat of tire blowouts, which is incredibly concerning considering the devastation they can cause. Because of this, truck drivers and trucking companies often fail to get their tires checked as often as they should.
A truck tire blowout most commonly occurs because of low or high tire pressure, wear and tear on the threading, poor road conditions, and more. Because there are many factors that can lead to tire blowouts, we strongly recommend that drivers check their tires regularly. If not, this could lead to a tire blowout accident, which may be deadly.
Who Is At Fault in a Tire Blowout Truck Accident?
Assigning liability after a truck tire blowout accident in Englewood is not as simple as it may seem – in fact, it can prove incredibly complicated and confusing. This is because these types of truck accidents are complex, as many parties could be held responsible for the blowout.
Because of the elaborate process, it's highly advised that you enlist the help of a personal injury lawyer if you want to seek compensation for an accident you were involved in. An accident attorney would be able to determine who was at fault for your injuries and offer you valuable legal advice based on your specific case.
One of our truck accident attorneys at The Law Place will be able to investigate your case and gather all the relevant evidence to help them discover who was at fault. This could be the truck driver, the trucking company, the tire manufacturer, or even all three. Regardless of who was at fault, if you are entitled to compensation, then a truck accident lawyer at The Law Place will work hard to ensure you get every cent you deserve.
What Is Negligence in a Truck Tire Blowout Accident?
Florida Statute 768.81 explains what negligence means in the Florida legal system. Under this statute, all drivers have an automatic duty of care to the road users around them, meaning that they must behave and act carefully and reasonably. If a truck driver breaches this duty of care, then they can be held negligent and may owe you compensation.
As the law surrounding negligence is complicated, you should consider contacting our law firm so that any questions or concerns you may have can be answered. One of our experienced attorneys will be able to guide you through the process and ensure that you understand everything.
Who Could Be Liable for My Florida Blowout Tire Truck Accident?
In many tire blowout accidents, there are multiple parties that could be responsible. Because of this, it can be difficult to assign liability. Some of the parties commonly held liable in tire blowout accident cases include the following:
The truck driver.

The trucking company.
The truck's mechanics.
The tire manufacturer.
The government department that's responsible for maintaining road surfaces and signs.
A third-party driver.
Our truck accident attorneys will be able to help you work out who is at fault for your truck tire blowout accident. We will investigate your case thoroughly and work alongside the police to ensure that all details are covered and made a note of. For anyone involved in any kind of car accident, it's important to have an independent investigation carried out into your case by a team of reputable attorneys that you can rely on. We strongly advise you to get in touch with our law firm and speak to a member of our team to receive the maximum amount of compensation possible.
What Damages Could I Be Entitled To?
Once our truck accident attorneys have established the liable party, they can then begin calculating the number of damages you sustained and how much compensation you deserve. Our personal injury lawyers have plenty of experience in helping clients win a wide variety of damages, but the most common ones include:
Medical bills – If the injuries you sustained required expensive medical treatment.
Lost wages – If you were unable to go to work, and therefore lost wages, because of the accident and injuries caused.
Reduced earning capacity – If you can no longer work the same job or hours because of the injuries you suffered.
Property damage – If your car or other property was damaged and needed repairing or replacing.
Pain and suffering – If you're suffering from trauma or emotional distress from the crash.
Wrongful death – If you lost a loved one in the accident.
We know that no amount of compensation will heal your injuries or trauma. However, it will be able to help you manage any financial burdens you're struggling with and act as proof that some form of justice has been served. To give yourself the best chance at securing the compensation you deserve, contact The Law Place today and schedule a free consultation.
How Can a Personal Injury Lawyer Help Me?
If you have suffered an injury from an accident caused by a tire blowout, then you should consider contacting The Law Place. If you schedule a free consultation with us, our accident attorneys will be able to help you out massively by examining your case, explain the whole process to you, and offer you honest and reliable advice regarding the best legal options available to you.
This initial consultation carries no obligations, meaning that you can then choose whether to continue working with us or not. If you do decide that you want the help of our team, then we will get straight to work and will be able to provide the following services and more for you:
Discuss your case in more detail.
Answer any questions or concerns you have.
Investigate your case thoroughly and gather all relevant evidence.
File your claim or settlement and complete all necessary documents.
Build a strong and solid case on your behalf.
Negotiate with the defendant to secure a fair settlement.
Represent you in court if the defendant is unwilling to agree to a fair settlement.
You can trust that our team will do everything possible to ensure you get the result that you deserve. For more information, contact The Law Place today. One of our team members will be able to help you understand our services and help you book your free consultation.
How Much Will a Truck Accident Attorney Cost?
Unfortunately, many people assume that hiring an attorney is very expensive, and this misconception leaves them reluctant to seek professional help for their injury case. However, this is not the case at all.
At The Law Place, our lawyers work on a contingency basis, also known as a no-win-no-fee basis. This means that if you want our help, you won't have to pay us anything upfront. Instead, we will automatically deduct our legal fees from the final settlement we secure for you!
This essentially means that you won't have to pay us anything out of your own pocket, which is why hiring a personal injury lawyer is so attainable and easy to do.
And, because all contingency work in the state is monitored by the Florida State Bar Association, you can trust that you will never face any hidden or unexpected costs. We follow their rules and regulations closely, and so you can be confident that your case will be in safe and professional hands.
Why Do I Need to Act Quickly?
Florida has a statute of limitation, which means that if you or a loved one have been involved in a truck tire blowout accident, you need to act quickly! Under Florida Statute 95.11, injury victims have only four years after the date of the accident to file a claim – if you try to make a claim after this time period, the case will be dismissed, regardless of how severe the damages you sustained were.
If you have suffered the loss of a loved one, then you should be aware that wrongful death claims must be filed within two years of the incident. While this may seem like plenty of time now, the process is often surprisingly lengthy and complex, so you should contact a law firm as soon as possible.
The sooner you get in touch with an attorney, the more time they'll have to investigate your case, build a strong claim, and secure the compensation that you deserve. So don't hesitate to get in touch with The Law Place today and schedule your free consultation.
Contact The Law Place Today!
If you have been involved in an Englewood truck tire blowout accident that left you suffering from damages, then you should contact our team today. One of our accident attorneys will be able to assess your case and let you know if you have a valid claim. If so, then we'll be here to help you win the justice that you deserve!
Our lawyers all have plenty of experience in helping countless clients, just like you, receive huge payouts for their injuries. You can trust that our team has the skills and resources necessary to secure every cent that you're entitled to on your behalf.
Contact us today so a member of our team can help you book your free case evaluation. Our phone lines are open 24 hours a day, seven days a week, so get in touch now at (941) 444-4444!