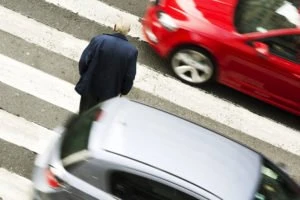 The State of Florida uses many intersections to control the flow of traffic, but these intersections can often prove to be dangerous because there are so many vehicles traveling in various directions. While traffic control devices, such as traffic lights and stop signs, have been implemented in an attempt to prevent collisions, they are not always successful, and many negligent drivers choose to ignore them.
If you've been involved in an accident because of a negligent driver ignoring stop signs or red lights, or driving in any other reckless way, then you could be owed compensation and should get in touch with a Florida personal injury lawyer as soon as possible.
The car accident attorneys at The Law Place are passionate and dedicated lawyers with an abundance of knowledge and resources. With over 75 years of combined experience, you can trust that our attorneys have the skill to represent you in court and secure the compensation you deserve. By working alongside our law firm, you'll be able to relax and focus on recovering from the accident, confident that your case is in our capable hands.
To schedule a completely free, no-obligation consultation today, contact The Law Place.
Dangerous Types of Intersection Accidents
Because intersections are so busy, with different types of vehicles driving in so many directions at various speeds, a range of car accidents commonly occurs at intersections.
Listed below are the types of motor vehicle accidents that frequently occur at intersections:
T-bone collisions.
Rear-end collisions.
Head-on crashes.
Sideswipe accidents.
Rollover accidents.
Multi-vehicle pile-ups.
Pedestrian accidents.
This list is by no means exhaustive, and so if you've been in another type of accident, you could still be entitled to compensation. Regardless of the type of car accident you've been involved in, don't hesitate to contact The Law Place today to discuss your case in more detail with a professional car accident lawyer. Our attorneys will be able to offer you valuable legal advice and will support and guide you through the Florida legal system, so schedule a free consultation with us now.
Factors That May Cause Intersection Car Accidents in Englewood, FL.
There are many reasons that car accidents occur, but listed below are some of the main causes of accidents at intersections:
Impatient or aggressive driving – If a driver commits moving violations, such as speeding, then there is an increased risk of accidents.
Confused driving – If a driver is confused and unfamiliar with the intersection, they may not know which lane they should be in or where they should turn, which can cause accidents.
Distracted driving– When drivers look at their cell phones, eat, or are distracted in any other way, then they are not paying sufficient attention to their surroundings, which often causes accidents.
Driving under the influence– If a driver operates their vehicle while under the influence of alcohol or drugs, then they will have slower reaction times and not be fully alert. This can result in dangerous motor vehicle accidents.
Failure to stop– Drivers that run red lights or ignore stop signs hugely increase the risk of causing a car accident.
Pedestrians –If pedestrians jaywalk, then they can cause accidents.
While all intersections, unfortunately, have the potential to be dangerous, the above factors vastly increase the possibility of a dangerous and sometimes even life-threatening car accident.
If you or a loved one have been involved in a motor vehicle accident at an Englewood intersection, then you may deserve compensation. Our team at The Law Place is here to help you, so contact us today and arrange a free case evaluation with one of our accomplished car accident attorneys.
Injuries Resulting From Englewood Intersection Accidents
Every type of motor vehicle accident has the potential to leave the victim suffering from injuries, sometimes minor, but sometimes absolutely devastating. Some of the most common injuries sustained in intersection auto accidents are listed below:
Traumatic brain injuries.
Broken and/or fractured bones.
Lacerations, sprains, and bruises.
Compression injuries.
Severed appendages.
Neck and back injuries.
Internal bleeding and/or organ damage.
It can be a grueling and lengthy process to recover from such injuries. Often, accident victims require expensive medical treatment and time off work, which can leave them struggling to manage the expenses caused by the injuries, and regular bills as well. If you've been injured in an intersections car accident in Englewood, FL., then you should contact The Law Place today. You could be entitled to compensation, and our team will be able to help you secure the justice you deserve.
Compensation with Your Personal Injury Protection (PIP) Policy
Drivers in the State of Florida are required to carry the following insurance policies:
Personal injury protection (PIP) coverage.
Property damage liability (PDL) coverage.
These policies are designed to cover the majority of any medical expenses, repair costs, and wages you lost if you are ever involved in a car accident in Englewood, Florida.
Unfortunately, these policies are very limited, and there's a chance that they won't offer you the amount of financial compensation that you deserve and need to fully recover from your injuries.
However, if this is the case for you, then there are still other options that may be available to you. To find out more, contact The Law Place today and schedule a free consultation to speak to one of our personal injury attorneys.
Additional Forms of Compensation for Car Accidents
Florida is a no-fault state when it comes to car accidents. This essentially means that if you're the victim of a car accident, you are at first responsible for covering your own costs with insurance. However, there are exceptions allowed if you suffer from a severe injury that has left you with huge expenses and losses. In these cases, you can seek compensation from the negligent driver.
There are a few ways that your car accident lawyer may try to get compensation from the at-fault driver, including:
Negotiating a settlement offer with the at-fault driver's insurance company.
Filing a personal injury lawsuit and taking your case to court.
For either of these options to be successful, your accident attorney must be able to prove that the other driver was responsible for causing the car accident and that your injuries and property damage were caused because of the crash.
Damages You Could Claim Compensation for in Englewood, FL.
Every driver in Florida has a presumed duty of care to all over road users to drive carefully and responsibly. This involves paying close attention to their surroundings and following the rules of the road. If someone causes an accident because they've violated their duty of care, then they could be found liable for the victim's damages.
The most common types of damages that The Law Place have recovered compensation for in Englewood are:
Medical expenses– This includes the cost of medical treatment you had to undergo for the injuries you sustained in the accident. It refers to all past, present, and projected expenses, as well as any related costs, such as transport to and from doctor appointments.
Property damage– This covers the cost of any necessary repairs to your vehicle if it was damaged in the car accident.
Loss of earnings– If you missed work because of the accident or injuries you sustained, then you could be entitled to compensation to cover the wages you've lost and any wages you may lose in the future.
Pain and suffering– This covers the emotional and mental suffering caused by your injuries and the car accident. These damages can be difficult to prove, so it's vital you have an experienced personal injury lawyer on your side.
Wrongful death – If you lost a loved one in a car accident, then you deserve compensation to cover funeral costs and loss of consortium.
If you have been involved in a car accident in Englewood and are still feeling the consequences, then it's important you consider hiring a reputable law firm. Our team at The Law Place will be able to offer you valuable legal advice specific to your case and help you receive the compensation you deserve, so contact us today!
Contact The Law Place Today!
If you or a loved one have been injured in an intersection accident, contact The Law Place to put a skilled Florida car accident lawyer on your case. Experience is what matters the most when negotiating with insurance companies and their legal teams, or when representing clients in court, and when The Law Place is working alongside you, you have it!
Call us and schedule your free consultation today.