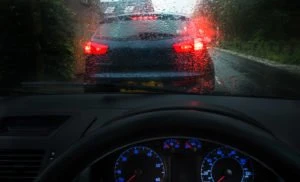 Tailgating is where one car follows another too closely, and this hazardous driving behavior can often lead to car accidents. In 2020 there were over 340,000 car crashes in Florida, with tailgating reported as one of the most common causes according to the Florida Department of Highway Safety and Motor Vehicles.
If you have been the victim of a tailgating car accident in Florida, then it is highly recommended that you seek a personal injury lawyer. Here at The Law Place, our accident lawyers have over 75 years of combined experience with cases just like yours and could help you to recover compensation for the pain and suffering the accident might have caused you. Filing a lawsuit can be daunting, but with the help of an experienced accident attorney, you can relax and focus on your recovery, and let us deal with the rest. We offer a free case consultation, so you can ask questions about your case and receive free, no-obligation legal advice from one of our personal injury lawyers about the best next steps to take.
Our phone lines are monitored 24hrs a day, 7 days a week for the convenience of our clients, so call today.
What Is Tailgating in Florida?
The legal definition of 'tailgating' is outlined in Florida Statute 316.0895. It defines tailgating as one vehicle following another vehicle closer than is reasonable when considering the traffic density, speed limit, and road conditions.
Tailgating can lead to serious rear-end collisions if a safe distance is not kept between cars and the car driving ahead on the road brakes suddenly. Vehicles should allow enough space between them and the car in front for another car to be able to enter that space at any time.
The U.S. Department of Transportation and National Highway Traffic Safety Administration (NHTSA) has outlined specific guidelines detailing the safe distance between two cars to allow drivers enough time to react to unexpected situations such as the driver ahead braking suddenly. In normal road and traffic conditions, they recommend that cars keep a distance of one vehicle length between two cars for every 10 miles an hour of speed. When road or traffic conditions are worse, for example, if there is bad weather or a lot of traffic, then they recommend that this distance is doubled.
The authorities of the State of Florida have the autonomy to decide whether the distance between two vehicles is appropriate and to pull over any vehicle they don't believe to be following the safety distance regulations. Usually, the one-car distance is used as a rule of thumb.
A law enforcement officer may give a driver a ticket if they determine that either:
The vehicle was not allowing for one car's length distance within its lane
The adverse driving or weather conditions

meant that a larger distance of two car lengths should have been established
If you have been involved in a tailgating accident, then it is likely that it was the fault of the driver behind you for not leaving enough space between the two vehicles. In this case, that driver should be held responsible for their reckless driving behavior. Call The Law Place today for a free consultation with a car accident lawyer, who can discuss with you the possibility of making an injury claim and give you free legal advice relevant to your case.
Why Do People Tailgate?
Tailgating is classified, according to The National Highway Traffic Safety Administration (NHTSA), as a form of aggressive driving. There is no excuse for driving in this way, which is hazardous and can lead to serious crashes. Some of the most frequent reasons for tailgating include:
Speeding.
Being angry.
Being unfocused or tired.
Distracted driving.
Driving uncertainly.
Regardless of the reason for tailgating, there is no good excuse for this dangerous and reckless driving behavior. If you have suffered injuries or property damage because of a tailgating collision, then you could be owed compensation. Contact us today to arrange a free case evaluation with one of our car accident lawyers, who can help you determine whether you have a strong case and how much you could be owed for the pain, suffering, and damage caused by the crash. Our attorneys have dealt with countless clients in similar situations and want to help to seek the justice you deserve.
Accountability Following a Tailgating Car Accident in Englewood
In most car accident cases caused by tailgating, the crash could have been prevented if it weren't for the reckless behavior of one or more drivers. If your car or the car of a loved one was the victim of a rear-end tailgating collision, then you deserve to seek justice. An experienced personal injury lawyer will try to prove that the crash was caused by negligent driving. In order to do this, the lawyer must determine the following:
The driver owed a duty of care – According to

Florida Statute 316.208

, every driver has the duty to keep other drivers, passengers, and pedestrians safe by following state driving regulations such as speed limits and a safe driving distance between vehicles.

The driver did not follow this duty of care – If a driver engaged in tailgating, they were clearly not behaving responsibly, where this reckless driving behavior is considered a breach in duty of care.

The breach in duty of care resulted in the accident – If it can be proven that one driver tailgated another and that this led to the accident, then the driver can be blamed for the accident.

The accident resulted in damages – After motor vehicle accidents, there are many forms of damage that can result, including property damage, personal injuries, medical bills, and other types of suffering. An experienced accident lawyer will be able to help you calculate these damages and fight your case to claim compensation for them from the other driver's insurance company.
What Damages Are Available Following a Tailgating Accident in Englewood?
If you have been the victim of a rear-end tailgate crash, it is likely that you will have suffered some significant damages. It is highly recommended that you contact a reputable law firm such as The Law Place today so that one of our car accident lawyers can help you to determine how much you could be owed in compensation for these damages. You could be liable to file a claim for the following damages:
Lost wages – If the injuries you sustained in your crash have forced you to take time off work and so have led to a reduction in your wages, then you can claim back for this loss of income. This includes loss of potential future income, particularly if the injuries were serious and require a long recuperation time.

Property damage – You can claim compensation for damage to the back of your car or mechanical damage caused by the tailgate crash and the damage to your personal possessions, such as your phone or clothes.

Medical bills – Car accidents can lead to injuries that come with large price tags, particularly if they require surgery, medication, and ongoing treatment and rehabilitation. Regrettably, most individuals' medical insurance is not enough to cover these costs, but you deserve to seek compensation for them from the culpable driver.

Pain and suffering – An injury lawyer can help you claim for types of pain suffering which are less easy to quantify but nonetheless detrimental to your quality of life, such as depression, PTSD, insomnia, etc.

Wrongful death – Unfortunately, many auto accidents result in death. This grieving process will already be extremely painful and can also be extremely expensive. If you have lost a family member to a tailgating accident, then you have the right to claim back for funeral expenses under

Florida Statute 768.21

.
Call us today to arrange a free consultation from one of our personal injury lawyers. They can help to prove negligence on the part of the other driver and help you claim back the compensation you deserve because of the other driver's dangerous tailgating behavior. It is likely that the other driver's insurance company will do everything they can to reduce their payout by disputing your claims, which is why you need qualified legal representation from an experienced attorney who can fight for the compensation you are entitled to and not be fooled into accepting a smaller settlement.
What Can a Personal Injury Lawyer Do for Me?
If you or a loved one have been the victim of a car accident that resulted from tailgating in Englewood, then the best thing you can do is to seek credible legal representation as soon as possible. Although the law under Florida Statute 95.11 states that you have up to four years to make a personal injury claim following an accident, we highly recommend that you begin the process as soon as possible following the crash, as evidence from the scene and memory of the event can fade quickly. Don't hesitate any longer – call today to see how we can help.
We offer an initial free consultation with a personal injury lawyer with experience in the relevant practice areas. They will go through the specifics of your case with you to help give you an idea of whether you have a solid case to make and how much money you could be expected to receive if your case is successful. If you decide to hire our law firm, we will be assigned a personal injury lawyer who will be your point of support and contact throughout the case. They will take charge of your case, gathering relevant evidence to help support your case, such as witness statements, CCTV footage, police reports, etc. They will also deal with all communications with third parties and insurance companies. Dealing with insurance companies following an accident can be daunting, as it is widely known that they work for profit and so will use any information they can to discredit your claim and reduce their payout as much as possible. Our personal injury lawyers can advise you on what to say or not say before you speak to them or communicate with them on your behalf.
Call The Law Place Today
Here at The Law Place, we are committed to defending the rights of our clients and getting them the justice they deserve. Our team has over 75 years of combined legal experience and a great amount of experience in personal injury cases, just like yours. So don't hesitate any longer. Contact us today to see how we can help you get your life back on track.
Our phone lines are open 24h a day, 7 days a week. Call today.