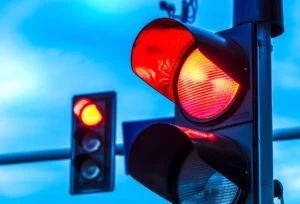 In Englewood, most drivers adhere to the rules of the road and stop at red lights and stop signs. However, some drivers do have the dangerous habit of running red lights in order to get to their destination quicker. Many of these drivers do not realize the devastating consequences running a red light can have on other road users, pedestrians, and even themselves.
Statistics provided by the Insurance Institute for Highway Safety show that, in 2018 alone, over 800 people lost their life due to a driver not stopping at a red light, while approximately 139,000 people were injured for the same reason. Injuries sustained from a car accident can be life-changing, and the person or people responsible should be held accountable for their negligent driving.
If you have been involved in an Englewood red light accident, contact The Law Place today as you may be entitled to compensation. If this is the case, a personal injury lawyer at our law firm will be able to seek the highest amount possible for you. After calling our law office, you will be assigned to one of our accident attorneys, who will review the circumstances surrounding your accident and discuss all the available legal options regarding your case. With over 75 years of combined experience, our team of professional lawyers is prepared with all the relevant knowledge and expertise so that you can get compensation for your accident.
Call us at (941) 444-4444 to schedule a free consultation with a top personal injury attorney today.
Why Do Some Drivers Run Red Lights in Englewood?
There are a variety of reasons why drivers run red lights. In most red light accident cases, drivers purposefully ran the red light. Traffic light signals are purposefully designed to be easily seen and followed by all road users no matter what vehicle is being operated. However, in some cases, a driver's vision may be impaired, and therefore they may unintentionally fail to yield at a red light. The following list gives common reasons for why drivers fail to stop at a red light:
The driver was in a rush.
The driver was tired and therefore did not notice the red light.
The driver was distracted, which lead to them not stopping at the red light in time.

The driver was

driving under the influence

.

The driving conditions were poor, which impaired vision or visibility of traffic signals. This could be due to extreme weather conditions, including heavy rain or snow.
The driver was speeding and therefore was unable to stop before reaching the traffic lights.

The driver misjudged the time they had from the traffic light changing between amber and red.
Normally, at-fault drivers try to excuse their negligent driving by blaming factors out of their control as the reason for why they failed to stop at a red light. However, more often than not, the driver in question was aware that they were driving negligently and purposefully did not stop at the red light in order to arrive at their destination sooner.
In order to prevent accidents such as yours in the future, it is crucial that negligent drivers are held accountable for their reckless driving. An accident lawyer at The Law Place will be able to determine who was at fault for your accident and get you the compensation and justice that you deserve.
Common Injuries From a Red Light Accident
Car accidents can leave those involved with serious injuries that can sometimes last a lifetime. Running a red light can cause a crash that can involve multiple vehicles, which often leads to the injuries being even more severe. Therefore, victims of these accidents often find great difficulty in returning to normal life after a collision.
Common injuries sustained from auto accidents include:
Whiplash.
Cuts, road rash, and burns.
Traumatic head injuries.
Paralysis.

Fractures and broken bones.
Disfigurement.
Having to deal with injuries sustained from a serious car accident can be not only a lengthy process but also an expensive one. Medical bills and other hospital expenses can be very costly, and most people are not financially prepared to face these unexpected costs. If you or a loved one has been involved in a red light road accident, call The Law Place today for a free consultation. Our attorneys understand how devastating injuries sustained from these accidents can be, which is why we are committed to representing you in your case.
How to Determine Liability in a Red Light Car Accident in Florida
After a red light traffic accident, it is highly recommendable to seek professional legal representation. An experienced accident attorney is responsible for determining who is liable for a motor vehicle accident. By placing liability on one or more parties, an attorney at our law firm will be able to get you the highest amount of compensation possible for your case.
Once a personal injury attorney has reviewed the circumstances surrounding your accident, they will gather the necessary evidence in order to help support your case. Some victims of these accidents do not realize that more than one party can be held responsible for the accident. Whoever demonstrated negligence that may have caused the accident can be held liable.
Parties who can be held liable for a red light accident include:
The driver who ran the red light.
If the driver was working for a company at the time of the accident, then their employer could be held liable.
The vehicle's manufacturer could be held liable if the vehicle in question is found to be faulty or broken.
If the vehicle in question was borrowed, the vehicle's owner could be held liable.
In the case that a mechanic did not service the vehicle involved in the collision properly, they may hold some responsibility for the accident.
Our team of professional attorneys will determine who was at fault in your accident and get you the compensation you deserve. Call our law office today for a free consultation and expert legal advice. No matter who was responsible for your accident, we will persist until we get the end result that you deserve.
Damages a Personal Injury Lawyer Can Help You Claim
Running a red light can lead to devastating consequences for other road users, which is why victims are often entitled to compensation after a car accident. A personal injury lawyer can calculate how much compensation you may be owed by reviewing your accident and the damages that you have sustained from it. Some of the most common damages victims are often able to claim include:
Medical bills – Receiving medical care in Florida can be incredibly expensive. Medical treatments, including surgery and medicine, as well as transportation to and from hospitals, can cause debts to grow significantly. An accident lawyer will make a note of how much money you have spent on medical fees and work tirelessly to recover the costs of them for you.
Lost wages – Suffering from injuries after a car crash can result in victims being unable to work. Without work, those involved in road traffic accidents are often unable to cover basic necessities, including paying for food, rent, and other bills. An accident lawyer can help you claim past, present, and future losses of income.
Property damage – Motor vehicle crashes can not only lead to victims being seriously injured but also with damages to their property. Property that can be damaged during a collision which could be claimed, includes vehicles, cell phones, and other gadgets in the vehicle at the time.
Pain and suffering – Accidents involving motor vehicles can cause both physical and psychological pain and suffering. For example, if you are unable to take part in a sport or activity due to the accident that you once were able to, you may be eligible for compensation.

Wrongful death – Reckless driving, including speeding and running red lights, can cause serious consequences and even death in some cases. If you have lost a loved one due to improper driving, you may be entitled to claim compensation for funeral expenses as well as the decedent's loss of income as per

Florida Statute 768.21

. Also, under Florida law, you may be able to claim for loss of companionship. If you have lost a loved one who previously provided support, advice, and guidance in your life, you may be able eligible to receive more money.
If you have been involved in an accident involving a driver running a red light, trust in our team of legal attorneys at The Law Place to gain the best amount of compensation possible for you. Getting the compensation you deserve can help minimize the financial worries and stresses that normally follow a motor vehicle accident. Call our law firm today for a free consultation and take the first step to file your personal injury claim.
Dealing With Insurance Companies in Florida
In Florida, drivers are required to report any accidents they have been involved in within 24 hours of it occurring. Complying with the legal requirements set out under the state's driving laws is extremely important. However, filing a report to your insurance provider before receiving legal advice can cause problems for claimants further down the line. Therefore, we recommend our clients contact our law firm immediately after the accident so that an accident lawyer can prepare them to deal with their insurance company.
Although insurance companies should prioritize the interests of their clients, they rarely do. Your insurance company is likely to ask you many questions regarding your case and acquire as much detail as possible. They do this with the objective of devaluing your claim by trying to prove that you had some fault in the accident, thus reducing the potential settlement they may have to pay out to you.
Our team of professionals knows exactly how to deal with your insurance company. We know how they operate and therefore know exactly how to avoid being deceived. Contact our law firm today to speak to a top lawyer and see how much money you may be eligible for.
What Can a Personal Injury Lawyer Do for Me?
At The Law Place, we strive to ensure that our clients feel comfortable and confident in moving forward with their case. We believe in open and honest communication with our clients from the beginning of legal proceedings and throughout, which is why we keep our phone lines open 24/7 so that you can call us whenever you want. We pride ourselves on our attorney-client relationship and are committed to doing everything we can to get the best for our clients.
Services provided by our law firm throughout the legal process include:
Gathering photographic evidence from the scene of the accident.
Reviewing medical records.
Collecting eyewitness statements that could strengthen your case.
Clarifying doubts and answer questions related to your case.
Handling any and all negotiations with your insurance company.
Calculating how much you may be owed in damages.
Ensuring you get the best compensation available.
If necessary, we will not hesitate to represent you in court.
Contact The Law Place
A great number of motor vehicle crashes are caused by drivers running a red light, and these accidents can result in those involved sustaining terrible injuries and damages. If you have been involved in a red light road accident that wasn't your fault, contact The Law Place. An injury lawyer will review your case, determine who was responsible for your accident and fight to get you the compensation that you deserve.
At The Law Place, we offer a free case evaluation service. After a free consultation, we will determine whether or not your case is strong enough. If we believe we can get you the compensation you deserve, we won't stop until you get it.
Our phone lines are open all day, every day, so call us whenever you are ready to. So, call today at (941) 444-4444 for a free case evaluation and file your personal injury claim with a team of experienced lawyers in your corner. We look forward to hearing from you!