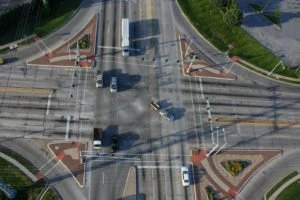 In Florida, the roads and highways are an integral part of everyday life. With such high volumes of traffic traveling across the state on a daily basis, there are many intersections in place to control the flow of vehicles. However, these intersections can often be dangerous because traffic is traveling in so many different directions. Even the presence of stop signs or traffic lights is not always enough to prevent collisions. Time and again, we see negligent drivers choosing to ignore traffic control devices, creating a huge risk of colliding with another vehicle and causing a great amount of damage.
If you or a loved one have been involved in a car accident that was caused by a negligent driver at an intersection, then you need the representation of an experienced personal injury attorney. You may be entitled to compensation that will cover all the costs of recovery and repair you have faced.
At The Law Place, our team has over 75 years of combined experience in helping people in a position just like yours. We are committed to representing our clients every step of the way, making sure that you never need to complete any paperwork or correspond with insurance companies. Contact us today to schedule a free consultation where you will receive impartial and confidential advice, no-strings attached. Our lines are open 24 hours a day, 7 days a week, so call us now at (941) 444-4444.
Dangerous Types of Intersection Accidents
There are a number of common accidents that happen at intersections due to the high volume of traffic that travels through them in so many different directions. The following list includes some of the accidents we see happening most frequently:
Rear-end collisions.

T-bone collisions.

Head-on collisions.

Rollover accidents.

Sideswipe accidents.

Pedestrian accidents.

Multi-vehicle pile-ups.
There are, of course, many other types of accidents that you can face at an intersection. Regardless of the nature of your accident, you may be entitled to compensation, so it is in your best interest to contact a personal injury attorney as soon as possible.
At The Law Place, our team is committed to supporting all our clients through the complexities of the Florida legal system. Contact us today to schedule a free consultation.
Factors That May Cause Intersection Car Accidents in St. Petersburg, FL.
There are numerous possible causes of car accidents, but some are more common than others, such as:
Distracted driving – Unfortunately, distracted driving is extremely common. Oftentimes, drivers check their cellphones, eat and drink, or take their eyes off the road to change their music. Whatever the reason, distracted driving often leads to serious car accidents.

Driving under the influence – Operating a vehicle whilst

under the influence

of drugs or alcohol will affect your ability to properly control your car or react quickly enough to avoid collisions. Being found guilty of driving whilst under the influence can lead to serious criminal charges.

Impatient or aggressive driving – As natural as anger and impatience are, these emotions can be very dangerous when someone is driving. It is not unusual to get frustrated when you are late for work or when other drivers are tailgating. However, reacting aggressively can have serious consequences.

Confused driving – A driver may be unfamiliar with an intersection, not knowing which lane to use or where to make a turn. This leads to hesitation and can cause severe intersection accidents.
Failure to stop – Failing to stop at a red light or stop sign can increase the risk of causing a collision and is considered an illegal act.
Pedestrians – Jaywalking is one way that pedestrians can cause accidents on the road.
Every intersection has the potential to create car accidents. However, when any of the above factors are present, the risk increases greatly and may lead to fatalities.
If you or a loved one has been involved in a car accident at an intersection, you need an experienced personal injury attorney to take on your case and get you the compensation you deserve. Call The Law Place to discuss your options and start the process of getting your life back on track.
Injuries Resulting From St. Petersburg Intersection Accidents
No matter the type or cause of the accident you have experienced, there is always a potential for those involved to suffer serious injuries. There is a wide range of possible injuries that you can face, some being more lasting than others. Below is a list of common injuries that can be included in your compensation claim:
Traumatic brain injuries.

Broken or fractured bones.

Soft tissue damage.

Compression injuries.

Whiplash or other neck and back injuries.

Severed limbs.

Internal bleeding

or organ damage.
Recovering from your injuries can be a long and arduous process that requires taking time away from your family, work, and hobbies. It may require you to pay large medical bills or lose income as you recover at home. Do not let these losses go uncompensated, contact an experienced personal injury attorney today. Our team at The Law Place will build you the strongest case possible and make sure that they manage all the correspondence with insurance companies, giving you time to focus on your recovery.
Compensation With Your Personal Injury Protection (PIP) Policy
The law in Florida requires every driver to carry both personal injury protection and property damage liability policy. Both of these are designed to ensure that all the costs of repairs, lost wages, and medical attention is covered in the event of an accident.
The problem is that these policies are limited and may not entirely cover the money that you have lost. The settlement that you are offered may be so low that you are still out of pocket, deserving more than you are getting.
Fortunately, in this event, there are still other options that you can consider. Our team of lawyers will be committed to your case and are willing to represent you in front of a judge and jury. Contact The Law Place today and schedule a free consultation to find out exactly what options you have.
Additional Forms of Compensation for Car Accidents
Florida is a no-fault state which means that the victim of any car accident has the responsibility to initially cover the costs of their accident. However, there are exceptions to this rule. For example, if you have suffered a severe injury that has required medical care which cost more than your PIP policy, you are eligible to seek compensation from the at-fault driver.
The following is a list of ways your personal injury attorney may be able to get compensation from the at-fault driver:
Deciding on a fair settlement offer through negotiating with the other driver's insurance company.

Filing a personal injury lawsuit which would mean your case went to court.
In order for either of these actions to be successful, your lawyer must prove that the other party caused your accident and that your injuries and property damage happened as a result. Contact The Law Place today and arrange a free consultation.
Damages You Could Claim Compensation for in St. Petersburg, FL.
The law requires everyone to follow a duty of care in order to ensure that other drivers are safe on the roads. This includes paying attention to the road and others on it, as well as following the rules of the road. Anyone who has failed to meet their duty of care and therefore caused an accident may be found liable for the cost of damages the victim faced.
The following are some common damages that you might have experienced and could include in your compensation claim:
Medical bills.

Loss of income.

Pain and suffering.

Property damage.
It is extremely important to hire a personal injury lawyer if you have been involved in an accident. Even if you are unsure whether you qualify for compensation, you should speak to a lawyer. They will look at all the evidence and listen to your story before telling you what you are entitled to. Do not face the stress of a car accident alone. Contact an attorney today.
Contact The Law Place Today
If you or a loved one has been involved in a car accident at an intersection, you need the help of a personal injury attorney who can help you recover the cost of what you lost. Making sure that you hire an attorney with experience will help you greatly when negotiating with insurance companies or when representing you in court. Take the time to use free case evaluations to your advantage and find someone you trust.
At The Law Place, we have over 75 years of combined experience in helping clients get the compensation that they deserve. We are committed to every case and work on a contingency basis, meaning that you will never face a bill until you have received your compensation. Plus, if your case is unsuccessful, there will be no costs at all.
Contact us today and schedule a free consultation at (941) 444-4444.