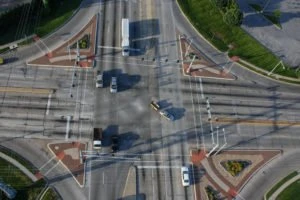 In Tampa, FL, and the surrounding areas, intersections can be very high-risk areas. These areas become even more dangerous if drivers are distracted, fatigued, or driving under the influence. Car accidents at intersections could leave those involved with severe and life-changing injuries. If you are involved in such an accident, then you could be owed compensation due to the other driver's negligence.
If you have been in an intersection collision anywhere in Tampa or elsewhere in Florida, then get in touch with The Law Place to speak to a personal injury lawyer today. Call us on (941) 444-4444 for a free consultation to get support and guidance from an experienced car accident attorney.
Dangerous Intersections in Tampa, FL
There are many dangerous intersections found in the Tampa Bay area. In fact, four of the top 10 counties for deaths at intersections were found in Florida. The top 10 most dangerous intersections in Tampa have been listed below:
Sheldon Road and Waters Avenue W. in Tampa
Anderson Road and Waters Avenue W. in Tampa
Waters Avenue W. and Hanley Road in Town N' Country
Hillsborough Avenue and Sheldon Road in Town N' Country
U.S. 301 and Gibsonton Drive in Riverview
Waters Avenue W. and Himes Avenue N. in Tampa
U.S. 301 and Big Bend Road in Riverview
Bruce B Downs Blvd and Fletcher Avenue E. in Tampa
Bloomingdale Avenue and Bell Shoals Road in Brandon
Bloomingdale Avenue and Providence Road in Riverview
Although it's clear to everyone that certain intersections in Hillsborough County, such as Waters Avenue and Sheldon Road, are dangerous, intersection accidents can happen anywhere. There is no truly safe spot on the road, as you have to entrust your safety with other drivers. And if they act dangerously or negligently, it could be you who pays the price.
This is why, if you have been involved in a dangerous accident at an intersection, then you should get in contact with The Law Place for a free case evaluation with an experienced and knowledgeable personal injury lawyer.
Factors That Make Tampa Bay Intersections Dangerous
Distracted driving – If drivers are looking at their cellphones or distracted in another way, then they are not paying attention to the road and may cause accidents.
Confused driving – Drivers who are not familiar with certain intersections may be confused as to where they should turn or what lane they should be in.
Driving under the influence – Drivers who are under the influence of drugs or alcohol will not be fully alert and will have slower reaction times.
Impatient or aggressive driving – If a driver is speeding or committing other violations, then there is a higher risk of accidents.
Failure to stop – If drivers run a red light or ignore a stop sign, then they are also risking accidents.
Pedestrians – If pedestrians cross the road unsafely or unexpectedly, then this could cause accidents.
Any intersection has the potential to be dangerous because of the many drivers traveling in multiple different directions. However, the above factors increase the possibility of a dangerous car accident.
If you have been involved in an accident at an intersection, then you may deserve compensation. Whether the accident happened in St Petersburg or Sarasota, The Law Place is available for you to contact and book a free case evaluation with one of our accomplished Tampa car accident lawyers.
Damages You Could Claim Compensation For
Across Florida, every driver has a presumed duty of care to all other drivers, cyclists, and pedestrians. This means that all drivers are expected to drive safely and reasonably, particularly by following the rules of the road and paying close attention to their surroundings. If someone causes an accident, then they have violated their duty of care
and so could be found liable for any damages.
The most common types of damages that you could be compensated for in the Tampa Bay area:
Medical expenses – This includes past, present, and future expenses and refers to any money you may have had to spend on medical bills and costs of transports to and from appointments for injuries caused by the accident.
Property damage – If your vehicle was damaged in the accident, then you may be entitled to compensation to cover any repair costs.
Loss of earnings – If the accident caused you to miss work, then you could be compensated for any lost wages, and any wages you may lose in the future.
Pain and suffering – This refers to your mental suffering caused by your injury and any lost enjoyment if you can no longer partake in things you once enjoyed. As these damages are difficult to prove, it is prudent to have an attorney on your side.
Loss of a loved one – If you lost a loved one in the crash, then you deserve financial compensation to cover funeral expenses and loss of consortium.
If you are dealing with the aftermath of a car accident in Tampa, then it's important to enlist an accomplished law firm to work with you. Call The Law Place now to book a free case evaluation with one of our esteemed lawyers who have a combined 75 years of experience in dealing with Florida law.
How Will a Law Firm Help Me?
Research has shown that over 90% of cases that are supported by a lawyer result in a payout, compared to roughly 50% of cases that received a payout without representation.
Once you have called The Law Place, one of our attorneys will assess your case and ask some simple questions to determine whether your claim is valid. We will offer some free legal advice so you can decide how you would like to proceed. If you then decide that you do want to continue being represented by our law firm, we can arrange a much more in-depth consultation, exploring the details of your specific case.
In this consultation, we will also explain our fee structure and how exactly we will be able to help you. At this point, you can still choose not to continue, but if you do wish to proceed, then we will take over the case investigation for you so that you no longer have to worry about it.
The other driver's insurance company may try and settle your case quickly once they hear that you have an experienced attorney on your side. It is crucial that you speak to your attorney before accepting any settlement they may offer you to ensure that you are not being taken advantage of.
The majority of cases involving car accidents in the Tampa Bay area end in settlement. If your case does end up going to court, then our lawyers will build up a strong argument to prove that you deserve compensation for your injuries.
And don't worry about the financial side: our lawyers work on a contingency basis. Our law firm is monitored by State Bar Associations for contingency work. This means that for all successful cases, the fees will simply be deducted from your settlement. In the unlikely event that your case is unsuccessful, you won't have to pay anything at all.
The Law Place
You need a personal injury lawyer if you have been involved in an accident at a dangerous intersection in Florida. At The Law Place, our team of lawyers have a combined 75 years of experience in dealing in Florida law and will be committed to fighting for your rights and the compensation that you deserve. So, contact us today on (941) 444-4444 to arrange a free consultation so that you will feel supported while you focus on your mental and physical recovery.