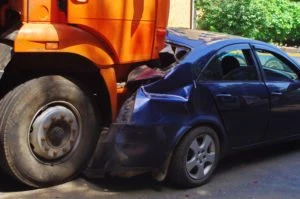 In the USA, a standard-sized car is 15 feet. When you compare this with the minimum length of a trailer in the trucking industry, which is 48 feet, it is easy to see why truck accidents are often the most catastrophic types of road traffic accidents. Not only are the injuries sustained in truck accidents usually more severe, but fatalities are almost twice as likely.
Special laws in St. Petersburg, and Florida in general, dictate how companies who own commercial trucks operate. Any person who suffers serious injuries or loses a loved one as the result of a St. Petersburg truck accident has the right to seek compensation from trucking companies for any damages and should do so with the help of a qualified personal injury lawyer.
If you or a loved one have been injured in an accident involving a semi-truck in St. Petersburg, Florida, The Law Place can help. Our team of experienced truck accident lawyers will investigate your case and work tirelessly to secure the compensation that you deserve.
Call The Law Place today at (941) 444-4444 to schedule a free consultation. Our phone lines are open 24 hours a day, 7 days a week, so there is always someone available when you need them most.
Truck Accidents in Florida
In Florida, the trucking industry is big business. Thousands of trucks haul products across the state every day. In addition, Florida is heavily populated and tracks thousands of tourists every year. All of this means that Florida has some of the busiest roads in the nation, and consequently, some of the most dangerous.
According to recent data, 98% of all semi-truck accidents in Florida involved some type of fatality, and 22% resulted in serious injury.
Common Causes of St. Petersburg Truck Accidents
Truckers often work too many hours with too little sleep. Driver fatigue combined with overloaded or poorly maintained trucks or driver error can result in serious accidents.
Truck accidents happen in St. Petersburg for a number of reasons, but the most common causes are as follows:
Driving Whilst Distracted
Truck drivers are required to work to strict deadlines. This means that they frequently resort to skipping breaks and instead eat and drink whilst at the wheel. Because of the tedious nature of their job, some drivers will make phone calls browse the internet, and even watch TV whilst driving. Unfortunately, this multitasking means that their attention is not 100% focused on the road, putting other drivers at serious risk.
Poorly Maintained Trucks
Trucking companies in Florida that employ semi-truck drivers are legally required to properly maintain their vehicles. Every truck should have a fully functioning rig and should undergo vigorous, regular safety inspections before every journey. Unfortunately, despite these strict regulations that have been put in place, many semi-trucks and other commercial vehicles travel on Florida's highways with faulty electrical systems,  inadequate brakes, and bald tires, along with a number of other faults that can lead to accidents.
Impaired Driving
Commercial truckers drive for many hours at a time and skip breaks to meet strict deadlines. As a result, many of them resort to using stimulants to stay alert and awake, leading to impaired driving. Prescription painkillers and other medications that drivers used for injuries, chronic pain, or an illness can also lead to impaired driving, but many truck drivers rely on these to continue driving and earn a living.
Unfortunately, driving under the influence of drugs or alcohol (DUI) is also a leading cause of truck accidents in Florida. Some truck drivers drink alcohol or take drugs due to boredom placing others at serious risk.
Truck drivers are restricted by The Federal Motor Carrier Safety Administration from even having alcohol in their truck unless it is approved commercial cargo. Trucking companies are expected to conduct rigorous inspections of the truck driver's cabs to check for alcohol and controlled substances. If they fail to do so, they, as well as the driver,  could be held liable for any resulting accidents.
Reckless Driving
When truck drivers are struggling to meet their deadlines after stopping for a scheduled break or due to heavy traffic on the road, they may resort to speeding or even running red lights to make up lost time.
In addition, truck drivers sometimes feel angry and stressed due to the pressure that they are under to make deliveries. This can lead to reckless driving maneuvers such as tailgating, lane switching without signaling, and failure to yield.
There is never an excuse for this negligent driving behavior because it increases the risk of accidents and serious injuries.
Overloaded Trailers
There is a strict limit placed on the amount of cargo that can be carried on a semi-truck. Unfortunately, some trucking companies have been known to overload their vehicles in order to schedule fewer trips and save money. When a semi-truck is overloaded, the driver's ability to turn or stop suddenly is compromised, leading to serious truck accidents.
Driving Whilst Fatigued
Truck drivers often find themselves feeling fatigued at the wheel because of their long working hours. Tiredness is known to slow reflexes and lengthen normal response time. Because finding truckers asleep at the wheel was becoming alarmingly common, strict federal laws were put in place, which required them to stop for regular rest breaks. Despite these laws, many truck drivers still skip breaks, especially because their employers offer premium rates for quicker deliveries. When commercial truck companies put profit before safety,  they put their employees and others on the road at serious risk.
Establishing Negligence in a St. Petersburg Truck Accident Case
A St. Petersburg truck accident lawyer will need to establish negligence for a successful personal injury claim. They will do this by identifying all of the possible at-fault parties and thoroughly investigating the case. They will need to provide evidence that shows that someone's actions (or inactions) caused the truck accident and your injuries.
One or any number of different parties may be liable for the St. Petersburg truck accident that you have been injured in, for example:
The Semi-Truck Driver
If there is evidence to suggest that the driver has falsified truck maintenance records, driven under the influence of alcohol or drugs, or acted in any way negligent – a good personal injury lawyer will work to establish that their actions directly led to your injuries and secure compensation for your damages.
The Trucking Company
It is likely that the driver of the semi-truck is an employee or contractor working for a trucking company. All trucking companies in St. Petersburg are responsible for the trucks that they own and the drivers who work for them. They are legally required to ensure that their truck drivers are sufficiently trained, that all of their trucks are safe and properly maintained, and that log records are properly kept. If they are down to have failed to meet these requirements and an accident occurred, the commercial trucking company may be held liable for your losses.
A Third Party
Upon investigation, your truck accident attorney may discover that the truck involved in your accident was overloaded by a supplier, that a truck mechanic used a defective part, or that there were manufacturing defects. If a truck was not safe to be on the road, those responsible would be considered negligent in court.
Because more than one party may be responsible for your damages and injuries, truck accident investigations can be complex. An experienced truck accident lawyer can investigate your case and determine the full value of your personal injury claim. Call The Law Place for a free consultation to find out more.
Seeking Compensation Following a Truck Accident in St. Petersburg, FL.
In Florida, all drivers are required to have PIP coverage as part of their car insurance package. This mandatory personal injury protection insurance can cover some of the cost of medical expenses and lost wages in the event of a traffic accident.
However, because truck accidents are often serious, victims can find that their PIP coverage does not cover all of their damages. Many of them are left with no option but to consult with an experienced lawyer and file a personal injury claim.
Trucking companies have corporate liability policies with very high claim limits. These limits are much higher than those of standard-sized cars and other comparatively small vehicles because of the serious damage that they can cause. Therefore, if a trucking company is in any way liable for your injuries, they can afford to award you a payout that you deserve. A skilled truck accident attorney from our law firm can negotiate a settlement on your behalf, and if a reasonable settlement can not be reached, our lawyers will be prepared to take your case to court.
No one should be left out of pocket following a truck accident. To find out if you are entitled to compensation for your injuries, call The Law Place to speak to an experienced St. Petersburg truck accident attorney.
The Types of Compensation You Can Expect
A St. Petersburg truck accident attorney from The Law Place will leave no stone left unturned when it comes to determining the value of your claim. Your compensation amount should take into account:
Any medical bills that you have paid up to this point, and any that you are expected to have to pay in the future.
The pain and suffering endured following the truck accident.
Wages that you have missed out on because you have been forced to take time off work.
The cost of any prescription medication or necessary medical equipment.
Any property damage, such as damage to your vehicle caused by the truck accident.
If you have lost a loved one in a semi-truck accident, you may be eligible to file a wrongful death lawsuit and seek compensation for yourself and any other surviving family members. This could cover funeral expenses, burial or cremation expenses, loss of consortium, and more.
To find out more about the compensation that you may be owed following a semi-truck accident, speak to a lawyer in St. Petersburg today. The Law Place can offer a free, no-obligation consultation.
How a St. Petersburg Truck Accident Lawyer Can Help You
As mentioned, truck accident cases usually involve several parties, including the people directly involved in the accident and their respective parties. This makes the case more complicated, which is why it is smart to consult with a professional St. Petersburg truck accident attorney. A qualified lawyer can guide you through the legal process.
The lawyers at The Law Place are familiar with auto accident law and the complex regulations that govern commercial vehicles. They can look closely at the trucking company, the manufacturer of the truck, and anyone else who may have played a part in the accident by acquiring driving logs and the maintenance records of the truck to determine liability for the accident. Most importantly, they can support you through this difficult time so you can focus on your recovery.
Call The Law Place for a Free Consultation
If you have been involved in a semi-truck accident in St. Petersburg, FL., it is important that you seek legal advice as soon as possible. So don't hesitate, call The Law Place today at (941) 444-4444 to schedule a free consultation. Our phone lines are open 24 hours a day, 7 days a week.