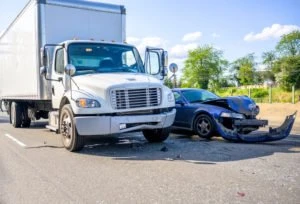 If an accident happens, which involves a semi-truck, then the likelihood of the accident becoming a very serious one increases massively. A semi-truck with a full trailer can weigh around 80,000 pounds. For reference, an average car weighs around 3,000 pounds, so therefore an accident involving one can cause immense damage. Truck accidents on such a heightened scale are much more likely to cause severe injuries and damage, even running a risk of fatalities.
If you or somebody you know has been injured in a truck accident, which was not their fault, then the damage can be plentiful. Here at The Law Place, our team recognizes how traumatic such a collision can be, and we are here to take on the legal side so you can concentrate wholly on your recovery. Contact us today to organize a free consultation with one of our dedicated lawyers on (941) 444-4444.
Semi-Truck Accidents in Florida
It is common to see a truck on the roads of Florida, transporting goods and materials for businesses. The country relies on these trucks to deliver a lot of necessary goods, so it is not a shock to see so many of them around. In fact, in 2015, roughly 11,777,983 commercial vehicles were registered across the United States.
Despite their benefits, unfortunately, semi-truck accidents are some of the most dangerous to occur on Florida roads. On average, there are 11 accidents a day involving a truck in Florida, and according to the Florida Highway Safety and Motor Vehicles (FLHSMV), there were 41,088 commercial vehicle crashes in Florida in 2016 alone.
Due to the huge size, a truck accident can cause a vast degree of damage. They can even result in serious, life-altering injuries, or even death. Here at The Law Place, we appreciate how damaging a truck accident of this kind can be, and we will be determined in the fight to getting you the justice you so deserve.
Causes of Truck Accidents in Clearwater, FL
As with most auto accidents, an accident involving a truck can occur in a number of ways and for a range of reasons. It is pivotal for a truck accident case that the cause is determined so that any financial compensation can accurately be decided upon. In some cases, the truck driver may be the center of the cause, and in others, they may have been the victim. Some examples of causes behind a truck accident include:
Multiple blind spots.
Overloading.
Driving under the influence.
Violation of the Federal Motor Carrier Safety Administration (FMCSA) regulations.
Fatigued driving.
Inadequate driver training.
Poor weather or road conditions.
Defective vehicle part.
Distracted or aggressive driving.
No matter the cause of the incident, if it was not your fault and you have received a significant injury or multiple injuries, then here at The Law Place, a dedicated truck accident lawyer will be able to support and represent you in these trying times.
Laws to Prevent Truck Accidents
Luckily there are rules and regulations in place across Florida that apply to the trucking company and the truck drivers they employ to try and prevent accidents. If these laws are broken, then this can be used against them in a truck accident insurance claim or lawsuit. Examples of these laws include:
Hours of service – Such regulations limit how many hours truck drivers can work. These rules prevent fatigue, which plays a big part in the cause of some accidents.
DUI laws – The DUI law for truck drivers sets out a lower threshold for their blood alcohol content before it becomes illegal (0.04%), a normal driver is 0.08%.
Record requirements – A trucking company and its drivers have to keep records of drive times, inspections, and other necessary compliance matters.
CDL requirements – There are rigid rules for an individual to receive or renew a commercial driver's license; this includes driving skills tests and medical exams.
Local or state traffic laws – As well as FMCSA regulations, a truck driver must still comply with any local and state traffic codes.
Drug and alcohol testing – A trucking company must carry out randomized alcohol and drug testing on each truck driver they employ.
If it can be proven that any of these laws were violated following your Clearwater truck accident this can aid greatly with your case, having a truck accident lawyer on your side can find evidence for any violations.
Determining Liability in a Clearwater Truck Accident Case
For you to recover compensation for your suffering, it must be proven which parties can be held liable for the truck accident. While it is usually the truck driver at the center of the accident, other parties can be held liable. For example:
Truck driver – The driver can be held liable if the accident happened because of their error; this includes distracted driving, drunk driving, and other violations. If they did not act as a reasonable person, they would have breached their duty of care and thus be liable.
Trucking company – In multiple cases, trucking companies can be held liable for their employees either through vicarious liability or their direct fault. For instance, the company could exhibit negligent hiring or management practices that contributed to the accident.
Truck part manufacturer – If the company which manufactures and sells parts designs or assembles defective parts, which then cause a malfunction that contributes to the accident, then they could be held liable.
Mechanics – Any crucial errors when inspecting, diagnosing, repairing, or maintaining the truck that leads to a malfunction on the road, which contributes to an accident, can mean that the mechanic in question could be held liable.
A government entity – If there are issues with something the government has jurisdiction over, they can be held liable, e.g. potholes or a lack of stop sign.
In the past, trucking companies were known to escape liability for any injuries after an accident by leasing their trucks because if the truck didn't legally belong to them, they could not be held responsible. Now the Federal Motor Carrier Safety Administration has put a stop to this, so now a trucking company can be held liable for any accident involving their driver or trucks regardless of ownership or employment status.
Claims against trucking companies can equate to larger settlement as these companies will have insurance to pay damages. A trucking company is a formidable force in a legal battle; they will often have lawyers readily available to devalue your injuries and any claim you make, so it is important to have your personal injury lawyer on side.
Comparative Negligence Laws in Florida
The state of Florida has a civil legal system which operates using comparative negligence laws. This means that multiple parties can be found at fault following an accident. Any negligence or fault of each party will be determined by their respective contributions to the accident. If you had some fault for the collision, then, as long as this fault can be proven to be below 50%, you could still be compensated to the degree that you were not at fault.
For example, this means that if you were 20% at fault for the accident (e.g. you were speeding), then your settlement will be reduced by this percentage. Therefore, you will receive 80% of the initial settlement had you not acted negligently or recklessly.
Damages Available After a Clearwater Truck Accident
If you have been involved in a Clearwater truck accident that was not your fault and sustained injuries or had to have time off work, then you could be owed compensation for the following damages:
Medical costs – Any bills that you encountered due to the injuries you sustained at the crash, you will be able to claim back through compensation. If your injuries are sadly permanent you will also be able to claim for any projected costs you may encounter because of this.
Loss of wages – For any time that you have to take off work due to perhaps an injury you sustained after your accident, you will be able to claim for any lost earnings from this period. Similarly, if you are unable to return to work, you may be able to claim for loss of earning capabilities, i.e. any future wages you will miss out on.
Pain and suffering – This form of damages includes any physical or mental suffering arising from the collision, as well as any loss of enjoyment in life (e.g. not being able to play sports you once did). This type is, however, hard to prove and to then quantify into monetary compensation due to the subjectivity of what can be included and to what degree it impacts your life. Therefore, it is best to have a personal injury lawyer on your side to do this all for you.
Property damage – If your car was damaged in the collision, then any repair or replacement costs can be claimed for in the settlement for a truck accident lawsuit.
Wrongful death – If you have unfortunately lost a loved one to a semi-truck collision that was not their fault, then as per Florida Statute 768.21, you will be able to file a wrongful death lawsuit. A settlement from a wrongful death lawsuit will usually cover any funeral expenses and loss of consortium.
Types of Truck Lawsuits
Following any injuries you received after a Clearwater truck accident, a lawsuit will be filed based on one of the following:
Negligence – Compensation for both emotional and physical injuries, as well as financial losses caused by the collision.
Product liability – This occurs if a defective part of the truck caused the accident.
Wrongful death – If the accident resulted in a death.
Call The Law Place for a free consultation to discuss your specific lawsuit.
Your Case has a Time Limit!
For every personal injury case, there is a set time limit for making a claim. After being involved in a semi-truck accident in Clearwater, Fl, you must consider hiring a personal injury attorney as soon as possible. In Florida, there is a statute of limitations in place on civil cases per Florida Statute 95.11. This statute lays out that you will only have four years from the date of your collision to put forward a claim. Following this point, it will forever be barred, and you will not be able to receive any compensation you may otherwise be owed. Furthermore, in the case of a wrongful death lawsuit, this time restraint is even shorter, the relative will only have two years to put forward a claim.
Additionally, it is also advisable to receive medical attention as soon as possible after the collision. If two weeks elapse without medical care, an insurance /trucking company may use this to devalue your injuries and argue they are not serious enough to receive a payout if you have not had to have medical attention.
If you have been involved in a semi-truck collision, contact us today to organize a free consultation with one of our experienced personal injury lawyers.
Contact The Law Place Today
If you or a loved one have been involved in a Clearwater semi-truck accident that was not your fault, then contact The Law Place today! Our committed personal injury and accident attorneys possess a combined 75 years of experience and a wealth of skill and knowledge in navigating the Florida legal system. You can be ensured that your case will be in the best possible hands if you do choose us as your legal representation.
Contact us today to organize a free consultation by calling (941) 444-4444. Phone lines are open 24/7, so do not hesitate to call.