Under Florida Law, all residents of Bradenton are required to come to a complete stop when approaching a steady red light or a stop sign. However, despite the fact that running a red light is one of the leading causes of car accidents in the State of Florida, many drivers are guilty of not stopping and often do not see this as a major risk.
Red light accidents can cause serious injuries and property damage which your insurance company may not always cover. If you've been involved in a car accident at an intersection, you could be facing medical bills well beyond your own level of coverage. In this case, you need to get into contact with an injury and accident attorney here at The Law Place.
The Law Place is an experienced law firm skilled in winning personal injury cases in Bradenton as well as the wider State of Florida.  We support you to understand your rights, navigate any negotiations with insurance companies and help you to receive the level of compensation you deserve.
We're currently offering a free consultation with one of our car accident and injury attorneys in Bradenton. So, call today for your free case evaluation. Phone lines are open 24/7.
Florida Law and Red Lights in Bradenton
According to Florida Statute 316.075, it is the legal responsibility of every driver in the State of Florida to stop their vehicle during a steady red traffic signal at a traffic light. Motorists are then required to remain stopped until the light changes to a steady green light. Florida uses red-light cameras at intersections in order to make sure motorists abide by this law.
However, there are some exceptions to this rule, such as:
Making a right turn (unless there is a 'no right turn on red' sign.)
Making a left turn from a one-way street into another one-way street.
Unlike many other States, Florida permits motorists to drive through an intersection during a yellow light. This is simply a warning that a light is about to switch to red.
Our team of dedicated attorneys fight and win for Floridians.
Penalties for Running a Red Light in Bradenton, Florida
Running a red light is classed as a moving law violation in Bradenton, Florida. However, drivers who run red lights do not always face criminal charges for this infraction. In most circumstances, the penalties for running a red light in Bradenton will result in a $158 fine which can be raised to $262 if a driver does not pay their fine after they have been notified.
However, whether or not harsher penalties and criminal charges are added can be affected by factors such as:
The reason for running a red light – If a driver runs a red light due to driving whilst intoxicated or due to reckless driving, they could face higher fines and even a criminal record.
If any damages were caused – A motorist could face more severe penalties if they cause serious injuries or property damage by failing to stop at a red light.
Fleeing the scene of the crime – If a driver fails to report an accident, even if it was not their fault, they will face hit and run charges in addition to charges for running a red light.
Why Might a Driver Run a Red Light in Bradenton?
There are several reasons why a motorist may fail to stop at a red light. This can include:
Driving above the speed limit.
Being in a hurry.
Due to wet, icy, or slippery road conditions.
Driving under the influence of alcohol or drugs.
Being distracted.
In order to avoid being rear-ended by another vehicle.
In order to move out of the path of an emergency vehicle.
Driving whilst fatigued or falling asleep at the wheel.
Mis-judging the length of a yellow light.
We're Florida's top litigation team with over 75 years of combined experience
The Most Common Injuries Caused by Drivers Running Red Lights
A car accident that takes place at a red light or stop sign most often results in a T-bone or rear-end collision. This means that injuries are typically caused to the upper body, particularly the arms, neck, and head.
The most common red-light car accident injuries include:
Head and neck injuries.
Whiplash.
Spinal cord injuries.
Broken or fractured bones, especially in the hands and arms.
Brain trauma.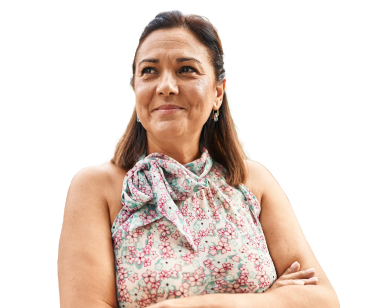 From the initial call to updates on your case status, we are here to get you answers.
Florida Personal Injury Law and Red-Light Car Accidents
It's important to be aware of what your rights are and what your insurance will and won't cover should you get into a car accident at a light intersection or stop sign. Being knowledgeable about this area of the law will ensure you receive the right level of compensation and avoid jeopardizing your claim.
Florida as a No-Fault State
Florida is classed as a no-fault state. The Florida Motor Vehicle 'no fault' law in Bradenton essentially means that individuals involved in car accidents will first turn to their own insurance company to recover damages whether or not they were at fault for the incident. This makes it much easier for accident victims to receive money for things like medical bills and lost wages without needing to be involved in complex legal battles.
Insurance Requirements in Bradenton Florida
Florida law requires every motorist in the state to be covered for:
$10,000 in Personal Injury Protection (PIP) insurance.
$10,000 in Property Damage Liability (PDL) insurance.
These types of insurance cover:
A percentage of medical bills and expenses.
A portion of current and future lost wages.
Non-economic damages such as pain and suffering.
Property damage.
Rehabilitation costs.
However, you will need to be able to prove that your injuries caused by a red light accident were severe enough to meet a 'serious bodily injury' threshold in order to receive anything from your insurance company.
What Constitutes a Serious Bodily Injury in Bradenton, Florida?
According to Florida Statute 316.027, a serious bodily injury is one which:
Causes serious bodily harm.
Affects the brain.
Causes impairment or damage to any internal organ.
Creates substantial risk of death.
Causes serious disfigurement.
It's always best to work with an experienced car accident attorney in order to prove without contention that your injuries do meet these criteria in order to make sure you receive the right level of compensation for your case.
Florida's Comparative Fault Law and Red Light Car Accidents
Often, red light car accidents are solely caused by the driver who failed to stop in time. However, there are some cases where things aren't as straightforward. For example, if an individual runs a red light and drives through an intersection, and they collide with another driver who was speeding, both drivers would be at fault for the accident.
Florida operates under a comparative fault principle in order to cover cases such as these. This means that damages are awarded to all individuals involved in a car accident based on their share of fault. So, if a driver ran a red light and hit your vehicle, but you were speeding, a jury may decide that the other driver was 70% at fault for the incident, but you were 30% at fault. In this case, if damages totaled $100,000, you would only receive $70,000.
In light of this, it's especially important to find an injury and accident lawyer to represent you. Your personal injury lawyer will be able to build a strong legal case to defend you against other drivers who may claim you were at fault and help you gain the level of compensation you deserve.
How Can a Car Accident Lawyer Help Me?
Many accident victims are unsure whether to hire legal representation if they feel their case is straightforward. However, it's always the best course to receive legal advice in order to understand your rights and avoid harming your chances of receiving adequate monetary compensation.
There are a number of ways in which Bradenton accident and injury attorneys can help you, including:
Contacting Insurance Companies
Insurance companies in Bradenton, FL., can be difficult to deal with. They can often deny or reduce compensation due to legal technicalities, and they do not always have your best interest at heart.
An attorney will be able to communicate with your insurance company as well as any other insurance providers involved in your case in order to navigate this complex area of Florida law and increase your chances of a favorable case outcome.
Filing a Personal Injury Claim
Whilst every motorist is required to carry $10,000 worth of PIP insurance and $10,000 in PDL insurance, there are many circumstances where this simply isn't enough to cover the damages caused by a car accident. In fact, car accidents in Bradenton, Florida, can exceed this limit two or three times over in the case of serious injuries or multiple victims.
In many cases, negligence claims can be settled out of court. Your attorney will liaise with the attorneys and insurance companies who represent other drivers involved in the accident in order to negotiate the amount of compensation you should receive. In some circumstances, an independent mediator can be brought in to help achieve a mutually agreeable settlement.
Proving Negligence and Duty of Care
In the State of Florida, all drivers owe themselves, other motorists, and pedestrians a duty of care to drive safely and sensibly. When a driver runs a red light, they are breaching this duty of care whether they cause a car accident or not.
A lawyer will be able to help try to prove that your accident and injuries were caused by another driver failing to maintain their duty of care. They will then be able to assess whether this act was an intentional crime or unintentionally negligent. This will affect the amount of damages and the level of compensation you could be entitled to.
Filing a Personal Injury Lawsuit
If a settlement agreement cannot be reached or your lawyer feels that you may be entitled to more compensation than you are being offered, you could choose to file a personal injury lawsuit. In this instance, your case will be brought to trial, and a jury will decide the total amount of damages as well as how these will be awarded.
If it can be proved that the motorist knowingly drove recklessly or dangerously, you could also be entitled to receive punitive damages in addition to compensation such as medical bills, lost wages, pain and suffering, rehabilitation costs, and more.
Filing a lawsuit and preparing to bring a case to trial requires a specific set of skills. You'll need an experienced car accident lawyer who is also a strong litigator in order to have the best chance of achieving a favorable case outcome.
Holding Guilty Drivers Accountable
You'll need to work with a lawyer experienced in car accident injuries to build a strong courtroom defense in order to protect yourself but also to hold the defendant accountable for their actions. This is because often, drivers who run red lights can make false claims in order to lower their penalties or even to try to claim comparative fault.
For example, a driver guilty of running a red light could incorrectly claim that this was necessary because they believed that the driver behind them was unable or unwilling to stop. In this case, they could argue that running a red light was a justifiable way to avoid injuring themselves in order to avoid a harsher sentence. This is something that will be decided in a court of law by a jury. However, you'll need to work with an experienced litigator in order to make sure the guilty driver is held accountable for their actions and receives the punishment they deserve.
Contact The Law Place – Car Accident and Personal Injury Lawyers
If you or someone you know has been involved in an auto accident involving a driver who ran a red light, you should get into contact with The Law Place to receive legal advice. We can help you to understand whether you have a viable case and to claim compensation for injuries, property damage, and more based on the circumstances of your accident.
We're a Florida law firm experienced in car accident cases. We work around the clock, 24 hours a day, 7 days a week, to win cases for our clients in Bradenton and beyond.
Schedule a free consultation and free case evaluation with an injury and accident attorney near you. Call today.