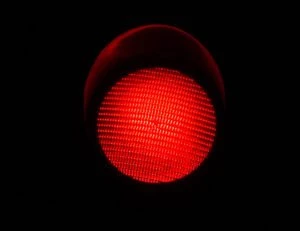 It is a legal requirement in Sarasota, Florida, for drivers to stop at a red light. However, it is all too common for drivers to speed through a red light with no regard for pedestrians or other drivers around them. This can lead to nasty crashes, serious injuries, or, in the worst case, death. This is even more serious when paired with the fact that in Florida, 99 people in 2017 alone were killed in a car accident caused by someone running a red light.
Car accidents caused by running a red light are incredibly dangerous. In these cases, drivers often travel faster than they should in an attempt to cross the light quickly while other drivers are also crossing the intersection, which can cause very serious injuries.
It is unacceptable and illegal for drivers to put others' lives at risk by running a red light. If you or a loved one have been injured or involved in a red-light accident, then you may deserve compensation. The Law Place knows this and wants to help.
The Law Place covers Sarasota and the whole of Florida and boasts over 75 years of combined experience in Florida law. Our attorneys will dedicate themselves to ensuring you receive the justice you deserve.
Contact us today on 941-444-4444 to schedule a free consultation with a personal injury lawyer to discuss your case with one of our reputable lawyers.
Commons Reasons People Run Red Lights in Sarasota, FL
There is never an acceptable reason to run a red light. Nevertheless, some of the most common excuses in Sarasota can be found below:
In a hurry – Drivers who run red lights will often claim they did so because they were in a rush.
Speeding – Drivers may attempt to "make the light" while it's still yellow and about to turn red.
Distracted drivers – Drivers may not have noticed the changing light as they weren't paying attention, whether it be because they were on their cell phone, eating, adjusting the radio, etc.
Drunk driving – Drivers under the influence of drugs or alcohol may run red lights unknowingly.
Tiredness – Drivers who are fatigued are often slow to react to changing lights.
Traffic light malfunctions – Occasionally, traffic lights may malfunction.
Despite this, it is very likely that the negligent driver will refuse to accept blame and may even claim that the accident was your fault. Our car accident lawyers at The Law Place will investigate the accident and determine the facts and reality of what happened to ensure that you receive the settlement that you deserve. Our law group's main priority will be to help you.
Common Injuries Caused by Red Light Accidents in Sarasota, FL
As red light accidents often lead to "t-bone" collisions, where the front of one car collides with the side of another, and many of the injuries that occur in such accidents are serious. The front and rear of a car have "crumple zones" which offer protection as they absorb the force of a collision. However, there are no "crumple zones" on the sides of cars, which can increase the severity of an injury. These injuries have the potential to lead to high medical bills and may permanently affect your lives. Such injuries include:
Neck injuries, specifically whiplash.
Head or brain trauma/injuries.
Broken bone or fractures.
Damage to internal organs.
Cuts, abrasions, and burns.
Spinal cord injuries.
Your vehicle may also be damaged in the car accident, and it could be expensive to repair or replace it.
If you have experienced any of these injuries or damage to your vehicle, you may be entitled to compensation, which is why it's so important to book a free consultation to see what our lawyers at The Law Place can do to help you in this difficult time.
The Duty of Care
Drivers must all presume a duty of care that requires them to drive reasonably and safely in order to protect the pedestrians and other drivers around them. This is active all over Florida, including Sarasota. When someone runs a red light, they are breaking the law, and are also considered to be driving aggressively, meaning they are not complying with their duty of care. Therefore, they can be found liable for the damages in any accidents that they may have caused by running a red light. In order to have a valid case, your accident attorney must be able to prove:
That the other driver owed you a duty of care – Whenever someone drives, they have a presumed duty of care to act reasonably to keep those around them safe.
That the other driver breached said duty – The driver breached this by not stopping at the red light.
That the breach caused the accident and your injuries – Your lawyer will use evidence to help prove that the injuries you sustained were because of the accident.
That the accident led to damages that should be compensated for – If your lawyer can prove a connection, you will be able to claim for the damages that the accident caused.
Compensation for Red Light Accidents
It is more than possible for you to get full compensation for the damages you have endured due to a red light accident through personal injury protection and property damage liability. This is because all drivers in Sarasota must carry these policies as a part of their car insurance.
However, you are restricted by the limits of your insurance policy, which could be as little as $10,000, regardless of how extensive your medical expenses and repair bills are. By booking a free consultation with The Law Place today, we can offer a free case review and suggest how much compensation you can realistically expect.
Despite this limit, your attorney may be able to get you additional damages by negotiating with the other driver's insurance company or taking your claim to court. This is only possible if you were seriously injured in the crash.
The Law Place
Call us at The Law Place for a free consultation if you have been affected by a red light accident in Sarasota or elsewhere in Florida. Don't face the Florida legal system alone; our attorneys want to help you win your case.
Don't wait to get that help. Call The Law Place on 941-444-4444 today for an experienced accident lawyer who can ensure you get the justice you deserve. Our phone lines are open 24/7, so call us at any time that suits you.