Car and truck accidents in Bradenton can cause fatal injuries and are sadly all too common. According to the Florida Department of Highway Safety and Motor Vehicles (FHSMV), around 400,000 motor accidents happen in the State of Florida every year, where truck crashes account for 1 in 10 national highway crashes.
Intersections are a particularly common place for accidents to occur, with some of the most common causes for crashes being speeding, running a red light, or failing to yield to the flow of traffic or correct right of way. All of these have the potential to cause dangerous collisions.
Part of the injustice of truck accidents is that it is often other drivers, rather than the truck driver, who suffer the most from these collisions. Research has shown that, of the 2,500 people killed in truck accidents in 2018, only 500 of the fatalities were truck drivers. This is because the driver is more likely to be protected from harm or death from inside a truck.
If you or a loved one has been involved in a crash in Bradenton at an intersection involving a truck, then you should seek advice from a personal injury lawyer as soon as possible. Here at The Law Place, our team has over 75 years of combined experience dealing with cases just like yours, and hundreds of our clients have successfully won compensation for accidents that weren't their fault.
Contact us today to arrange a free consultation with one of our accident lawyers. Our phone lines are monitored 24hrs a day and 7 days a week for the convenience of our clients, so call today at (941) 444-4444.
Common Causes of Truck Intersection Accidents
Intersections are a common location for all types of automobile crashes and can be caused by a variety of factors. There could be a hazard on the road, for example, or harsh weather conditions that can make driving safely more difficult.
Unfortunately, most collisions at intersections could have been avoided if it weren't for the negligence of one or more parties.
The attitude of drivers at intersections can lead to collisions, particularly if drivers believe that the rules of the road somehow do not apply to them. For example, drivers should always slow down to a stop when a traffic light turns yellow, and yet drivers will often accelerate instead to beat the red light. This dangerous behavior is the type of reckless driving that can lead to a T-bone or head-on collision at an intersection. Some common types of reckless driving behavior that can lead to a collision include:
Negligent driving – Driving in a way that ignores the safety of other drivers is extremely dangerous and can result in a fatal accident. This can include improper lane changing, road rage, distracted driving, speeding, or cutting off another driver.
Failure to obey traffic signals and signs – Speeding past a stop sign or running a red traffic light is a serious offense and puts the lives of drivers and passengers at risk.
Failure to yield the right of way – Extremely dangerous T-bone collisions can occur when a driver pulls out into traffic or performs a sharp left turn that cuts off another vehicle. These crashes often happen at high speed, making them even more catastrophic.
Driving Under the Influence (DUI) of drugs or alcohol – If a driver is under the influence of a substance, they could have impaired judgment and slower reaction times, which make it more likely that they will drive recklessly or fail to react in time to avoid a hazard that could lead to a collision.
Fatigue – Truck drivers are pressured to drive long hours without taking many breaks and so are often tired while driving. This can also increase the likelihood of the driver making a mistake, leading to a crash.
Rushing – Commercial truck companies often pressure their truck drivers to make deliveries on strict time schedules. A driver might feel pressure to speed in order to make sure they reach their destination on time.
All drivers in Florida have a duty of care when driving, i.e., the legal and moral obligation to ensure the safety and wellbeing of others on the road at all times. Under Florida Statute 316.208, driving laws apply to all motor vehicles, including trucks. If you have been in an accident caused by a failure to obey the rules of the road or neglectful driving, then you deserve justice for the suffering it has caused you.
Truck accidents can also occur because of negligence on the part of the truck company, for example, a failure to properly maintain the vehicle. Accidents can happen if the safety systems such as the tires, brakes, and axles are not regularly checked and maintained. An accident could also be caused by a failure to properly secure the cargo to the truck, as this can influence the turning speed of the truck, and falling cargo can be a serious hazard to other drivers.
If you or someone you know has been in a truck collision in Bradenton, FL., that was caused by negligence, then you should contact a reputable law firm as soon as possible. Our accident attorneys have dealt with countless accident cases involving trucking companies and with fighting on behalf of our clients to seek compensation for injuries or damages caused by trucks. Contact The Law Place today to schedule a free consultation with an accident attorney. They will give you free legal advice to help you decide what next steps to take.
Our team of dedicated attorneys fight and win for Floridians.
Damage Caused by Truck Accidents
All types of car accidents are dangerous, but accidents involving trucks are particularly serious. Trucks in Florida can be huge in size, such as 18-wheelers and dump trucks, meaning they have the potential to cause a lot of damage in case of a collision. The cargo on trucks also contributes to their huge weight, which can make a crash more likely. This is because a vehicle with a large weight will take a longer time to break, making it more difficult for a truck driver to avoid an accident if a driver in front of them brakes suddenly or if there is an unexpected hazard. Trucks also have larger blind spots than average cars. This means that if a careless driver tried to overtake a truck driver without being aware of this blind spot, this could lead to an accident, particularly if the truck driver tries to change lanes without being aware of the driver.
Common Injuries Caused by Truck Accidents in Bradenton
Truck accidents usually cause much more severe injuries than regular car accidents because of the size and weight of trucks. Some common injuries to result from accidents involving trucks include:
Spinal cord injury
Severe burns
Crushed or broken bones
Internal injury and organ damage
Paraplegia or quadriplegia
If you have been injured in a truck accident at an intersection, then you are no doubt enduring a lot of pain and suffering in your recovery, as well as mounting medical bills that might not be covered by regular medical insurance. Call us today for no-obligation, free legal advice from one of our accident attorneys. They can help you calculate how much you could be owed in compensation for your accident injuries.
We're Florida's top litigation team with over 75 years of combined experience
What Damages Can a Personal Injury Lawyer Help Me to Claim?
If you have been involved in a truck accident at an intersection in Bradenton, FL., then we understand the amount of suffering you must be experiencing. Car accidents involving trucks can lead to life-changing injuries and extensive damage to you as well as your wallet. If you have been seriously injured from the crash, it is unlikely that your insurance policy will cover all of the damages. A personal injury lawyer can help you to calculate the damages caused by your truck accident to see if you could benefit from an injury claim. Some damages that you may be able to claim include:
Medical bills
Lost wages
Lost potential future wages
Property damage
Pain and suffering
Wrongful death
If you have been injured in a truck accident at an intersection, we understand that no amount of money can make up for the pain you have experienced. However, being more economically secure will ease the stress of recovery and make life easier for you and your family. Contact our law firm today to see how much you could be owed in compensation. Our team of accident attorneys has dealt with many similar accident cases involving trucking companies. So call today for free legal advice from a personal injury lawyer.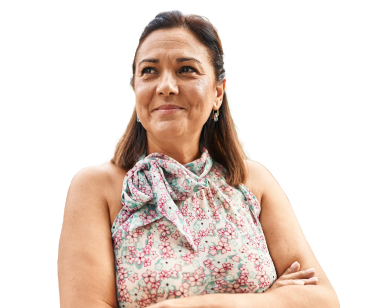 From the initial call to updates on your case status, we are here to get you answers.
Who Can Be Held Responsible for a Truck Accident?
All drivers in Florida, including trucks, have a duty of care to ensure the safety of other drivers at all times, as per Florida Statute 316.208. Unfortunately, reckless driving behavior or negligence from the trucking company can lead to devastating accidents that cause serious injury and even death.
Florida is a no-fault state, meaning that the payout of insurance companies following an auto accident is calculated as a percentage of how much each party can be proved to be to blame. For this reason, it is important to figure out who was at fault in any accident. However, this can be very complicated in a truck accident situation, as multiple parties could be held responsible for the collision.
The truck driver – As mentioned above, reckless driving or distracted driving can lead to a crash. Many trucking companies will define their drivers as independent contractors in order to reduce their liability in case of an accident.
The trucking company – If the truck crash was caused by a failure to properly maintain the vehicle, then the trucking company can be held responsible.
Cargo loaders – Trucks can carry up to 40 tonnes of weight. If this is not loaded correctly, then movement can cause the weight distribution of the truck to shift, which can cause the truck driver to lose control. The loaders of the truck could then be held accountable.
It is also important to be aware of the statute of limitations that apply in personal injury claim cases. Florida, as with all states, has a limit to the amount of time you have to file a lawsuit following an accident. As stated in Florida Statute 95.11, a person has four years to file a personal injury lawsuit from the date of the accident. You will not be able to make a claim if more than 4 years have passed, apart from certain situations where injuries prevent a person from making a claim in that time.
Although you have 4 years to make a claim, it is highly recommended that you start the process as soon as possible following the truck accident. The longer you wait, the more difficult it is for your accident lawyer to gather valuable evidence and build your case. The sooner you begin your claim, the more likely you are to receive a higher payout for your case. So don't hesitate, contact us today for a free consultation with an accident attorney.
What Can a Personal Injury Lawyer From The Law Place Do for Me?
If you were involved in a truck accident at an intersection in Bradenton, it is highly recommended that you seek legal representation from a truck accident lawyer from a reputable law firm. If you call us, you will receive a free case consultation with one of our attorneys. They will go through the details of your case with you and help to calculate an estimate of the damages and injuries you could claim for, and give you advice about the next steps to take to file a lawsuit. If you decide to work with us after that, then your assigned attorney will be by your side for the entire process of the lawsuit with support and legal advice. You can let your attorney handle the investigation of the accident, all communication and negotiation with insurance companies, and the necessary paperwork.
Investigating the accident will include collecting valuable evidence from the scene, inspecting the damage on vehicles involved in the accident, speaking to witnesses, checking CCTV footage, and using accident reconstruction technology to analyze the roadway at the scene. Dealing with insurance companies can be particularly tricky without a personal injury lawyer, as these companies will often do all they can to minimize their payout, including trying to shift the blame on you or claim that your injuries were not caused by the accident. Luckily we have a lot of experience in dealing with insurance companies and will ensure that you are not taken advantage of.
Here at The Law Place, we have over 75 years of combined knowledge and experience in managing cases just like yours and will help fight for your rights and ensure that the guilty party is held responsible for the suffering and damage caused by your truck accident. Our phone lines are monitored 24hrs a day, so call now on (941) 444-4444 for free legal advice regarding your case.