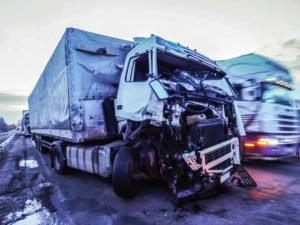 Bigger vehicles, particularly trucks, have an increased number of tires to help add stability as it spreads out the pressure of the weight on the tires. Despite this lowered amount of pressure on the tires, trucks still remain susceptible to the risks and consequences caused by tire blowouts. Unfortunately, a tire blowout on a big truck can cause a dangerous and potentially lethal truck accident. In 2017 alone, the National Highway Traffic Safety Administration (NHTSA) recorded 738 fatalities caused by tire-related crashes.
When a tire blowout occurs, the truck driver often will lose control of their vehicle. As soon as it happens, the vehicle may pull to the side aggressively and unexpectedly enough that the driver struggles to safely maneuver the truck, and the truck will often continue to move at a high speed. These risks, coupled together, can cause catastrophic truck accidents that have the potential to result in serious injuries or, in worst cases, even death.
If you or a loved one have been involved in a tire blowout truck accident in Clearwater, then you may deserve compensation. Because it is not always easy to determine who is responsible for an accident, or how to navigate the complicated Florida legal system, then it is important to consider enlisting the help of knowledgeable personal injury lawyers. Our lawyers at The Law Place will be able to take on big insurance companies on behalf of you to ensure you are not taken advantage of and help fight for your rights to compensation. So, call us today to schedule a free consultation at (941) 444-4444.
Common Causes of Tire Blowouts on Trucks in Clearwater, FL
The heat in Florida can put a lot of pressure on tires and wear them down quicker, and whilst the heat is not usually the only cause for a blowout, it does worsen the issue severely and can decrease how long it takes for a blowout to occur. Below is a list of common causes of tire blowouts in Clearwater:
Underinflation – This is one of the leading causes of truck tire blowouts, and also one of the easiest to prevent. Underinflated tires put a greater amount of stress on the individual truck tires, which can lead to the tire's internal components to stretch beyond what they should and heat up, thus resulting in a blowout.
Overloading – If a truck is overloaded, then it will be exceeding its gross vehicle weight rating. This puts excess pressure on its tires, which weakens its structure and leads to a tire blowout.
Road hazards – Things such as potholes, curbs, and other obstructions in the roads can pinch the tire and cause damage. If the tire is immediately sliced, then it may fail straight away. If the damage is more subtle, it could take weeks or sometimes even months for the blowout to happen.
High speeds – Driving at high speeds, even if you're not speeding, results in heat buildup and the weakening of tires, which eventually causes them to blow out.
Defective tires – Occasionally, defective tires make it out of the factory and make it onto big trucks. These tires are not able to safely hold together and can cause serious tire blowout truck accidents. This can also occur if a tire was poorly repaired.
Lack of maintenance – The chance of a tire blowout is less likely with adequate upkeep. Truck drivers should perform an inspection of their tires before every trip, and so it can be noticed, and then fixed if their tires are experiencing any issues which could then lead to a blowout.
Regardless of the cause of the blowout, if you were involved in a truck accident caused by a tire blowout, then you may be entitled to compensation. If you call The Law Place today and book a free consultation, then an experienced Clearwater truck accident lawyer will be able to evaluate your case and offer you legal advice and guidance and let you know whether you have grounds to make a claim and recommend the best next steps for you.
Assigning Liability in a Blowout Tire Truck Accident in Clearwater, FL
In can be a complicated process when determining who is liable in a truck accident caused by a tire blowout, and can require a lot of investigation. The reason for the tire bursting must first be discovered, and the following list is some of the most common individuals who are to blame:
The truck driver/owner – If they failed to safely use and drive their truck and/or adequately maintain their tires.
The trucking company – If the trucking company ignored the mechanic's recommendations, has policies against swapping tires because of the costs, or forces drivers to carry on driving even when there are suspected defects, then the trucking company could be at fault.
The tire manufacturer – If the tire blowout was caused because the tire was defective and/or poorly designed, then the tire manufacturer could be at fault for the accident as they allowed that tire to be used.
The tire distributor – Trucking companies usually buy tires from the distributor rather than the manufacturer, and it is their responsibility to properly store tires to reduce the risk of wear and tear; quality check the tires; provide the right tires for their customers. If they fail to do this, and it results in a tire blowout, then they could be held accountable.
The mechanic who installed it – If the mechanic noticed defects on the tires, or should have noticed them, but still fitted them, then the mechanic may bear some responsibility.
Government entity – If there was a particularly large pothole or road hazard, and the correct authoritative organization had already been made aware of it but ignored the danger, then they could be liable for the accident.
Determining who is liable for the truck accident can be incredibly difficult if you don't have much experience in dealing with Florida law or the means or authority to adequately investigate the crash. This is why it may be crucial to the success of your claim to work with a personal injury lawyer who has experience in working with victims of tire blowout truck accidents. Here at The Law Place, all our accident attorneys are fully capable of investigating your case and ensuring that fault is placed with the correct party, so call us today to book a free case evaluation, and give yourself the best chance at winning the financial compensation that you deserve.
Damages That Are Frequently Awarded in a Tire Blowout Truck Accident in Clearwater, FL
Once liability has been established, your attorney will then assess the number of losses you may have had to endure, and now deserve compensation for. This will ensure that you receive the highest amount of financial compensation possible. Listed below are the most common types of damages that The Law Place recovers compensation for:
Medical bills – If the injuries that you sustained in the truck accident were severe enough that you had to see a professional and it cost you money, then these expenses should be covered by financial compensation. Expenses can also include past and future medical bills, as well as travel to and from appointments, prescriptions, surgery, and more.
Lost wages – If you could not attend work as a result of the accident, then you may be reimbursed for the wages you lost as a result.
Property damage – If your vehicle was at all damaged in the crash, then the costs of repairs may be covered.
Pain and suffering – If you are suffering mentally and/or emotionally from the trauma of the accident, then you may deserve financial compensation. However, as this is very hard to prove, it is crucial that you have a highly trained lawyer on your side to help fight for your right for compensation.
Wrongful death – If you lost a loved one in the accident, then certain family members may be able to receive compensation for loss of consortium, funeral costs, loss of income, and more.
While we know that receiving financial compensation will not automatically fix everything for you, it can help relieve you of any financial burdens and serve as some form of comfort and proof of justice for you. We understand how important this can be for victims of a tire blowout truck accident, and will do everything in our power to ensure that you win the justice that you deserve. So contact The Law Place today to speak to an experienced and determined lawyer.
How To Avoid a Tire Blowout Accident
In order to best avoid a tire blowout, truck drivers should do the following:
Regular maintenance – Truck drivers should regularly check for any bumps, dents, or weak areas on their tires, as well as the tires' pressure, all of which can lead to blowouts.
Planning – Truck drivers should plan their general route to avoid construction areas, rough roads, or other paths that present a high risk of debris. This is because debris on the road can puncture the tire, causing a blowout. If the truck driver does have to pass through these types of roads, they should check their tires as soon as possible afterward.
If you experience a blown tire in your vehicle while driving, you should try to follow the below steps:
Grip the wheel – By holding onto the wheel tightly, you'll have a better chance at keeping control of the vehicle.
Adjust your speed – You should accelerate briefly, as this will help stabilize your vehicle, and then release the accelerator. Don't slam on the brakes.
Steer straight – While you may automatically want to turn in the opposite direction, you should drive the vehicle straight down your lane to decrease the risk of a spinout.
Pullover – Pull to the side of the road out of the way.
Check the vehicle – Have a qualified mechanic check the vehicle after a blowout in case there was any extra damage.
Contact a Clearwater Truck Accident Lawyer Today
The attorneys at The Law Place boast a wealth of experience, contacts, and skill, all of which will help increase the likelihood of your claim being successful. If you choose to work with us, you can be sure that we will be in your corner every step of the way through this stressful time, and do all the hard work for you, allowing you much needed time to heal from the accident.
Fighting for justice yourself can be incredibly difficult, especially if you have no experience in personally dealing with Florida law. This is why if you or a loved one have been involved in a truck accident caused by a tire blowout, then you may want to contact a lawyer. By doing so, you will be giving yourself the best possible chance of receiving all the financial compensation that you deserve.
Call The Law Place on (941) 444-4444 to book a free case evaluation with an esteemed truck accident lawyer.