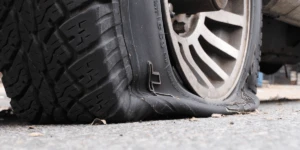 Tire blowout accidents occur when a tire is damaged to such a degree that it explodes during the ride. These types of accidents are very sudden and can be very dangerous if they happen to an inexperienced driver. But even an experienced driver may not manage the situation well. Not to mention, if this happens to a truck, the aftermath will likely be severe. The vehicle is very hard to control afterward and can cause a lot of damages. But the worst thing is that this all is preventable. If only the truck driver or the trucking company did their regular maintenance check-up.
If you or a loved one have been involved in an accident caused by a truck tire blowout in Florida, you might have the right to compensation. At The Law Place, we have a team of professional attorneys who specialize in personal injury and truck accidents. They know how to deal with insurance companies to ensure the best possible outcome for clients. So, call us today and schedule a free consultation at (941) 444-4444. We are here for you 24 hours a day, 7 days a week.
Most Common Causes of a Tire Blowout in Venice, Florida
The most important factor that contributes to tire blowouts in Florida is the heat, as this accelerates their wear and tear and contributes to damage. Apart from that, a tire blowout can be caused by:
Driving with incorrect tire pressure.
Driving with a defective tire.
Excessively loading the vehicle.
Driving over a sharp object lying on the road.
Frequently using low-quality roads.
Driving with worn-down threading.
As you can see, many of these causes are preventable by having your vehicle checked regularly. However, many truck drivers or trucking companies underestimate the importance of this or just want to save money. But avoiding prevention is never worth it. A tire blowout can cause a lot of damage, injuries, and even a wrongful death, so the saying "better safe than sorry" really applies here. If you have experienced a car accident caused by a truck tire blowout, contact one of our accident attorneys to find out how much compensation you are entitled to.
Assigning Liability for an Accident Caused by a Tire Blowout in Venice, Florida
To be able to assign liability for the blowout, your accident lawyer must first go through all the available evidence and find out why the truck tire burst out. The reason is usually the negligence of one of the following parties:
The truck driver.
The trucking company.
The manufacturer of the tires.
The mechanic who installed the tires.
The government (for not repairing a damaged road).
A third party (for leaving a sharp object on the road).
All these parties have to exercise the so-called duty of care, which means that they need to put a reasonable amount of effort into their work or driving. If they fail to do so, they might face severe consequences. Negligence, in this case, might include installing a defective tire, driving recklessly, not meeting safety requirements by overloading the vehicle, or skipping regular maintenance controls. If your crash has been caused by one of these reasons, it is very likely you are entitled to compensation.
However, truck accidents caused by a tire blowout tend to be quite complicated, as they usually involve more than two parties. This is why we do not recommend you pursue the case on your own. It is advisable to hire an experienced accident attorney and focus on your recovery rather than stress about the outcome of your claim.
Claiming Damages Following an Accident Caused by Truck Tire Blowout in Venice, Florida
Truck accidents are usually quite serious and tend to cause more injury and damage than car accidents because trucks are bigger and heavier than personal cars. Your accident attorney will help you determine which damages you are entitled to claim. These may include:
Medical bills – You could have the right to compensation for all your medical expenses and the treatment of your injuries sustained in the truck accident.
Pain and suffering – You might also get compensated for the psychological impact the accident had on you. Damages for your pain and suffering are usually calculated by multiplying your medical bills by a number from 1 to 5, according to the severity of your injuries and the degree that they impacted your life.
Damage of property – You should be able to claim compensation for the damage that the accident caused to your belongings. These include your car, of course, but can cover other things like your mobile phone.
Lost wages – You could qualify for compensation of the salary you would otherwise earn if you had not sustained the injuries in the truck accident.
Lost earning capacity – There is also compensation for future earnings that you would be able to make if it was not for the injury. This applies when the injury changes your life so much that you have to change your job and start earning less as a consequence.
Wrongful death – If you lost a loved one in a car crash that was somebody else's fault, you might be compensated for their "wrongful death." This compensation is designed to reduce your emotional distress and compensate for the loss of the deceased person's earnings for the family.
Investigating a Truck Tire Blowout Accident in Venice, Florida
A professional accident attorney should conduct a thorough investigation of the site of the crash so that they can determine its cause and find out what role a defective tire played in the accident. They should record the state of the road, measure the skid marks and check the state of all vehicles involved. Moreover, they should also gather evidence from witnesses or security footage, if available, to find out additional information.
As you can see, there is a lot of things a good truck accident lawyer should do to ensure that they achieve the best possible outcome for their client. They should also know that it is essential to start the investigation as soon as possible, as a lot of evidence can get lost with time. Even after just several days, part of the evidence can be permanently gone. The road may get cleaned and maybe even repaired so that it can be used normally again. All the cars may get fixed and tires changed. And if you wait too long, witnesses start forgetting, and the security footage gets erased.
If you have been involved in an auto accident involving a truck, do not hesitate to call a trusted law firm like The Law Place today.
Dealing With Insurance Companies in Venice, Florida
If you find yourself in a car accident, you are required to inform your insurance company of this fact within a specific time frame, usually 24 hours. However, it is important to know that you do not need to provide them with all the details at that moment. Insurance companies focus mainly on profit and will try to pay you less than you deserve. And after an accident, you will very probably be in shock, so you may tell them unnecessary details or maybe describe how you think the accident happened, which may not even be true. At that moment, you may even agree to something that you might later regret. That is why the best thing you can do is call a truck accident attorney from The Law Place as soon as possible.
Our lawyers are used to dealing with insurance companies and know their tricks. Some of these companies even hire lawyers to devalue the claims of their clients. Don't let this be you. This is why we are here! We are ready for this, and we have already won many successful settlements. Get in touch with us for a free case evaluation and find out what we can do for you today.
Contacting The Law Place
The Law Place offers a broad spectrum of professional legal services. Our team has 75 years of combined experience and is skilled in many areas, including winning compensation for personal injury sustained in truck accidents. Over the years, we have led many clients towards successful settlements.
If you schedule a free consultation with one of our truck accident attorneys, we will discuss the details of the accident with you and provide you with a free case evaluation. As our team always works together, you will benefit from the combined knowledge we possess when we advise you on your case. Furthermore, as we work on a contingency basis, we don't get paid unless we win a settlement. So there's no reason to fear upfront fees and surprise costs.
At The Law Place, you can be sure that there will be no unpleasant surprises. We strongly believe in communication, so everything will be made clear to you both in terms of the details of your case and our fee system. You will have the opportunity to ask as many questions as you want so that you fully understand the case before proceeding with our representation or committing to anything. Getting your case started couldn't be more risk-free! Our attorneys also understand that going through a truck accident can be very hard for you and your family, so they will do their best to take the burden off your shoulders so that you can fully concentrate on your recovery.
If you or a loved one have been involved in a truck accident caused by a tire blowout, the only thing you have to do is pick up a phone and call us at (941) 444-4444. We will take care of the rest.