While cycling is popular for its well-known health and environmental benefits, cyclists are some of the most at-risk parties on the roads of Florida these days. This is because, unlike in other types of auto accidents, there is no barrier between you and the other vehicle. Cyclists are also much smaller and harder to see than a car, and accidents often occur when a negligent driver doesn't exhibit due care and caution when checking for the presence of a cyclist.
If you have been injured in a Bradenton bicycle accident in the past for years, you are entitled to raise a personal injury claim to seek compensation for the injuries, damages, and other complications that resulted from it. For the best chance at maximizing your settlement amount, you will need the assistance of an experienced Bradenton bicycle accident attorney like those found in our team here at The Law Place. We have over 75 years of combined experience negotiating the complexities of Florida law and winning compensation for accident victims. We offer every client a free consultation over the phone at no obligation to find out the best way to handle their situation.
If you would like to know more, give our office a call at any time of the day or night and find out how our Bradenton bicycle accident attorneys can help you. The contact number is (941) 444-4444!
Why Are Bicycle Accidents So Common?
Our legal team here at The Law Place in Bradenton, FL., have seen countless personal injury claims which deal with bicycle accidents. But why are they so common?
Quantity of cyclists – As cycling is such a positive, healthy, and environmental habit, it makes sense that there are a lot of cyclists on the roads of Florida. When we factor in tourists and those cycling without much experience or thorough knowledge of road traffic laws, we begin to see how so many accidents can occur.
Vulnerability to the environment – Cyclists are open to the environment around them, making them more vulnerable to being hit by a car and to adverse weather conditions alike. The surfacing quality of the road and the presence of potholes also have a much greater impact on a bicycle rider.
Visibility – Even those more safety-conscious riders who utilize bicycle lights and reflective strips are at risk from drivers failing to see them.
Negligent driving – Cyclists are particularly at risk from the negligent driving of others. If someone is speeding, driving recklessly, or operating their motor vehicle while distracted, this can easily cause a bicycle accident. The way Florida law defines negligence can be found in Florida Statute 768.81.
It doesn't matter what the situation was that led to your bicycle accident. The Bradenton bicycle accident lawyers at our law firm will fight for your rights to receive financial compensation for the injuries you sustained.
To find out more about how to file a claim, contact our office today to arrange a free consultation with an attorney.
Our team of dedicated attorneys fight and win for Floridians.
The Best Ways to Prevent and Avoid Bicycle Accidents
While a bicycle accident is more often than not the fault of a car driver, there are a number of things you can do as a cyclist to prioritize your own safety.
Our list of the best safety tips to ensure you avoid bicycle accidents where possible would include:
Make yourself seen – The road is a particularly dangerous place for cyclists at night. Your bicycle should be fitted with bicycle lights and reflective strips. You should also try to avoid wearing dark colors that would cause you to blend into the night.
Use bicycle lanes where possible – While it is often against the rules of the road to ride your bicycle on the sidewalk, many places have specific lanes for cyclists. By using these, you lower the risk of experiencing an accident caused by a car or other motor vehicle.
Knowing and following traffic laws – A considerable percentage of bike accidents can be avoided by abiding by the rules of the road. Especially things which seem simple, such as stopping appropriately at stop signs, avoiding cycling against the flow of traffic, and following all signals.
Paying attention – Just as when you are operating a motor vehicle, it is important to pay attention to your surroundings to avoid bike accidents. You should always avoid using your phone whilst riding a bicycle.
Avoid intoxication – Similarly, just as intoxication increases the risk of an auto accident, so too does it increase the risk of bike accidents. Even though you are not operating a motor vehicle, your reaction speed and decision-making abilities will still be compromised.
Avoid headphones – While it can be relaxing to listen to music or podcasts while cycling, you will be more distracted and also unable to listen properly to your surroundings. This increases the risk of injury due to bicycle accidents.
Bike maintenance – Many bike accident cases are caused by malfunctioning bicycles. If you are going to be sharing the road with cars or other motor vehicles, ensure your bike is well maintained and functioning properly.
One of the most important things to do to avoid a bike accident where possible is to cycle defensively. Assume that other road users will be at fault for your injuries through their mistakes and try to predict them.
Common Injuries Sustained in a Florida Bike Accident Case
As we have already mentioned, in a bike accident, you are more exposed to dangers than if you were driving a car. This increases the risk of sustaining serious injuries, which could be life-altering or possibly even fatal.
Our Bradenton bicycle accident lawyer team has seen many examples of different injuries. The following are the most common:
Road rash or other cuts, abrasions, or lacerations to the skin.
Bruising or spraining.
Shattering, fracturing, or breaking of bones.
Injuries to the back or spine, which can lead to loss of mobility or, in some cases, complete paralysis.
Head injuries. Some people who sustain a traumatic brain injury in a bicycle accident may suffer from reduced mobility, emotional or intellectual faculties for the rest of their lives.
Ruptured or damaged internal organs or internal bleeding.
Scarring of the skin or other types of disfigurement.
If you have sustained any of these injuries, or any not listed here, following a bike accident, our experienced Bradenton bicycle accident lawyer can help you to make a personal injury claim to seek financial compensation.
We're Florida's top litigation team with over 75 years of combined experience
What About the Non-Physical Complications of a Florida Bike Accident?
It is entirely possible that, due to the trauma of being involved in an accident, you may suffer from psychological complications instead of or alongside your physical injuries.
The good news is that these are also considered when you file a claim. If you have been suffering from any form of mental health issue or post-traumatic stress disorder following your accident, your Bradenton bicycle accident attorney can help you to seek compensation.
Common psychological complications following a Bradenton bicycle accident include:
Depression.
Anxiety, which can either come in sudden bouts or be more generalized.
Troubling sleeping, which may manifest itself as night terrors, flashbacks, or insomnia.
Loss of enjoyment in your life.
Inability to use roads or bicycles again in the future due to fear of another accident.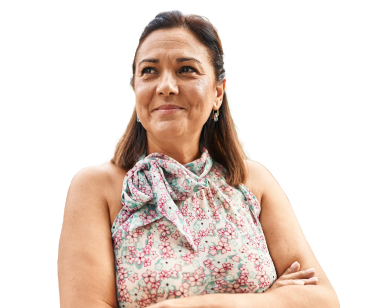 From the initial call to updates on your case status, we are here to get you answers.
Who Will Be the One Paying for My Personal Injury Settlement?
As Florida is a no-fault state, as covered in Florida Statute 627.7404, insurance companies are required by law to cover a percentage of your damages.
The problem is, it is often the case the compensation available through your insurance company may not cover the cost of your damages. Furthermore, insurance companies are slippery and have many tricks for lowering your claim amount in order to save themselves money.
This is why hiring the correct Bradenton bicycle accident lawyer is so important. The attorneys at our law firm have a wealth of experience negotiating the various tricks your insurance company will use to try and devalue your claim.
We can also help you to take your personal injury case through the courts if the insurance company does not cover a fair portion of the damages caused by your injury.
To get started, all you need to do is call The Law Place in Bradenton for a free case evaluation. From there, we will explain the entire process to you, as centered around your specific case.
What Different Damages Can Your Bradenton Bicycle Accident Attorneys Help You to Receive Compensation For?
There are a number of different types of compensation available to those who have suffered injuries as a result of a bike crash. These will differ depending on your exact situation.
The most commonly awarded damages for those who were injured in a bike crash include:
Property damage – Deals with the economic cost of physical items damaged in the crash, such as your bike and other valuables upon your person.
Medical costs – the cost of medical treatment can often be life-changing in itself. With a copy of your total medical bills, our law firm can help you to be reimbursed for this amount.
Lost wages – there are many types of injury that necessitate time spent off work, and many workplaces are unwilling to pay fairly for this time spent in recovery. Your personal injury attorney will use copies of your employer's correspondence to fight for you to recover these lost wages.
Pain and suffering – these damages look at the duration and consequences of your recovery. The economic worth of these damages will scale with the recovery duration, pain level, and the presence of life-altering consequences, such as those possible as the result of a traumatic brain injury, for example.
Wrongful death – you have lost a loved one in a crash which was not their fault, your attorney can help you to seek compensation for the cost of the funeral and burial. Additional compensation for their lost income and the loss of their family companionship is also available. While it may seem unfair to think of death in monetary terms, the financial burden of losing a loved one can intensely complicate your grieving process.
The Statute of Limitations for a Florida Bicycle Crash Injury Claim
Victims of injury in any type of vehicle accident in Florida are constrained by the statute of limitations, as found in Florida Statute 95.11.
This means that once a period of four years has passed from the exact date of the bike accident, victims can no longer raise a personal injury claim.
It should be noted that family members who have suffered the loss of someone close to them only have two years in which to seek a settlement for their loss. This is something that catches the family of many Florida accident victims off-guard.
It should also be noted that just because you have years in which to seek your settlement, you should still not delay. Due to the slow disappearance of evidence and the tricks of insurance companies, the quicker you raise your personal injury case, the greater the amount of compensation you can expect to receive.
What to Do Immediately After a Bradenton Bike Accident
Victims of vehicle accidents are often shaken at the scene of their crash, so we have put together a small list of things to do immediately after:
First, get yourself and any other people present to safety.
Then, immediately contact the police (in accordance with Florida Statute 316.062) and medical authorities if anyone was injured.
Collect the contact details of every driver present, whether they were involved or simply a witness.
Take photographs of the scene, including all vehicles involved, the road surface, damage to the surroundings, and any injuries sustained.
Finally, call your lawyer right away. The sooner your case can be started, the better chance you stand of maximizing your compensation.
Contact The Law Place Today
If you were injured by another driver in a bike accident which was not your fault, the personal injury lawyers at our Bradenton office could help you to receive financial justice. Compensation is available for property damage, medical bills, pain and suffering, lost wages, and more. The lawyer team at our office will do everything in their power to maximize the amount of money you are entitled to. We have a staggering wealth of experience inside and outside the courtroom, just waiting to benefit your specific accident case.
In order to start the process of seeking compensation, call today to receive a free consultation and a free case evaluation. Our phone lines are always being operated, so you can give our office a phone call whenever it best suits your schedule. All of our personal injury and accident cases are no-win-no-fee. This means that if you are successful, the fee for your lawyers will only be taken from the final settlement. If you are unsuccessful, the process will be risk-free and cost you nothing at all.
Phone a member of our lawyer team today by calling (941) 444-4444!