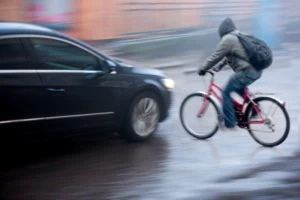 Cycling is very popular in Port Charlotte and across Florida. Many Florida citizens use their bicycles as an essential form of travel to work or school rather than relying on public transport. Others use bikes for leisure and exercise purposes which can improve mental and physical wellbeing. Although Florida roads are generally safe for cyclists to use, bicycle accidents still happen. These accidents can leave victims with life-long injuries as well as large medical bills to worry about.
If you or someone you know has been involved in a Port Charlotte bicycle accident, our team of accident attorneys at The Law Place is here to help. With over 75 years of combined experience, our lawyers are experts in injury law and understand the complexities of the Florida legal process. We offer valuable legal advice and work tirelessly to ensure that our clients receive the best outcome for their cases. An accident attorney at our Florida law firm will review your case at no obligation and determine how much compensation you may be able to receive for your accident.
Call us today at (941) 444-4444 for a free consultation and see how much money you may be entitled to.
What Are the Most Common Causes of Bicycle Accidents in Port Charlotte, FL?
According to the NHTSA, there are a number of causes of bicycle accidents. These include:
Amount of cyclists – Cycling is not only very popular among residents in Port Charlotte but also among tourists visiting the area. This leads to an increased amount of cyclists on the road, and many of them have little experience with local traffic laws.
Lack of visibility – Many cyclists take necessary precautions to be visible on the roads. However, some drivers still fail to see cyclists clearly, especially at night.
Negligent driving – Bicycle accidents are often caused by negligent car drivers.

Driving under the influence

, speeding, and reckless driving can all lead to road traffic accidents.
Operator errors – Mistakes made by road users can be a cause of bicycle accidents. For instance, if a motor vehicle driver does not give the right of way to a cyclist when necessary, this could cause a collision.
No matter the cause of the bicycle accident, our attorneys at The Law Place, will make sure that you receive the compensation that you are eligible for. Call our law firm today for a free consultation.
How to Prevent Bicycle Accidents
Fortunately, many bicycle accidents are avoidable if enough precautionary measures are taken. The following list gives ways in which cyclists can avoid potential accidents on the road:
Increase visibility – Many accidents tend to occur at night when cyclists are not easily visible to drivers.

Cyclists can help to prevent bicycle accidents by wearing reflective clothing and using lights on their bikes. The more visible a cyclist is, the less likely they are to be involved in a road traffic accident.
Use bike lanes – By using designated bike lanes, cyclists can reduce the likelihood of an accident occurring. Many roads are not suitable for cyclists to use, and bike lanes are a safe way for cyclists to travel without danger.
Bike maintenance – Bike accidents can be caused by defective equipment such as flat tires and faulty bicycle chains. Therefore, it is essential that cyclists ensure that their bicycles are well-maintained and safe to use on the road.
Avoid distraction – It is important to avoid any potential distractions while riding a bicycle. For instance, listening to music using earphones can limit a cyclist's hearing ability and can distract them from focussing on the road. This could result in accidents involving car drivers, pedestrians, and other cyclists.
If you or a loved one has been involved in a Port Charlotte bicycle accident, get in touch with The Law Place today for a free consultation with one of our personal injury attorneys.
What Can Our Personal Injury Attorneys Help You to Claim?
In regards to bicycle accidents, there are many possible ways of claiming compensation in Florida. Our accident attorneys have the expertise and experience necessary to ensure that you get the deserved compensation for your case. Things that can be claimed for if you have been involved in a bike accident include:
Lost wages – After a bicycle accident, victims are often left in a position where they cannot work, resulting in lost income. You could be entitled to claim for the income you have lost while you were unable to work due to the accident.
Medical bills – Accidents on the road can leave victims with large medical expenses for things such as medication, surgery, and other treatments.

Although insurance companies cover some medical costs, many do not cover all of them.
Pain and suffering – It can sometimes be difficult to determine how much compensation someone may be owed for both physical and mental suffering inflicted by a bicycle accident. However, an experienced personal injury lawyer from The Law Place will help you calculate how much you could be eligible for.
Property damages – With the help of our legal team, you may be able to cover the cost of repairs for the property damaged during the accident, such as your bicycle and your cell phone.
Wrongful death – If you or someone you know has lost a loved one due to a bicycle accident in Port Charlotte, an accident attorney from our law firm can seek compensation to cover the costs of the funeral and other expenses. Under

Florida Statute 768.21

, the victim's family is entitled to receive any losses resulting from the deceased family member.
Our team understands how costly a bicycle accident can be for all parties involved. Call us today for a free consultation with one of our attorneys at The Law Place and find out what you may be able to claim for.
What to Do if You've Been in a Bicycle Accident in Port Charlotte
First and foremost, if you or a loved one has been involved in a bicycle accident in Port Charlotte, FL., it is important to seek medical attention if necessary. We recommend taking photos of the road surface and the vehicles involved in the accident, as well as injuries, and/or damages sustained. It's also advisable to take note of the contact information of all parties involved. As Florida Statute 316.066 states, you are legally obligated to contact the police and report the accident within 10 days.
After the accident, get in contact with a personal injury attorney at The Law Place. After reviewing your case, a member of our team will be able to offer professional legal advice and work towards getting you the best compensation possible. At our law firm, we work on a contingency basis regulated by The State Bar Association. This means that a client is not charged for our services if their case is unsuccessful.
Contact The Law Place Today
If you or someone you know has been involved in a bicycle accident in Port Charlotte, call The Law Place today. With over 75 years of combined experience, our team of accident attorneys has the expertise and knowledge to help guide you through your case and offer support and advice whenever necessary.
Here at The Law Place, we understand how stressful and time-consuming the legal process can be for victims of road traffic accidents. That's why all you have to do is provide us with the information about the accident, and we'll take care of the rest. Our lawyers are committed to ensuring that our clients receive the best possible compensation.
Our phone lines are always open, so you can schedule a call with one of our lawyers whenever it suits you. Call us today free of charge at (941) 444-4444 and see how much you may be entitled to.