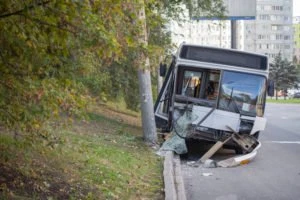 On any given day, Florida roads and highways are full of busses carrying commuters to and from work, driving children to school, and taking visitors on tours throughout the state. However, despite typically being among the safest modes of transport, when bus accidents happen, they can have devastating consequences.
Bus accidents can be particularly severe as they often involve a number of parties, including pedestrians, other motorists, as well as passengers who could be children in the case of a school bus. This can leave several injured individuals and multiple parties who could be liable to pay for damages. However, you don't need to navigate this complex legal situation on your own.
If you've been injured in a Bradenton bus accident, whether or not you were at fault, contact The Law Place today for a free case evaluation. Our team of personal injury lawyers works around the clock to build you a strong legal defense in order to avoid or diminish liability and receive the right level of compensation for your case.
We offer all of our new clients a free case evaluation. So, you can be sure you're confident in your choice of legal representation before you commit to us. Book your free consultation with one of our experienced bus accident lawyers today at (941) 444-4444. Phone lines are open 24/7.
Why Do Bus Accidents Happen?
The most common causes of bus accidents include:
Distracted driving – A bus accident could occur if a bus driver becomes distracted by a passenger or due to something like checking their mobile phone.
Poor weather conditions – Busses are large vehicles, which can make them unsteady during high winds. In addition, icy conditions can cause bus accidents due to vehicle skidding.
Inebriated driving – If a driver chooses to drive whilst intoxicated or under the influence of drugs, it is more likely that they will cause a bus accident. Florida Statute 316.193 states that a motorist is considered 'over the legal limit' if their Blood Alcohol Level or Breath Alcohol Level of 0.08 or over.
Reckless driving – Bus drivers are often held to tight schedules. If they are running late, they could be speeding or weaving in and out of traffic, which would mean they are driving recklessly.
Who Could Be Liable for a Bus Accident in Bradenton?
Due to the fact that bus accidents involve a large number of people, including passengers and other motorists, there can be a number of individuals that could be held liable:
Bus drivers – One of the most likely causes of a bus accident in Bradenton is due to driver negligence. Bus drivers have a duty of care to themselves, other motorists, and their passengers to drive safely and within the limits of the law. If they breach this duty, they will be held liable for causing the accident.
Passengers – In some cases, passengers on the bus could be at fault for an accident. This could be the case if they were distracting the driver or behaving in a way that led to an accident occurring.
A bus company – A bus company could potentially be partially liable if, for example, they required a driver to skip legally required rest breaks or if they hired an under-qualified employee.
Other drivers – It is also common for other drivers on the road to be completely or partially responsible for causing a bus accident. Motorists can often try to pass a stationary bus whilst it is pulling out, which can result in a side-on collision. Accidents could also occur on the road if another driver is driving irresponsibly, swerving into a bus lane, or weaving in and out of traffic to bypass a bus.
Accident victims – In some cases, accident victims themselves can be held liable. Being injured in an accident does not mean that you are automatically completely free of fault. You could also share a portion of the liability.
Bus Accidents and Comparative Negligence
In some cases, it's possible for there to be more than one negligent party in a bus accident. For example, a bus driver could have caused an accident because they were distracted by passengers, but the motorist they crashed into and subsequently injured may have been speeding. For cases such as these, Florida operates under comparative negligence law.
Under comparative negligence, a percentage of fault will be assigned to every individual involved in an accident. Then, the total amount of monetary damages will be awarded based on each individuals' share of fault. In standard cases with one defendant and one plaintiff, one person could be 80% at fault, and the other could be 20% at fault, therefore receiving 80% of the damages.
However, bus accidents often involve more than one accident victim. Bus passengers and drivers, other motorists, and even pedestrians could be injured in one incident, which means there could be multiple claims for compensation and multiple liable parties. In this case, it's especially important to get into contact with an injury and bus accident attorney. Due to the incredibly complex nature of this area of Florida law, it's not advisable to attempt to handle this case without legal representation. Otherwise, you may risk losing out on compensation and even being held liable to pay for damages.
Will My Insurance Cover a Bus Accident in Bradenton, Florida?
If you've been injured or involved in a bus accident in Bradenton, Florida, you'll need to understand what your insurance will and won't cover. Florida is a no-fault state. This means that victims will use their own insurance to cover any damages whether or not they were at fault for an auto accident.
In the State of Florida, every driver is required to possess $10,000 of Personal Injury Protection (PIP) insurance $10,000 of Property Damage Liability (PDL) insurance.
Personal Injury Protection (PIP) Insurance
If you've become injured in a bus accident, you'll be able to use your own PIP cover to pay for any immediate costs. PIP insurance pays for:
80% of medical bills (Up to $8,000 for serious injuries and $2,500 for non-emergency injuries.)
Associated medical expenses such as medications, transport, rehabilitation, etc.
60% of lost wages.
Funeral and burial expenses should the policyholder become deceased in a wrongful death case.
Non-economic damages such as pain and suffering.
Property Damage Liability (PDL) Insurance
PDL insurance covers damages you may cause by being involved in a bus accident. This type of insurance pays for:
Damage caused to other motorists' vehicles.
Damages caused to property, including road features such as fences and lampposts.
Lost income from a business that was forced to close due to their property becoming damaged by the accident.
How to Receive Compensation for a Bus Accident Injury
Bus accident victims face medical bills and damage costs that often far surpass what is covered by their $10,000 PIP and $10,000 PDL insurance. In fact, the average cost of a serious traffic accident in Florida can exceed $50,000. In this case, victims will likely look for ways to recover compensation from the liable party in order to cover their extra costs.
If this applies to you, there are some key steps to take in order to secure the best possible chance of claiming and receiving the right level of compensation:
Record Evidence
A successful personal injury claim is based on solid evidence. You should begin recording any evidence as soon as possible after the accident if you are able. You should take photographs, write detailed notes and collect information such as registration numbers, names, and insurance details.
You should also keep a clear record of any medical expenses associated with injuries caused by the accident. This includes ambulance fees, hospital fees, prescription, and medication costs, as well as physiotherapy and rehabilitation. In addition, continue to take photographs of your injuries as they progress.
Find a Personal Injury Attorney
Next, it's essential to find a personal injury attorney who specializes in bus and traffic accidents. Many individuals put off finding legal representation because they're unsure if they really need it. However, if you want the best chance of receiving the level of compensation you deserve, you'll need to have a strong legal defense and a professional on your side.
You should always look for law firms that offer a free case evaluation or a free consultation. This helps you to make sure you're working with the right bus accident attorney for you and your needs before you've spent any money.
Contact Your Insurance Company
Following a Bradenton bus accident, you'll have 14 days to report to your insurance company in order to claim PIP or PDL benefits. At this time, it's advisable to seek legal advice and find the right personal injury and accident attorney.
Insurance companies in Florida can sometimes be difficult to work with. They can often use technicalities to avoid paying a higher level of compensation. In addition, personal injury law is complex and difficult to navigate on your own. Without legal representation, you could risk saying the wrong thing to your insurance provider and jeopardizing your claim. However, a bus accident attorney can advise you exactly what to report in order to have the best chance of receiving the right level of compensation.
File a Claim
If your medical bills and damage expenses exceed what is covered by your PIP and PDL insurance, you may wish to file a claim against a negligent driver. This could be the bus driver themselves or any other driver that could share liability for a bus accident.
In this case, your bus accident attorney will approach the legal representation of the negligent party and negotiate a monetary settlement agreement. An independent mediator could also be used in order to reach an out-of-court settlement at this stage.
File a Personal Injury Lawsuit
There are many circumstances in which the insurance company of a negligent driver will refuse to meet the compensation demands your attorney has made, therefore meaning a settlement cannot be reached. If this happens, you will have the choice of filing a personal injury lawsuit and taking your claim to a court of law.
Filing a lawsuit after a Bradenton bus accident can be costly and time-consuming. In fact, it can often take 2-3 years for personal injury cases to be brought to court. Your bus accident lawyer will be able to advise you whether to take a settlement agreement or to escalate the situation if they feel you could be entitled to more compensation than you are being offered.
Can I Sue the City for an Accident Involving a City Bus?
If you are hit by or crash into a Bradenton City Bus that belongs to the state, you may be able to sue the City for damages. Florida Statute 768.28 states that an individual can file a claim for compensation against a Government body if:
Their injury was caused by the negligence of a Government employee.
Their case can be resolved with monetary compensation.
The negligent party would have been judged to be negligent regardless of their status as a Government employee.
However, there are some restrictions to this:
Government employees cannot be held personally liable unless it can be proved they acted willfully negligently.
Awarded damages are capped at $200,000 for a case involving one Government body and $300,000 if it involves multiple Government bodies.
The State of Florida can appeal the case outcome.
Pursuing legal action against a Government body is much more complex than filing a claim against a private party. These types of cases have different timeframes, more specific requirements, and are subject to strict investigations. If you've been injured in an accident involving a Government vehicle, you'll need to work with an accident lawyer experienced in these types of cases. Contact one of our bus accident attorneys here at The Law Place for more advice.
Why Work With a Bradenton Personal Injury Lawyer
Bus accidents can be a complicated area of personal injury law to tackle, especially if the case involves a government body, a bus company, or even multiple parties. Our best advice is to seek legal representation as soon as possible after your accident. Your lawyer will be able to help you with a number of key areas, including:
Proving negligence – In order for your case to be successful, you will need to be able to prove that you sustained significant injuries and that your injuries were caused by the negligence of another party. Your attorney will be able to help build a legal case in order to prove that negligence occurred.
Building a legal defense – Due to Florida's comparative negligence law, it is possible that other parties involved in the accident may try to attribute some of the blame to you. To combat this, your lawyer will work with you to form a strong legal defense in order to help you avoid being judged as liable and receiving a lower level of compensation.
Communicating with insurance companies – Your lawyer will be able to communicate with any insurance companies involved in your accident case and also fill out any necessary paperwork.
Providing advice and support – Being injured in a motor vehicle accident can be a stressful and uncertain time. Working with legal representation will provide you with support as well as advice about the best options for your case.
Contact The Law Place – Personal Injury and Bus Accident Attorneys
If you've been injured in a Bradenton bus accident, you could be dealing with high medical expenses and expensive property damage. You could also be facing a claim for partial liability, which could diminish the compensation you may be entitled to. If you're wondering what your legal options are, you should contact The Law Place today for your free case evaluation.
We're a Florida Law firm experienced in winning bus accident injury cases in Bradenton and the wider state. We work with dedication and a collaborative approach that allows our clients to benefit from the varied skills and legal experience across our whole team. With a number of practice areas, including property and medical negligence, traffic incidents as well as personal injury cases, you can be sure you're being represented by the right legal professional for you.
Contact us today for a free consultation with one of our bus accident and personal injury lawyers. Call us 24 hours a day, 7 days a week on (941) 444-4444.