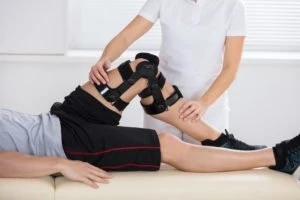 The human body is an intricate piece of organic machinery, everything is connected, and each limb contains a combination of bones, ligaments, and cartilage. The legs support the entire body and are the key to mobility. This is why a knee injury should be taken seriously, as, over time, it can cause a range of other health complications. It is important that at the time of injury, you are given the proper rehabilitation.
Many things cause knee injuries; it could be an automobile accident or a slip and fall. If someone else's negligence caused your injury, then you could be entitled to compensation.
The Law Place is a Bradenton personal injury law firm. We have over 75 years of combined experience in Florida law, and most of our attorneys have the highest possible rating of AVVO 10.0. With a long list of positive reviews, awards, and evidence-based experience, you can count on us to have your best interest at heart. We have the experience and knowledge to fight alongside you and ensure you receive the settlement that you deserve.
Contact us today for a free consultation in Bradenton and find out what we can do for you. We are open 24/7, so call us now at (941) 444-4444.
Slip and Fall Cases in Bradenton, FL.
When you slip and fall on someone else's property, it may be because of negligence, as outlined in Florida Statute 768.81. If you can show that the property owner's actions or inaction caused your injury, you can claim under premises liability.
Perhaps they failed to mark a wet floor, or they knew of a hazard and did not properly warn you of the dangers. Premises liability can apply to both private and commercial properties. Either way, it will likely be the property owner's insurance company that you will need to deal with to claim compensation. Insurance companies are notorious for underhanded tactics that are used to justify paying you less than what you deserve. But when you have a personal injury attorney on your side, they will be stopped in their tracks. Remember, once you accept a settlement, you cannot claim for anything more.
Car Accident Cases in Bradenton, FL.
If you sustained a knee injury in a car accident, then you could be owed damages. If the car accident was a minor one, then you may be able to claim from your own insurance company. In accordance with Florida Statute 627.7407, Florida is a no-fault state, which means that regardless of fault, you must initially claim from your own insurance up to the limits of your policy.
However, if your damages exceed your policy limits and you were not at fault for the accident, then you can claim from the other driver's insurance company. Your personal injury attorney will guide you through this process and will work to gather evidence that supports your claim.
Symptoms of a Knee Injury
Knee injuries are traumatic and can cause various complications later in life if not taken care of properly. The knee is complex and is made up of many ligaments and cartilage, which means that a lot can go wrong.
Symptoms include:
Physical and visual deformities in the knee.

Swelling and discomfort surrounding the knee.

Inability to straighten your leg.

Limited motion.

The buckling of the knee.
At The Law Place, a team of personal injury lawyers will review your case so that it can benefit from our combined knowledge. At which point, an attorney will become your advocate and will be there to support and advise you.
Why Can Knee Injuries Be So Damaging?
Whether you injured yourself in an automobile accident or a slip and fall, knee injuries can range from mild to severe. In extreme cases, you could have lasting discomfort and reduced mobility. Even a mild injury may take some weeks to heal, which could seriously affect how you live your life.
The cost of repair and recovery is also very expensive in Florida. A knee replacement could set you back $49,500, and that's before you consider the many years of rehabilitation. You may also require home adjustments in order to assist mobility. The costs quickly accumulate.
Damages Available Following a Knee Injury in Bradenton, Florida
If you have suffered a knee injury that was not your fault, then you could be entitled to compensation. A personal injury lawyer will work with you to make sure that your settlement reflects the extent of your injuries. The types of damages they may be able to help you claim include:
Medical costs

– Following personal injury, you should be entitled to damages to cover all medical expenses, including past and future expenses. This includes any hospital care as well as long-term physiotherapy.

Pain and suffering

– A knee injury can cause more than physical pain. It may also lead to emotional suffering due to the loss of mobility and the inability to participate in certain activities. These types of damages can be difficult to justify, but an attorney will help you to claim for what you deserve. Generally, it is calculated using the cost of your medical bills, which is then multiplied by a number that changes depending on the effect the injuries have had on your life. If you have long-term restricted mobility, then the multiplier could be as high as 5.

Loss of wages

– A knee injury could affect your job. Perhaps you are unable to perform physical labor or cannot stand at checkout for long periods. If this is the case, then you should be compensated for both lost wages and lost earning potential. You may also be able to receive a settlement that includes the cost of retraining for a new job.
Contact us today, and if we believe you have a valid claim, we will arrange a free case review at no obligation to you. We will explain what we can do for you, what damages you might claim, and what our fees will be. At which point you can walk away with some tailored information about your claim or agree to representation. We work on a contingency basis, which is monitored by The State Bar Association, so there is no need to worry. This means we don't receive any payment unless we win a settlement. We are always upfront about our costs. You will not be left with any surprise bills.
How Long Do You Have to File a Lawsuit in Bradenton?
Florida Statute 95.11, known as the statute of limitations, limits how long you have to make a personal injury claim in Florida.
Usually, you have four years to make a claim, or if you lost a loved one, then you have only two years to make a wrongful death claim. However, there are some exceptions, such as if you were seriously injured and therefore unable to claim.
We advise that you contact a law firm with a strong team of personal injury attorneys as soon as possible. The sooner after your accident, the better, as the evidence will be stronger, and you will be more likely to claim a larger settlement. For example, a damaged floor can be repaired, witness memories can fade, or CCTV footage can be erased. A lawyer will ensure that evidence is protected.
Contact The Law Place in Bradenton, FL., Today!
The Law Place is a reputable law firm with a strong team of attorneys that are ready to help you on your path to justice. We have over 75 years of collective experience and will assess your claim as a team so that no stone is left unturned. After which, one of our attorneys will become your advocate and guide so that you can feel supported and some of the stress can be taken off your shoulders.
Just by having a law firm on your side, insurance companies will know that you mean business and will not accept anything less than a fair settlement. With a skilled attorney, you are more likely to be successful in your claim, and your settlement is more likely to be a higher amount.
However, you don't have to decide right now. Call today and arrange a free consultation. We will advise you based on the specific circumstances of your case. At the very least, you will be armed with more legal knowledge to go it alone. Or you can agree to representation and let us guide the way.
We want to be there for you when you need it most, which is why our phones are open 24/7. So, call us today at (941) 444-4444.