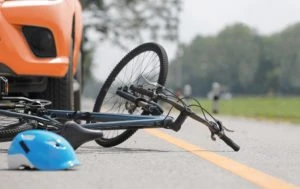 Cycling is one of the most popular forms of transportation in Florida. Many residents in Tampa use it to commute to their place of work, and for many, it is a much-loved hobby and favored form of exercise.
However, bicycle accidents are all too frequent in Florida. Thousands of people around the country are involved in bicycle accidents every year. Accident victims can often be left with severe injuries, and their lives can be turned upside down as a result. According to a Traffic Safety Facts report published by the National Highway Traffic Safety Administration (NHTSA), Florida had more cycling deaths in 2017 than any other state.
If you've been involved in a bicycle accident in Tampa, FL, contact a Tampa personal injury lawyer at The Law Place to discuss your options. Our law firm has over 75 years of combined experience, so call us today on (941) 444-4444 for a no-obligation, free case review. Our bicycle accident lawyers are ready to fight for your compensation.
What Causes Bicycle Accidents?
Several factors influence the number of bicycle accidents in Tampa, FL, some of them include:
The number of cyclists – With more bicycles on the road, there are more accidents than in areas with fewer bikers.
Tourists – Not only can the warm weather in Florida attract tourists who may increase the number of bicycles on the road. Tourists who don't typically use bicycles as their primary source of transportation can also contribute to accidents due to inexperience.
Operator errors – Errors made by both cyclists and automobile drivers cause most bicycle accidents. When either the bicyclist or driver fails to yield at a traffic light or doesn't give the right of way, collisions happen, resulting in injury.
Environment – In some cases, inclement weather can affect visibility. Cyclists who fail to wear bright, reflective clothing at night are difficult to see, further contributing to collisions at night.
Distracted driving – Drivers who are texting or otherwise distracted are a significant danger to cyclists. Other common causes of bicycle collisions include drunk driving, speeding, road rage, and drowsy driving.
If you are in a cycling collision caused by a negligent driver, they may be held liable for the damages you suffer as a result of the collision. An experienced attorney can help you build your case to prove driver negligence and get you the compensation you deserve for your injury.
Who Pays for My Injuries?
Tampa's residents are subject to Florida Statute 627.7407, Florida's no-fault insurance law. This states that regardless of who's at fault, each driver, pedestrian, or bicyclist who suffers injuries in an accident must file a claim under their own auto insurance policy to recover the following expenses and losses following the incident.
Under your insurance policy you can claim for:
80% of reasonable medical expenses, including doctor visits, surgery, X-rays, dental, rehabilitative services, and medically necessary ambulance, hospital, and nursing services.
60% of lost wages under their own policy.
Replacement services like babysitting or lawn care.
However, protection from insurance companies may not cover all of your medical bills or lost income, especially if your pain and suffering are severe. Therefore, you may choose to take legal action to gain compensation for your injuries. The best thing to do in the case of personal injury as a result of an accident involving a bike is to speak to an experienced accident lawyer as soon as possible.
The Florida Bicycle Accident Law
In the event that the bicycle rider doesn't have auto insurance, Florida bicycle accident law allows the cyclist to file a claim under the responsible driver's auto insurance policy. In these cases, the injured bicyclist may be able to recover from the at-fault driver's property damage liability (PDL) benefits, bodily injury coverage, or other policy coverage.
In order for an injured cyclist to file a case against the at-fault driver to recover damages outside the domain of no-fault insurance law, the injured victim must have suffered a serious injury, like:
Significant scarring.
Disfigurement.
Loss of a bodily function.
Due to the fact that cyclists are exposed and don't have seatbelts or a shield to protect them like passengers in a car accident, often accidents involving bicyclists result in serious injuries or even death to the cyclist. In the event where a loved one died as a result of the accident, surviving family members may file a wrongful death lawsuit.
What to Do if You Are Injured in a Tampa Bicycle Accident
If you are in a bicycle accident with a motor vehicle, call 911 to request emergency help right away. Even if you do not believe you were seriously injured, you should report the accident to the local Tampa police department and get examined by a medical professional in a reputable Tampa hospital. If you do not seek medical attention within two weeks following an accident, you could lose any compensation you might receive.
Contact a lawyer in Tampa as soon as possible after the accident. Seeking legal advice from the start will strengthen your chances of securing compensation in the future.
After the incident, you will need to document all of the expenses you incur. You should also make paper copies or scan a digital copy for safekeeping. These documents will be crucial in calculating and recovering your damages during the legal process. You should provide these as early as possible during the free consultation. This will allow your chosen law firm to seek compensation as quickly and effectively as possible.
It is also a good idea to keep a journal documenting your pain and suffering. Keep detailed notes of how the incident has affected your life. These notes can include your pain levels, any challenges you face performing routine tasks, difficulty moving or traveling, and even any strain it may have placed on relationships in your life.
Contact a Tampa Bicycle Accident Lawyer Today
The aftermath of a bicycle accident is expensive and difficult to navigate alone. An experienced personal injury attorney in Tampa can provide the assistance you need throughout the legal process.
A Tampa bicycle accident lawyer at The Law Place will be dedicated to your case. They will fight for your right to justice and getting you the compensation you deserve after a collision.
Our practice areas cover Tampa, St Petersburg, and the rest of Florida.
Our accident lawyers will work on your case as a team so that you can benefit from our combined experience and skills. So, if you have been injured in a Florida bicycle accident, contact The Law Place today on (941) 444-4444 and schedule a free consultation with a personal injury lawyer at our law firm.