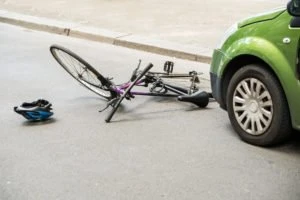 Although some may consider bicycles relatively safe vehicles, the sad truth is that bicycle accidents are more common than you might think. Such collisions can cause life-altering injuries as well as emotional stress. No matter how safe you are as a bicycle rider, no one is completely safe from accidents. Here at The Law Place, we understand how upsetting and traumatic a bicycle accident can be. And although you may be simply focused on your recovery, it is important to remember that if the accident was not your fault, then you could be entitled to financial compensation for the injuries and suffering you endured. This could ease the burden of the economic impact the accident caused, with costs such as medical bills and time off work. That way, you can focus on your recovery and getting your life back on track. Here are some commonly asked questions regarding bicycle accident settlements.
If you have further questions or wish to discuss the possibility of filing a personal injury claim, contact us today for a free consultation with one of our personal injury attorneys. Bicycle accident personal injury cases can become complicated. Furthermore, a bicycle accident victim will be limited in their ability to take legal action against the at-fault driver because of Florida's no-fault laws. These laws require certain conditions to be met in order for an injured cyclist to file an action against another driver in order to recover damages from this other party's insurance.
In order to ensure that you receive a fair settlement, it is recommended that you work with a reputable law firm and seek representation from an accident attorney to handle your case. With our initial free consultation, you can discuss the specifics of your case with an experienced lawyer, who will give you personalized advice on the next best steps you should take regarding your case.
Our phone lines are monitored 24 hours a day, 7 days a week for the convenience of our clients. Call us today at (941) 444-4444.
How Long do Accident Settlements Take?
A commonly asked question is how long a bicycle accident settlement will take. The timeline of a bike accident settlement case will largely depend on the severity of the injuries sustained. It is advised that, following a bike accident, the victim waits until they have received full treatment for any injuries sustained in the bike accident. In a lot of cases, the full extent of the injuries caused by the accident is not immediately clear, as there may be unexpected treatments, medication, and even surgery in the weeks, months, or even years following the initial accident. For this reason, we advise our clients to seek medical attention and comply with the advice of a medical professional first of all. You should only start to make a claim when you have reached maximum medical improvement, in other words, received all the medical attention and treatment available. At this point, you can contact a personal injury lawyer to help you value your case and see whether you might expect a settlement or whether you would likely have to go to trial for your case.
However, make sure to start your claim sooner rather than later, as there is a four-year timeframe in which you must make your claim. The full details of Florida's Statute of Limitations for filing a suit can be found in Florida Statute 95.11.
How Are Accident Settlements Calculated?
Bicycle accidents can have a profound emotional and economic impact on the victim and their families. If you decide to file a personal injury claim, the settlement will depend on the economic and non-economic damages that resulted from the accident. This includes medical bills, lost wages, property damage, emotional suffering, etc.
The settlement amount you could receive will depend in part on the severity of your injuries and how much short-term and long-term treatment they require.
Some of the most common bicycle accident injuries include:
Soft tissue injuries.
Head injuries.
Musculoskeletal injuries.
Scarring and disfigurement.
Riding a bicycle on the roads in Florida can be treacherous, even when riding on specific bicycle routes and with the utmost care. Most collisions that occur between cars and bicycles occur at intersections, making city streets particularly dangerous. Even small bicycle accidents can lead to serious injuries and eye-watering medical bills, particularly as a bike offers little protection from other vehicles or surroundings. These expenses can extend past the initial period following the accident, as your injuries could require future medical care and rehabilitation.
Some of the medical expenses you could claim include:
Surgery.
Scans.
Prescription medication.
Specialist appointments.
Follow-up appointments.
Rehabilitation and physical therapy.
While the severity of your injuries will certainly factor into the potential value of a bicycle accident settlement, it is worth noting that serious injuries do not always result in large verdicts or settlements.
Lost Wages
If your bicycle accident injuries have meant that you have had to take time off work, we understand that this can take a serious toll on your income. Bicycle accidents can lead to life-changing injuries that cause long-term or even permanent disabilities.
If your injuries make you unable or less able to work in the future, you may also be able to include lost hypothetical future wages in your claim.
Sadly many bicycle accidents can lead to extreme injuries and even death. If your family's income has been reduced by the death of a loved one, then talk to a lawyer about how this could be included in your settlement.
An experienced personal injury attorney will gather relevant evidence to include these lost wages in your claim, including pay stubs from your work, employer statements, and previous tax returns.
Pain and Suffering
Some damages such as those mentioned above are relatively simple to calculate. Other more general damages are more difficult to quantify, but with the help of an experienced lawyer, you trust that everything will be done to fight for your right to claim for them. This includes pain and suffering that is less easy to measure in dollars, including:
Emotional distress.
Anxiety or depression.
PTSD.
Insomnia.
Loss of enjoyment of life.
As these general damages can be complicated to calculate, it is recommended that you discuss these with an experienced bicycle accident lawyer. Call today to discuss your case for free.
Wrongful Death
If a family member or loved one passed away as a result of a bicycle accident, we understand how stressful and traumatic this can be, as well as expensive. You may be entitled to claim compensation for some of this emotional and economic damage in the case of wrongful death. This could help you to recover costs such as funeral care and loss of a source of your family's income. For legal advice, contact The Law Place for a free case evaluation with a bicycle accident attorney.
Property Damage
If you have been involved in an accident involving a bicycle and a larger vehicle such as a car or a truck, it is highly likely that the bike will have been severely damaged. Because of the relative sizes and strengths of a bicycle versus a larger vehicle, the bicycle rider will often bear the brunt of the damage to their vehicle. Bicycles are rarely usable after a crash, and repairs or part replacements can often be expensive. This is particularly true if the bike is of good quality. Be sure to keep any receipts of replacement parts or repair services, as these property damage costs can be included in your claim. If the crash caused damage to other personal items such as your phone or clothes, bear in mind that these are also damages that could be claimed.
In collisions between bicycles and cars or trucks, the bicycle rider is often the one to suffer the most physical injuries and damage to their vehicle. Although bicycles have the same rights as any other vehicle in Florida, drivers often fail to respect these rights and cause accidents that could have been avoided by, for example, failing to give way to a bicycle or failing to look out for bicycles sufficiently. If you have suffered due to a collision on a bicycle that wasn´t your fault, you could be eligible for compensation. An experienced personal injury lawyer will fight for your rights and ensure that you receive the justice that you deserve, including monetary compensation.
What Is the Average Settlement in a Bicycle Accident?
As noted above, there are various factors that will influence the settlement value in a bicycle accident personal injury claim case. Key among these is the value of your losses, the extent to which the accident has impacted your life, and who was liable for the accident. As every case will be different, it is impossible to give an average settlement value for a bicycle accident in Florida.
What Is Comparative Negligence in a Bike Accident Case?
Another factor in bicycle accident settlement cases to consider is comparative negligence. Under Florida Statute 768.81, Florida is a comparative negligence state. This means that whenever there is a road accident, any claim made for compensation from the motorist's insurance company or a third party's insurance company will take into account the comparative negligence of the involved parties.
If a motorist fails to comply with the rules of the road or drives in a careless way, then they are negligent. In other words, they are failing to follow their legal duty of care to ensure the safety and wellbeing of others on the road at all times. Even though there are many safe drivers who follow road regulations, thousands of collisions occur every year in Florida because of negligent drivers who do not follow their duty of care. Following a collision, it is important to establish who was at fault in neglecting their duty of care so that it can be calculated who is due compensation for damages. Following a collision, a court will consider the comparative fault of all involved parties in an accident settlement case.
If, for example, a court finds that the other motorist was 70% to blame and the bicyclist was 30% to blame, then the bicyclist will be entitled to recover 70% of their damages. The good news is that Florida's laws permit a bicyclist to recover damages as long as the bicyclist's fault is less than 50%.
For more information on how much the settlement for your individual case could be, contact a personal injury lawyer today. They will be able to help you calculate the monetary value of damages that may be more difficult to quantify, such as emotional stress and trauma related to the bicycle accident. They will also be able to answer any questions you might have regarding the process of a bicycle accident settlement.
When Are Bicycle Accident Settlements Issued?
Following a collision between a bicycle and a car or truck, the cyclist may be eligible to claim compensation from the at-fault party. However, it is important to note that Florida is a no-fault state, meaning that all drivers, bicyclists, and pedestrians who suffer damages in an accident are required to file a claim under their own auto insurance policy first and foremost. Your personal injury protection (PIP) insurance should allow you to recover:
Up to 80% of reasonable medical bills and expenses.
Up to 60% of lost wages.
If a bicyclist involved in a collision does not have auto insurance, then Florida's bicycle accident law allows this cyclist to make a claim under the auto insurance policy of the driver responsible for the collision.
If you were seriously injured in a collision and it can be proved that the other party was negligent and was at fault for your injuries and damages, then you may be able to make a claim against their insurance policy.
In order to be eligible to claim for this sort of settlement, the bicyclist or their legal representative must be able to prove that the driver was at least partly at fault for the accident. If it can be proved that the other driver's negligence was a cause of the accident, then the bicyclist is entitled to make a claim, even if it was not the primary cause of the crash. A driver is negligent when they drive in a way that endangers others on the road, such as disobeying traffic laws or driving carelessly.
How Can a Personal Injury Law Firm Help You?
If you have been involved in a bicycle accident in Florida that wasn't your fault, we understand the stress and economic impact this can have. We are here to help. With a team with over 75 years of combined experience, we will work hard to ensure you get the justice that you deserve.
In a personal injury case, this can include:
Collecting evidence to build your case and determine the value of your losses.
Assessing liability and demonstrating negligence.
Being the point of communication with all involved parties, including insurance companies.
Ensuring that your rights are being protected throughout and ensuring your case complies with Florida's Statutes.
In the case that we can't help you seek a fair settlement through negotiation, we will support you in court.
And our no-win, no-fee policy ensures that you will only pay for our services if you win your case, where the fee will be deducted from the final settlement. If you do not win your case, we won't charge you a dime. So why not call us today to see how we could help? We offer a free case evaluation to allow new clients to discuss the specifics of their case in detail with a personal injury lawyer, ask any questions they might have relevant to the case, and receive personalized advice regarding the best steps to take with the case.
Call today to find out more about how we could help you and answer any questions you have regarding making a bicycle accident injury claim. Our phone lines are monitored 24 hours a day, 7 days a week for the benefit of our clients. Phone us today for a free case consultation at (941) 444-4444.