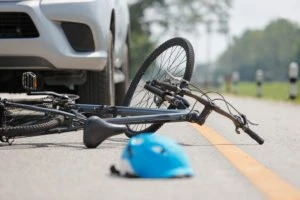 Cycling is a popular form of transport in Venice and across the State of Florida. For many, it is the primary way of getting around. For others, it's a fun way to exercise. Whilst there are plenty of safety precautions in place with the rules of the road, all forms of transport come with risks, and biking is no exception.
Unfortunately, there are thousands of people across the country impacted by bicycle accidents every year. This article outlines some of the dangers to be aware of when cycling on roads, as well as sharing information and considerations for what to do in the case of being involved in a bicycle accident.
If you or a loved one have been involved in a bike accident in Venice and would like some specialist legal support right away, a personal injury lawyer at The Law Place can help. You are welcome to call (941) 444-4444 to schedule a free consultation and speak to an accident lawyer. Lines are open 24 hours for your convenience. This is an opportunity to get some initial legal advice for free, as well as to ask any questions specific to your case.
Statistics From Bicycle Accidents in Venice
A traffic safety facts report from the NHTSA showed that Florida had more bike accident deaths in 2017 than any other state. In 2018, 6,568 accidents involving bicycles were reported in the state, which caused 6,175 injuries and 148 deaths.
What Causes Cycling Accidents?
Data from fatal bike accidents from The National Highway Traffic Safety Administration shows that the primary cause of accidents in the U.S. in 2018 was failing to yield right of way. This can often take place at intersections when one party may turn and cross a lane of traffic when they really should have given way.
Other factors influencing the risk of a bike accident taking place in and around Venice include:
Number of bicycles on the road – The year-round sunshine and high demand from tourists means that there are more people traveling around the area who are not familiar with the roads. Those tourists who are not experienced in using bicycles as their main transportation can also be less confident when navigating the roads, which can contribute to accidents.
Visibility cycling at night – Cyclists should have a white light visible from 500 feet to the front of the bicycle, along with a reflector and red light to the rear that is visible from 600 feet. These lights need to be maintained in full working order at all times. Cyclists should also wear bright, reflective clothing when traveling on the roads at night. Missing any of these factors makes cyclists more difficult for drivers to see.
Distracted driving – A driver's attention on a phone, radio, or something outside of the vehicle can be a significant danger to cyclists when drivers may have taken their attention away from the road.
Driving whilst under the influence – Sadly, there are instances where drivers take to the roads whilst under the influence of alcohol, medication, or other mind-altering substances. Even if making a short trip on a familiar route, the extra risk factor of being under the influence slows response times and can be the difference between life and death in a

driving under the influence

case.
If you have been in a bike accident that wasn't your fault and was caused by a negligent driver, they can be held liable for the damages you have suffered from the crash. An accident lawyer can help you build your case to demonstrate driver negligence and win the compensation you may be owed for your personal injury. To find out more, schedule a free consultation with a bicycle accident lawyer from The Law Place today.
Preventing Bicycle Accidents
Many bicycle accidents could have been avoided. Whilst the actions of others on the road can't be controlled, there are best practice guidelines designed to help you cycle around safely. The Florida Department of Highway Safety and Motor Vehicles (FHSMV) published their guidelines for safely sharing the road, with the top recommendation for bicyclists being to be aware of and follow all traffic controls and signals as accurately as possible. Other guidance includes staying in the right lane; if you are not cycling at the same speed as other traffic on the road, the requirement is for you to use the bike lane. If this is not available on the road, the advice is to stick to the far ride side of the road. The full lane may be used when turning left, avoiding hazards, passing, or if a lane is too narrow to share with a car safely.
These are the kinds of factors that attorneys from a law firm will use as evidence to build a case and determine liability. If you have questions about a crash in Venice or anywhere in Florida that you believe was caused by another driver's negligence, you can get some initial legal advice in a free consultation with a bicycle accident lawyer from The Law Place.
Steps to Take if You Have Injuries After a Venice Bicycle Accident
If you or a family member have been in a bicycle accident with a motor vehicle in Venice, the first thing to do is call 911 for emergency help at the scene. Even if you think you are ok and may not be experiencing much pain initially, it is best to seek medical attention. It is also worth bearing in mind that if medical attention is not sought within two weeks after an accident, any compensation you may be owed as a result of the accident could be lost. It is also a legal requirement to report any bike accident to the police within 10 days as per Florida Statute 316.066.
A bicycle accident attorney in Venice will also be able to outline your options and next steps if you make contact with a legal professional. This is not a mandatory step, like reporting an accident to the police, but we do recommend making contact with a law firm as soon as possible after the accident. Getting legal advice early on helps to make sure that your case complies with all legal requirements and can give you the best chance of securing the maximum amount of compensation that may be owed.
Contact a Venice Bicycle Accident Attorney Today
The team of personal injury lawyers at The Law Place is experienced in dealing with all types of auto accidents in Venice. Each accident lawyer at our law firm understands the risk factors involved in different scenarios and how these can vary depending on the nature of the crash. Personal injury lawyers are here to help guide victims through the process of understanding what compensation they may be owed and to build the strongest possible case in order to give the best chance of securing the maximum possible compensation possible.
So call (941) 444-4444 to arrange your free consultation call with a Venice lawyer today. Phone lines are open 24/7.