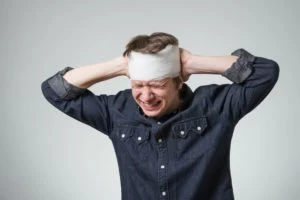 The Center for Disease Control (CDC) states that every year, 1.4 million traumatic brain injuries occur in the United States. They approximately result in 50,000 deaths and up to 90,000 victims experiencing long-term disability.
Traumatic brain injuries are incredibly serious injuries that have the potential to completely change a victim's life forever. The effects can often be drastic and life-altering, and so it is important that you contact The Law Place and get the justice that you deserve.
If the traumatic brain injury that you suffered was not your fault, then The Law Place can help you. Our personal injury lawyers have over 75 years of combined experience in assisting head injury victims and helping them navigate the Florida legal system to get the compensation that they deserve. We offer free, no-obligation consultations, so contact us now at (941) 444-4444 to schedule yours and speak to a Bradenton brain injury lawyer today.
What Are Traumatic Brain Injuries?
Traumatic brain injuries often occur when a sudden force, trauma, or lack of oxygen damages the brain and ultimately disrupts the normal functions. Many brain injuries are caused by motor vehicle crashes or slip and fall accidents.
The effects of a traumatic brain injury can vary drastically from mild to severe, depending on how serious the initial injury was. The most common brain injury is a concussion, which can cause memory loss, dizziness, headaches, sensitivity to light and sound, nausea, drowsiness, and emotional instability.
However, more severe brain injuries can result in constant long-term mental and physical problems. These can prevent victims from working or living a normal life without around-the-clock medical assistance. Some of these injuries include cognitive and motor control problems, impaired communication, trouble regulating emotions, hindered senses, and personality changes.
In the most extreme cases, victims may remain in a coma or vegetative state forever.
Because of how serious a head injury can be, The Law Place will fight tirelessly on your behalf to ensure that you and your family get the compensation to cover your pain and suffering, as well as any financial losses you may have experienced because of the accident. So if you have suffered from a brain injury in Bradenton, contact us now to schedule a free consultation and begin your journey to justice.
Our team of dedicated attorneys fight and win for Floridians.
Damages Recovered by The Law Place in Traumatic Brain Injury Cases in Bradenton, FL.
Brain injury victims and their families not only have to deal with the injuries caused, but they often also experience a burden of huge financial losses, usually due to expensive medical bills. Once you have enlisted the help of a brain injury lawyer, they will be able to establish the negligent party as well as determining the number of financial losses you have experienced and deserve compensation for. Below is a list of the most common damages that the attorneys at The Law Place recover in Florida traumatic brain injury cases:
Past and projected medical bills – After suffering from a blow to the head, you will most likely have required medical care, and you should be reimbursed for the costs of these expenses.
Past and future lost wages – It is also likely that you were unable to attend work and may still be unable to because of the severity of your head trauma. The Law Place will fight for your right to receive compensation to cover the wages that you lost and/or are expected to lose.
Pain and suffering – After experiencing a traumatic brain injury, you and your family will likely all be experiencing emotional and mental distress as well as being left incapable of doing things you once enjoyed. Therefore, you may be owed compensation. In order to successfully prove this to a court, you will need the help of an experienced personal injury attorney.
The pain and losses caused by a brain injury can be devastating to the victim and their family. If you or a loved one have been involved in an accident that has left the victim suffering from brain trauma, then you may be entitled to compensation. The Bradenton based personal injury lawyers at The Law Place will do everything they can to ensure that you win your case and receive the justice that you undoubtedly deserve, so call us now to schedule a free consultation.
We're here to serve you. Our phones are open 24 hours a day.
The Law Place Can Help You!
If you suffered an accident anywhere in Florida that has left you with a serious brain injury, then you need to contact our law firm as soon as possible. Our personal injury lawyers have extensive experience in helping victims just like you fight for the justice and closure that they deserve. The Law Place offers everyone a free consultation, where a Florida attorney will be able to assess the validity of your claim and offer you free legal advice.
Our Bradenton brain injury lawyers will investigate to find out who was at fault for your injuries and work to build a solid argument to ensure you get the maximum compensation possible. An attorney will also help guide you through the complicated Florida legal system and lift the stress from your shoulders. So instead of worrying about legal matters, you'll be able to focus on healing.
Don't wait for help; if you have recently experienced a brain injury, contact us today and book a free consultation. Call The Law Place today at (941) 444-4444.