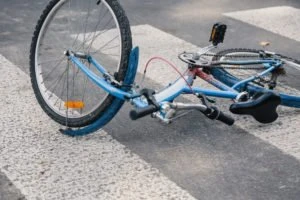 Unfortunately, no matter how careful a rider you are, when you get into an accident with a car, or worse, a truck, you are almost guaranteed to come out of the incident worse off than the other party.
Even when wearing the right safety gear and hi-visibility clothing, and when following the rules of the road, all it takes is a distracted driver to cause a serious accident that isn't your fault. Clearwater, like the rest of Florida, is governed by the same set of laws when it comes to road use. You have as much right as any other road user, and everyone has a duty of care to act in a safe and reasonable manner to every other road user.
If you have been involved in an accident with another road user and it wasn't your fault, you deserve compensation for your injuries and any damages caused. Even when the other driver receives criminal punishment, you will still need to seek compensation through their insurance company out, or inside of court.
Here at The Law Place, we have dealt with numerous cases involving cyclists in the Clearwater area and all across the state. Each and every member of our team has dealt with bicycle accident incidents as well as dealing with numerous other personal injury accident accidents.
We offer a free consultation with a Clearwater Personal Accident Lawyer, and our phone lines are manned 24 hours a day, seven days a week, so give us a call at any time. Our number is (941) 444-4444.
We understand that drivers often fail to pay enough attention to bicycle riders on the road. Don't let their moment of misjudgment cause you any more stress then it needs too, let us help you to shoulder the load.
Why Should You Hire a Clearwater Bicycle Accident Lawyer?
When bicycle accident incidents happen, it can be a chaotic and stressful time for the victim. You may be injured and dealing with health complications, as well as dealing with mental trauma. With all of this going on, it can feel like you are facing a huge challenge when you look at seeking compensation.
Insurance companies did not get to be the size that they are by paying out the fair and reasonable sums that they should to anyone who makes a claim over a bicycle accident. They usually use aggressive and unfair tactics to encourage early settlement acceptance. They know that offering an amount of money lower than what they should quickly and directly to the victim often entice them into accepting the offer.
By accepting this offer, you forgo any chances of seeking compensation for things like future medical bills, loss of earnings or pain, and suffering. This is the main reason we highly advise speaking to a Clearwater bicycle accident lawyer as soon as possible.
As soon as you have agreed to representation, your personal injury lawyer will take over all of the liaising with the insurance company. They will usually be told to speak to your lawyer, not to you. This means that your lawyer will be able to spot any attempts to trick you into a settlement that is not in your best interests to take.
This isn't the only thing your Clearwater bicycle accident lawyer will do. They will be able to investigate on your behalf, speak to first responders and the police and obtain their reports. They will get in touch with your witnesses and may even bring in expert witnesses such as car crash reconstructors.
The end goal will be to establish the liable parties and to effectively judge where the blame lies in terms of your specific case. We can do all of this whilst you deal with the more important things, like recovering, both mentally and physically, or the heavy burden of arranging a funeral for your loved one.
Being able to focus on these things whilst you know a competent and skilled accident lawyer is handling your case is the second reason why we highly recommend getting in touch with a skilled Clearwater bicycle accident lawyer as soon as possible after the accident.
As we work on a free consultation and contingency-fee-basis, you do not have to find any up-front money for fees unless we win a compensation sum for you.
The Most Common Reason for a Bicycle Accident
There are a huge number of reasons and factors that can lead up to a bicycle accident. Over 30% of accidents involve a vehicle, and the majority of those involve a car.
Collisions with vehicles are usually the most serious, and most of the cases to seek compensation for damages are due to these accidents.
Here are the most common causes of accidents involving a bicycle and a vehicle:
Driving distracted – Drivers who are distracted make up a huge proportion of accident cases involving a bicycle. They are defined by anyone who takes their eyes from the road, takes their hands away from the wheel, or does something that takes their mind off driving. The biggest culprits are texting while driving or eating while driving; both of these can constitute as all 3.
Driving while under the influence of drugs or alcohol – Everybody knows the dangers of Driving Under the Influence (DUI), and despite the many efforts and campaigns that have been led over the years, people still commit these crimes daily. Drugs and alcohol seriously impair your ability to drive and puts bicycle riders at serious risk.
Driving aggressively – Road rage, speeding, running red lights, and throwing items are all forms of aggressive driving. More severe cases involve purposeful impact and running bicycle riders off the road. Aggressive driving, like driving while under the influence, puts bicycle riders at risk of serious injury and danger.
These are the most common reasons for bicycle accidents in Clearwater. Unfortunately, in our position as attorneys, a personal injury bicycle accident lawyer will see more of this than the average pedestrian. This is a serious problem in Clearwater, FL, and across the whole of Florida.
There are an unusually high number of DUI cases and aggressive driving cases in our state. Making it one of the most dangerous places to be a road user in the entire country.
Nearly 80% of drivers admitted to engaging in some kind of aggressive driving in the last year alone. This is a scary statistic, especially as a bicycle rider who has little to no control over their fate when a driver decides to become aggressive.
Dodging thrown items and drunken drivers should not be a common occurrence for any bicycle rider, and those who engage in this behavior should pay for their crimes. Both criminally and financially.
What to Do After a Bicycle Accident in Clearwater, FL?
The first thing you should do if you are able is to call 911 to ensure that emergency help is coming right away. The sooner you contact the local Clearwater law enforcement and ambulance service, the sooner they can get out to you.
After dangerous driving accidents or accidents caused by people drinking under the influence, you will want the police to be there to ensure your safety and to ensure there is someone to deal with the other driver.
As soon as you are able, contact a skilled Clearwater bicycle lawyer, like those here at The Law Place. The sooner you seek legal advice, the sooner we can send our own investigators and do our own evidence collection. We can get in touch with the police and first responders who were at the scene of the crime. We can get in touch with witnesses, securing their statements early on.
We can then start to go on the offensive, seeking the other driver's insurance company and pushing for admission of liability early on using a strong and aggressive case that we build. All of this is a lot easier to do if you get in touch with us immediately after the crash.
We will take over everything from the point that you call us, but there are still a couple of things you can do immediately after an accident to enhance the chances of a successful claim:
Evidence – Start collecting evidence as soon as you possibly can. Take photos and draw sketches. Note down the badge numbers of police and first responders. Document as much as you possibly can about the other driver if they have driven off. Doing this while your memory is fresh is a good idea. If they have stayed on the scene, make sure you obtain as much personal information as you can from them.
Document losses – From this point onwards, if you have to pay for anything as a result of the accident, make a note of it and keep the receipts if possible. This means medical bills, transport bills, loss of earnings, as well as replacing your bicycle or repairing your bicycle.
Document pain and suffering – It is also a really good idea to document all of the pain and suffering you go through as a result of the bike accident. Write down how you are feeling every day, how the accident is affecting your life, how much pain you are in, both physically and mentally. These will all be massively instrumental in securing pain and suffering payouts.
If you've been injured in a pedestrian accident in Clearwater, don't hesitate to seek the legal expertise you deserve. Our experienced Clearwater pedestrian accident lawyers are here to fight for your rights and ensure you receive the compensation you need. Contact us today for a free consultation and let us help you on the path to recovery.
Statute of Limitations – 2023
In 2023, Florida revised its negligence laws, transitioning from a pure comparative negligence model to a modified comparative negligence framework. This pivotal legal adjustment transforms the landscape for plaintiffs seeking compensation in personal injury lawsuits.
Previously, under pure comparative negligence, plaintiffs could recover damages regardless of the degree of their fault. The amount recovered, however, was reduced by their percentage of fault. For example, if a plaintiff found to be 90% at fault in an accident was awarded $100,000, they could still receive $10,000 in damages.
The new modified comparative negligence system introduces a more stringent threshold. Now, if a plaintiff is more than 50% responsible for the incident leading to their injuries, they are ineligible to collect any damages from other at-fault parties. This means that plaintiffs with a majority of fault in causing their own injuries cannot seek financial recovery from others.
The shift to modified comparative negligence aligns Florida with several other states that limit damages to plaintiffs who are less at fault than others involved in the incident. This change underscores Florida's intention to ensure fairness in the compensation process, reserving damage recovery for those plaintiffs whose fault does not surpass a certain limit.
Recovering from Bicycle Accidents in Clearwater: What You Need to Know
If you've been the victim of a Clearwater bicycle accident, understanding your rights and the complexities of personal injury cases is crucial. Whether you've suffered spinal cord injuries or less severe physical injuries, the legal process can be daunting without the right support.
Clearwater bicycle accident attorneys are specialized in guiding accident victims through the steps necessary to recover damages. A free consultation with these legal professionals can offer clarity on how to proceed with an injury claim, particularly in cases of serious injury where a personal injury lawsuit may be necessary.
In the aftermath of an accident, you may find yourself facing a pile of medical bills. If the accident was caused by another's negligence—whether it's a driver's failure to yield or a defective bike part—a Clearwater bicycle accident lawyer could help you file a bike accident claim to seek fair compensation. These claims can address the costs of emergency services, medical treatment, and any required physical therapy.
Pinellas County has specific traffic regulations that protect cyclists, and a local personal injury law firm can be instrumental in leveraging these laws to your advantage. If you've incurred a serious injury from a bike wreck, the right attorney-client relationship with Clearwater bicycle accident lawyers can ensure that the insurance providers offer the compensation you deserve.
When an auto accident involves a bicycle, the legal team at a personal injury law firm will work to prove the motor vehicle's driver was at fault for the Clearwater bicycle accident victims injuries. They will assess the accident scene, review police reports, and handle communications with the insurance adjuster, all while fighting for your right to fair compensation for lost wages and other economic and non-economic damages.
Accident victims often worry about the cost of hiring a lawyer. However, most Clearwater personal injury law firms operate on a contingency fee basis, meaning they only get paid if you do. This arrangement allows you to pursue your claim without upfront legal fees, offering peace of mind during a challenging time.
For those who have been in a Clearwater auto accident, especially where serious injuries are involved, immediate legal counsel can make a significant difference. Contact a Clearwater bicycle accident attorney today to discuss your accident and begin the process of healing and recovery.
FAQ: Clearwater Bicycle Accident Lawyer
What should I do if I've been injured in a bicycle accident in Clearwater?
If you've been injured in a bicycle accident, it's crucial to seek medical treatment immediately, even if the injuries seem minor. Internal injuries and head injuries may not be immediately apparent. After receiving medical attention, contact a Clearwater bicycle accident lawyer to understand your legal options for recovering compensation.
How can Clearwater bicycle accident lawyers assist me with my case?
Clearwater bicycle accident lawyers have the expertise to manage your case from start to finish. They can help you prove negligence on the part of the motor vehicle driver involved, gather evidence from the accident scene, and ensure fair compensation for your serious injuries, such as spinal cord injuries or head trauma.
What kind of compensation can I expect for my bicycle accident injuries?
Compensation for bicycle accident injuries can cover a range of damages, including medical expenses, lost wages due to time off work for recovery or medical treatment, and non-economic damages such as pain and suffering, mental anguish loss, and loss of enjoyment of life.
What are common injuries from bicycle accidents in Clearwater?
Common injuries from bicycle accidents include traumatic brain injuries, often due to not wearing a bicycle helmet, road rash, broken bones, soft tissue injuries, and in severe cases, spinal cord injuries which might require physical therapy or lead to permanent disability.
How do I file a bicycle accident claim in Clearwater?
To file a bicycle accident claim, you should first consult with an experienced personal injury attorney who specializes in bicycle accident cases. They can provide a free consultation to discuss the details of the accident, determine the at-fault party, and help you file a claim with the insurance company or pursue a personal injury lawsuit if necessary.
What if the bicycle accident was caused by road hazards in Pinellas County?
If the bicycle accident was due to road hazards in Pinellas County, legal options may include holding the responsible municipal entity accountable. An experienced Clearwater bicycle accident attorney can advise you on how to proceed with such a claim.
Can bicycle accident lawyers help if I wasn't wearing a helmet during the accident?
Even if you weren't wearing a helmet, you might still recover damages. Florida law does not mandate helmets for riders over 16, but your compensation could be affected if it's determined that a helmet could have significantly mitigated your injuries.
How do I prove negligence in a Clearwater bicycle accident case?
Proving negligence typically involves showing that the other party failed to exercise reasonable care, leading to the accident. Your legal team will gather evidence, such as witness statements, police reports, and medical records, to build your case.
What is the statute of limitations for a bicycle accident lawsuit in Florida?
In Florida, the statute of limitations for filing a personal injury lawsuit is generally four years from the date of the accident. However, it's best to consult a Clearwater bicycle accident lawyer as soon as possible to ensure your legal rights are protected.
How much does it cost to hire a Clearwater bicycle accident lawyer?
Most personal injury law firms, including those specializing in bicycle accidents, work on a contingency fee basis. This means you don't pay unless they win your case. They typically take a percentage of the settlement or court-awarded compensation.
Are there any Clearwater bicycle accident attorneys near me?
The Law Place houses a team of skilled Clearwater bicycle accident attorneys ready to serve accident victims. They are well-versed in local laws and have a strong track record of securing fair settlements for their clients.
What if the accident resulted in a wrongful death?
If a loved one was killed in a bicycle accident due to someone else's negligence, you may file a wrongful death claim. An attorney specializing in such cases can help recover damages for funeral expenses, loss of income and support, and more.
For more detailed information or assistance, contact a Clearwater bicycle accident law firm to schedule a free consultation and explore your rights and options following a bicycle accident.
Contact a Clearwater Bicycle Accident Lawyer
Nobody gets onto their bicycle in the morning and expects to have an accident that could change their life forever, especially when that accident isn't their fault.
In these cases, it isn't fair that you be left out of pocket due to someone else's mistake. They should have to pay, both by serving any criminal sentence and paying any criminal fines. They should also have to pay for your losses.
A skilled Clearwater bicycle lawyer, like the ones found at The Law Place, will be able to help you through your ordeal. We have dealt with cases like yours before and have sought financial compensation for people just like you after their bicycle accident. We offer a free consultation service and often work on a contingency fee agreement, taking the stress away from you while you recover.
Don't let a bicycle accident ruin your life. Give us a call today on (941) 444-4444. We are available 24 hours a day, seven days a week.