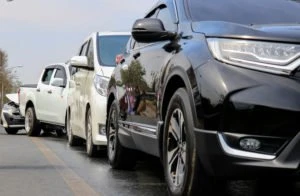 When it comes to the different types of motor vehicle accidents, some carry a larger chance of serious injury, disfigurement, or even death than others. One of the more dangerous car accidents that occur on the roads of Bradenton today is multiple vehicle accidents. These accidents not only claim more victims but also feature a greater amount of debris and more collision points. In fact, when we look at the figures hosted by the IIHS, more than half of the fatalities which were caused on the roads in 2019 came from car accidents involving more than two motor vehicles.
Another problem often faced by those who have experienced car accident cases involving more than two vehicles is that it is often difficult to prove who the negligent party is. As such, if you are the victim, you will need to seek the support of a top-notch car accident lawyer in order to stand the best chance of recovering the maximum amount of compensation for your claim. Luckily, the Bradenton car accident attorneys at The Law Place have over 75 years of combined experience dealing with intricacies of Florida laws, and we are here to help.
It all starts with a phone call to our office to arrange a free consultation at no obligation. You can contact us any time of the day or night when you call (941) 444-4444!
Common Causes of a Multiple Motor Vehicle Crash in Bradenton, Florida
As with any car crash, there are a large number of variables and situations that can lead to an accident. However, some are more common than others. Below you will find a list of the most common causes of a multiple vehicle auto accident, as seen by our car accident lawyers:
Fatigued driving – Driving while tired or for long distances without taking the appropriate rest stops is one of the leading causes of car accidents in the United States. Not only do you risk the chance of losing consciousness (and thus control of your vehicle), you also have less focus, poorer decision-making abilities, and slower reflexes when exhausted.
Distracted driving – While this is most commonly a problem with drivers using their mobile phones while operating a motor vehicle, our car accident lawyers have seen many crashes result from eating, conversing, or partaking in other distractions while driving.
Reckless driving – There are many ways reckless driving can cause a serious car accident. Drivers may be speeding, driving aggressively, failing to obey stoplights, or disobeying traffic rules in a number of other ways.
Intoxicated driving (DUI) – When someone makes a choice to drive while under the influence of alcohol and/or drugs, they put lives at risk. When intoxicated, your reactions are slowed, and your confidence is misplaced, greatly increasing the chance of car accidents.
Adverse conditions – Bad weather conditions, as well as poorly maintained roads, can easily contribute to the risk of car accidents. In some cases, multiple vehicle car accidents are even caused by debris spilling from large trucks into the road.
Technical malfunctions – A motor vehicle that is old or poorly maintained has a greater chance of suffering from a malfunction. If the problem is with the breaks or steering, for example, this can easily cause an auto accident.
Regardless of the cause of your Bradenton car accident involving multiple vehicles, the excellent personal injury and accident attorney team at our law firm can help you. All you need to do to get the process started is call our office to start your claim.
How Is Liability Assigned When a Crash Involves Multiple Cars and Multiple Victims?
Unfortunately, proving liability if you were injured or seriously injured in an accident involving multiple automobiles is more difficult than if you were involved in a collision involving just two vehicles.
This is because there is an inseparable air of ambiguity in this type of crash. Each of the victims likely has their own story and set of events, and the adrenaline of being involved in a serious auto accident only makes this situation worse. Despite this, if you want to make a successful claim after being injured in a car accident, liability must still be established in line with Florida Statute 768.81.
Another difficulty with multiple car accidents is they may often be too complex for an insurance company to simply award money. In this situation, the official legal route would be taken where the help of an experienced Bradenton car accident lawyer would be essential.
However, this should not put you off trying to seek compensation to recover money for the injuries, damages, and complications you sustained as a result of the accident. The Law Place fights tirelessly to recover the maximum amount of compensation for all our clients.
Comparative Fault Laws in a Bradenton Car Accident
When dealing with a personal injury case as a result of a Bradenton car accident involving more than two vehicles, the comparative fault laws of Florida will often come into play.
As described in Florida Statute 768.81, it is possible for more than one party to be at fault for an accident. If multiple parties are found to be negligent, they would each lose a percentage of their compensation, in line with what percentage of fault they are found to be liable for. For example, if you were found to be 25 percent at fault, you would lose 25 percent of your total settlement amount.
The job of your Bradenton car accident attorneys would be to prove that you either played no part in being liable for the accident or, if this is impossible, to minimize the amount of your settlement amount that you would lose to comparative fault laws.
How No-Fault Insurance Laws Work in Bradenton, Florida, Car Accidents
All auto accidents that happen in the State of Florida are subject to the state's no-fault laws, which are detailed in Florida Statute 627.7407. This means that drivers must go through their own insurance company to seek a settlement, whether they are the victim of the accident or the negligent party.
To make this work, Florida also has a mandated insurance law, as explained in Florida Statute 627.736. These laws dictate that everyone on the roads of Florida, by law, must carry at least $10,000 worth of personal injury protection insurance. This insurance covers $10,000 in insurance for injury or disability or $5,000 in the case of a lost life. It is when the damages outweigh this amount that the victim must take the legal case through the Florida courts to recover their full amount of compensation.
What Are the Different Damages Available to a Bradenton Car Accident Victim?
Your car accident attorney will be able to fight for you to receive several different types of compensation, depending on the exact circumstances and consequences of your personal injury case.
The following is a list of the most common damage claim types available to an auto accident victim:
Property damage – Your car accident attorneys can help you get reimbursed for the value of your vehicle, as well as any other valuables contained within it or upon your person at the time of the accident.
Medical bills – If you are able to retain a copy of your medical bills and receipts, your attorney can help you receive compensation for those often devastatingly high medical bills.
Lost wages – Many people who are injured in a serious way require time off work, which they are often not paid for. We can help our clients claim this money back by using copies of their correspondence with their employer concerning the time they were forced to spend recovering.
Pain and suffering – These damages consider the length of time your recovery process took and the levels of pain and suffering that were involved. Extra considerations are made if you received a permanent disability, disfigurement, or some other consequence that impacts your life going forward.
Wrongful death – As we mentioned earlier, multiple car accidents are often responsible for loss of life. If your loved one was lost to an accident, you could file a claim for compensation to help you with funerary expenses, lost wages, and

loss of consortium

. While we know no amount of money will make you feel better, it can help to give you the space to grieve your loved one properly.
The best way to find out exactly which damages apply to your specific traffic accident case is to get in touch with The Law Place office today. After you contact us, we will conduct a free case evaluation and let you know what kind of settlement you could be entitled to.
The Importance of Evidence in a Florida Multiple Vehicle Accident
As we mentioned earlier, in car accident cases featuring multiple vehicles, proving liability can become a difficult task. The best way to do this is with solid evidence supporting a strong argument.
Our Bradenton car accident lawyers have a number of tricks up their sleeves when it comes to evidence collection. We have access to personal investigators who can look into things further and also track down eyewitness accounts who are no longer contactable for whatever reason.
We also have access to expert car crash recreation teams. These teams are well-versed in the process of painstakingly recreating the circumstances of your accident to demonstrate what would have happened at the time you were injured.
This evidence is not only incredibly useful in demonstrating liability, but it can also be used to show proof to insurance companies, who are often less than willing to pay out the appropriate and just amount in their compensatory settlements.
What Evidence You Can Help to Collect
While your Bradenton car accident lawyer will use all of the tools at their disposal to build you the most airtight case possible, there are several keys things that you can do to make this process easier. It is important to remember these if you are keen to maximize your compensation.
If you have been involved in a road traffic accident, try to acquire the following:
Photographs of all cars involved to prove the extent of damage from multiple angles.
The details of every other driver involved and every driver who witnessed the accident.
Photographs of the scene, including tire skid marks, damage to scenery, and the quality of road surfacing/signage.
Photographs of your injuries as soon as they happen and at every significant stage of the recovery process.
Copies of your medical bills and/or correspondence with your employer concerning time spent off work while recovering.
It may also be helpful to get a copy of your complete medical history, as insurance companies may often try to argue that your injuries were, in fact, preexisting conditions that you are opportunistically claiming for.
It goes without saying that all photographs taken at the scene of the accident should only be taken when it is safe to do so and when you are certain that every other driver is also.
Contact The Law Place Today
If you are a driver who has been injured in the last four years, our Bradenton car accident lawyers can help you to maximize the amount of compensation you receive for your injury and its complications. We can also help you to navigate the various complexities of Florida law and also to avoid those tricks and snares commonly employed by insurance companies to lower your claim amount.
All you need to do to begin the legal journey towards fair compensation is to make a phone call to our office. A member of our experienced, compassionate attorney team will take you through the process of a free consultation and let you know exactly what to expect. What's more, all of our cases dealing with accidents and injuries are no-win-no-fee, so you don't have to worry about risk. If you don't win your case, the process will cost you nothing at all.
For free, impartial legal advice and help from a personal injury lawyer in recovering compensation for your accident, give us a phone call at (941) 444-4444!