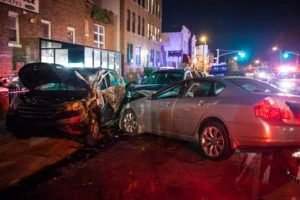 Unsurprisingly, multiple vehicle accidents are incredibly dangerous for all those involved, and, unfortunately, more than a third of all car accidents in Florida involve more than two vehicles. Any type of car accident can cause severe injuries, and sometimes even fatalities, but with multiple vehicle accidents, the likelihood of this is much higher. This is because there is more than just one impact that can cause damage.
Furthermore, because of the multiple parties involved, it can also be much harder to determine fault. As these cases are so much more complicated, it is important to contact a Tampa car accident lawyer if you or a loved one have been involved in a multiple-vehicle accident.
At The Law Place, our car accident lawyers have a vast amount of experience and have the knowledge required to investigate the most complex cases. We can ensure that you have the best chance of receiving the compensation that you deserve. So, contact us today for a free case evaluation with an experienced Tampa personal injury lawyer at (941) 444-4444.
Factors That Often Cause Multiple Vehicle Car Accidents in Tampa, FL
Unfortunately, there are many factors that could potentially cause a multiple vehicle accident. Crashes can also be caused by more than one factor. Some of the most common causes are listed below:
Distracted driving – Due to the popularity of cell phones and other electronics, many drivers become distracted whilst driving. On top of this, eating and drinking, talking to passengers, or simply reaching for something in their car may distract them. When distracted, drivers are taking their eyes off the road and are not paying adequate attention, which makes it likely for them to crash.
Driving under the influence – It is illegal everywhere in the United States to drive under the influence. Anyone who drives or operates a vehicle while under the influence of either alcohol or drugs is putting themselves and everyone else on the road at risk. This is because these substances slow reaction time, decision-making skills, and depth perception, which could lead to a car accident.
Fatigue – Drivers that drive for a long time and don't take sufficient breaks often become so tired that they fail to notice situations or react to them quickly enough. This, unsurprisingly, can cause a dangerous car accident.
Poor weather and road conditions – Tampa, and the rest of Florida, is infamous for unexpected, heavy rainstorms. This, as well as fog, snow, and more dangerous weather conditions, can lead to multiple vehicle accidents. These bad conditions can also cause slick road conditions, which can lead to an accident, especially if the car at fault is speeding.
Reckless driving – When drivers disobey the rules of the road, they are putting other drivers at great risk. In particular, speeding causes many multiple vehicle accidents and also increases the severity of the injuries sustained. Darting in and out of traffic and tailgating may also cause dangerous car accidents.
Vehicle malfunction – A multiple car accident can be caused by flat tires, failing brakes, ineffective windshield wipers, and more.
Regardless of the cause of the accident that you were in, the Tampa car accident lawyers at The Law Place may be able to help you. If the car accident was not your fault, then you should contact The Law Place today to schedule a free consultation with an experienced lawyer who can assess your case and let you know whether you may be able to claim financial compensation. Even if you don't know the cause, a car accident lawyer will be able to investigate the case on your behalf.
Injuries That Are Commonly Sustained in a Multiple Vehicle Car Accident
Due to the nature of a multiple vehicle car accident, they can cause some of the most serious injuries. This is because, when involved in such an accident, your vehicle could be getting hit from multiple different directions, at different speeds, by different vehicles. A few of the most common injuries that can be caused by a multiple vehicle accident are as follows:
Traumatic brain injuries
Head injuries
Spinal cord injuries
Neck injuries
Fractures and broken bones
Lacerations, bruises, and soreness
Internal bleeding
Internal organ damage
Torn ligaments
Wrongful death
A multiple-vehicle accident may also lead to trauma, emotional distress, and damage to your vehicle.
If you or a loved one has experienced any type of injury or financial burden from a multiple vehicle accident in Tampa, then you should get in touch with The Law Place now. Our Tampa car accident lawyers have over 75 years of combined experience in dealing with the Florida legal system and working alongside victims like you. So, contact us now to book a free consultation with an experienced and determined car accident lawyer.
Assigning Liability in a Multiple Vehicle Accident in Tampa, FL
Because there are always multiple parties involved in a multiple-vehicle accident, it can be confusing to know who to assign liability to, but it is crucial that the at-fault parties are discovered.
It is often so difficult to assign liability as the multiple drivers will have multiple different stories, and eyewitnesses will often also have varying accounts of the event. Even if liability is not clear, you should still contact a lawyer as they will be able to advise you through the process.
It is also important to note that under Florida statute, the Florida legal system uses pure comparative negligence. This means that Florida recognizes that multiple parties, if not all, involved in a car accident, could be at fault to a different extent. This then influences compensation, as the amount of compensation that is awarded to an injured person is proportionate to the percentage of fault each driver holds. This makes the matter of compensation and dealing with the aftermath of a multiple-vehicle car accident even more difficult for victims.
Furthermore, the fault must be proven by evidence, which makes it even more pressing that you contact a lawyer to help. To acquire evidence, you must investigate law enforcement reports, witness statements, vehicle damage, the scene of the accident, road and weather conditions, as well as any other possible evidence that could implicate other parties as liable. If you contact one of the car accident lawyers at The Law Place, they will be able to do all this complicated work on your behalf.
With so much at stake, you should consider talking to an experienced attorney as soon as possible. The Tampa car accident lawyers at our law firm will be able to investigate and produce evidence supporting your claim and ensure that you have the best chance at succeeding and receiving the financial compensation that you deserve. Even if you are at fault, by working with an attorney, you may still be able to recover some damages. So, contact The Law Place today.
Damages That You May Be Owed If You Were Involved in a Multiple Vehicle Car Accident in Tampa, FL
Victims of multiple vehicle car accidents are not only forced to deal with injuries and trauma directly caused by the crash, but also are burdened with many financial losses, usually mainly medical bills, but also due to lost wages, property damage, and more. If you are currently experiencing any financial burdens because of a multiple vehicle car accident, then you may be entitled to financial compensation. Below is a list of the different types of compensation that The Law Place often recovers for their clients:
Medical bills – If you had to receive medical treatment because of any injuries you may have sustained because of the car accident, then you may deserve compensation to cover the medical treatment and any other medical bills. These medical bills can include surgeries, prescriptions, as well as travel to and from appointments.
Property damage – It is likely that your vehicle was damaged in the car accident. If this is the case for you, then you may deserve compensation to cover the costs of any car repairs in Tampa.
Lost wages – If you were unable to attend work for any period of time, or still aren't, because of the injuries caused in the accident, then you could be entitled to compensation to cover the wages that you lost. This includes past and predicted lost wages.
Permanent disfigurement or disability – You should receive compensation if you were left with permanent disfigurement or disability from the car accident.
Pain and suffering – If the accident left you suffering from emotional distress or you are now unable to do things you once enjoyed, then you may deserve compensation.
Wrongful death – If the accident caused the death of a loved one, then you could receive money to cover loss of consortium and funeral costs.
The losses that are caused by a multiple vehicle accident can potentially be severe and life-changing. However, regardless of how small or life-changing an impact the car accident has on your life, our car accident lawyers have the experience necessary to guide and support you through the Florida legal process as they represent your case.
The lawyers at The Law Place will be able to establish the negligent party, and then will be able to assess the exact number of losses you have experienced and deserve compensation for. So, call The Law Place today to speak to experienced Tampa car accident lawyers, and we will determine and fight for the compensation that you deserve.
What Can a Tampa Car Accident Lawyer Do for You?
Car accidents that involve more than two cars are particularly complicated. This is because of many different factors, such as the following:
There may be numerous injured parties.
Each party may have a different insurance company, and each insurance company will aim to pay out as little as possible.
There may be several at-fault drivers, and so determining fault and the amount of fault can be difficult.
In some cases, there is not enough insurance coverage to cover all the claims.
If the accident caused a fatality or multiple fatalities, then a much more in-depth investigation will be required by the prosecutors.
Usually, there are cross-claims of negligence, and these all have to be fully examined.
All of these factors are not only difficult to understand and work with, but they also each take a long time to deal with, and so multiple vehicle accident claims can be delayed by years. Even more important to know is that victims of multiple vehicle accidents quite often never reach a settlement with an insurance company. Instead, they have to proceed to the lawsuit stage without determining fault. During this stage, you should expect depositions and witness statements. It is vital that you have a knowledgeable attorney on your side at this point, else you could be tricked into admitting fault by someone else's attorney.
In many multiple-vehicle accident cases, it is beneficial to move forward by using a bifurcated trial, although this is not guaranteed to be the case for you. A bifurcated trial is when a claim is dealt with through a two-part trial. The first part focuses on the cause of the accident and is discussed without mentioning any injuries or impact that was sustained by those involved. This means that a judge and jury are able to assign liability regardless of the information that could influence them. The second part then happens. This occurs after the treatment of the victims has finished. Lawyers can then seek financial compensation for their clients.
Due to the complexity, you need a skilled and experienced attorney on your side to give you the best chance at success.
Contact The Law Place Today!
If you or a loved one has been involved in a multiple-vehicle accident, then you may be entitled to compensation. To ensure that you give yourself the best chance of winning your case and the maximum amount of financial compensation, you should contact the Tampa car accident lawyers at The Law Place today. A personal injury attorney can help you through the complicated Florida legal process and lift the stress from your shoulders, so you will be able to focus on healing instead of worrying about the legal matters.
And the best part is that you don't even have to worry about the costs, as all our lawyers work on a contingency basis. This means that instead of being charged upfront, all legal fees will be recovered from your settlement if, and only if, your case is successful.
So, don't wait for help; contact us today to schedule a free consultation with a dedicated and experienced attorney. Call The Law Place at (941) 444-4444 to get the justice that you deserve!