While knee injuries are not usually considered to be one of the most devastating or severe injuries, they can still be incredibly painful and debilitating. Furthermore, it will likely leave you struggling with high medical bills. If you have sustained a knee injury because of an incident that wasn't your fault, such as in a car accident, then you could be entitled to compensation to cover the damages and losses that you've sustained.
Here at The Law Place, our team of personal injury attorneys has over 75 years of combined experience in knee injury settlements. They have helped hundreds of clients win the maximum amount of compensation possible and so are more than prepared to take on your case. So, if you or a loved one have been involved in an accident that left you suffering from a knee injury, then you should contact The Law Place today. We offer a free consultation to all prospective clients, where one of our lawyers will be able to discuss your case with you, offer you legal advice, and answer any questions you may have.
Contact The Law Place today at (941) 444-4444 and begin the process of securing the compensation that you deserve.
Common Types of Knee Injuries
A knee injury can affect any of the ligaments, tendons, or fluid-filled sacs (bursae) that surround your knee joint, as well as the bones, cartilage, and ligaments that form the joint itself. Some of the more common knee injuries include:
ACL injury – This is the tear of the anterior cruciate ligament (ACL), which is one of four ligaments that connects your thighbone and shinbone. ACL injuries are common in people who play sports that require sudden changes in direction.
Fractures – During falls or auto accidents, the bones of the knee, including the kneecap (patella), can be broken.
Meniscus tear – The meniscus is tough, rubbery cartilage found between your thighbone and shinbone. It acts as a shock absorber but can be torn if you suddenly twist your knee while bearing weight on it.
Knee bursitis – This is where there is inflammation in the bursae, which are small sacs of fluid that pad the outside of the knee joint so ligaments and tendons can glide smoothly over it.
Patellar tendinitis – This is where one or more tendons are inflamed or irritated. This can happen when there's an injury to the patellar tendon (which runs from the kneecap to the shinbone and allows you to run, jump, and kick).
If you have sustained a knee injury, like the ones listed above or different, then you could be entitled to compensation and should contact The Law Place today for more information.
Our team of dedicated attorneys fight and win for Floridians.
Common Symptoms of Knee Injuries
The symptoms of a knee injury that you may experience depend on the type and severity of your specific injury. However, there are some symptoms of a knee injury that are universal, and the majority of people will experience the following symptoms following a knee injury:
Discomfort or pain in the knee.
Pain in or behind the kneecap.
Tender to the touch.
Stiffness and/or abnormal soreness.
Swelling and/or redness.
Wobbly sensation in the knee.
A feeling of instability in the knee.
Limited range of motion, for example, trouble bending over.
Difficulty walking normally or putting weight on the affected knee.
If you have experienced any of the above symptoms, then we recommend you take it easy on your knee and visit a doctor as soon as possible. Not only will this ensure that you recover fully, but it also means that you will have strong evidence about the extent of your knee injury if you later decide you want to file a claim.
Common Causes of Knee Injuries in Florida
There are multiple types of incidents that could leave victims suffering from knee injuries. However, listed below are some of the most common causes of knee injuries that could have been caused by someone else's negligence:
Motor vehicle accidents.
Boating accidents.
Slip and fall incidents.
Work incidents.
Assault.
If you or a loved one were involved in any of the above incidents or any others, and ended up suffering from a knee injury, then you should contact The Law Place. If the incident was the fault of another party, then you could be owed thousands of dollars in compensation. To find out if you have a valid knee injury claim, schedule a free consultation with our law firm so a personal injury lawyer can discuss your case with you and offer you their professional opinion.
We're Florida's top litigation team with over 75 years of combined experience
How Does a Car Accident Result in a Knee Injury?
Car accidents are one of the most common causes of knee injuries. Fortunately, it's also very possible for you to seek compensation after a car accident if the other driver or another party was at fault for the accident.
The most common types of vehicle accidents that cause knee injuries are head-on impacts, rollover collisions, and sideswipes. These injuries often fall into the following categories:
Bruises and/or contusions.
Meniscus injuries.
Broken bones, for example, a fractured kneecap (patella).
Torn or sprained ligaments (ACL, MCL, PCL).
In a lot of car accidents, the driver or passenger may slam their knee into the dashboard or get it contorted at an awkward ankle. This is known as "dashboard knee" and often results in any of the injuries mentioned above.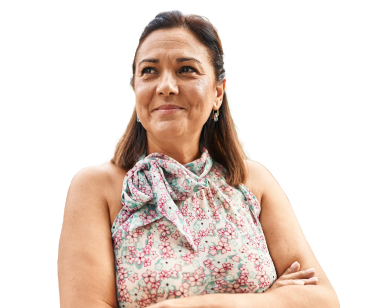 From the initial call to updates on your case status, we are here to get you answers.
Filing a Knee Injury Claim in Florida
It's quite common to injure your knee, and because of this, insurance companies may attempt to deny or contest your claim by arguing that it was a pre-existing condition. If you have a history of knee injuries, then your case may become more difficult.
It's important that after the accident, you acquire a copy of the accident report, get checked over by a doctor, and notify your insurance company by either calling or emailing them. They should have an intake process that they can run you through.
As Florida is a no-fault state under Florida Statute 627.7407, you'll have to file a claim against your own insurance policy first. However, if the damages you've suffered extend what your insurance company is able to pay you, you can pursue the other party directly for compensation. However, your claim will only be successful if someone is liable for your injury.
If someone is liable for your injury, then you'll need to be able to prove that they violated their duty of care, a traffic law, or acted in another negligent way. This can be difficult to do without an experienced lawyer on your side.
However, the most important things for you to focus on are the following:
Get seen by a doctor immediately – This will not only ensure you get the medical attention you need, but it will also create medical records, which can be used as strong evidence proving that you were injured and detailing the extent of your injuries.
Get a copy of the police report – These reports are reliable and usually say who is at fault. Police reports are often the basis for many claims.
Collect physical evidence – If possible, you should take photographs of the scene, your vehicle, your injuries, and anything else that can illustrate what happened.
Check to see if there were any witnesses – If there were witnesses, make a note of their name and contact details, as they may be incredibly useful for your claim.
You are your own best advocate, so make sure you do the above and more to increase the likelihood of your claim being successful. Without evidence, you will not be able to receive any compensation, and while our lawyers will conduct their own investigation as soon as possible, evidence may already be lost if you don't act.
What Is the Average Knee Injury Settlement in Florida?
Unfortunately, there is not a straightforward answer to this, as there is no such thing as an "average" settlement for knee injury claims. The amount of compensation you receive varies drastically depending on the specific circumstances surrounding your case. However, more serious injuries will typically result in a damage claim for a larger settlement.
If you have suffered from a severe knee injury because of someone else's negligence, then you could be entitled to a settlement worth $1 million or more! This is why it's so crucial that you contact a personal injury lawyer so that they can discuss your case with you and let you know how much your knee injury claim could be worth.
The most significant three factors that could impact your case are the extent of your injuries; the extent of the other damages you sustained; and whether the defendant is found liable.
Nature, Severity & Duration of the Knee Injury
Knee injuries can range from minor busies and sprains to bone and joint damage, meniscus tears, and torn ligaments. Usually, the more severe and long-lasting a knee injury is, the higher the compensation you can expect to receive in a knee injury settlement or verdict.
Injuries that involve a fractured bone typically result in larger settlements than soft tissue knee injuries, and any injury that is verified by an MRI scan, X-ray, or similar, will probably be taken more seriously.
Any injuries that require treatment by physicians rather than chiropractors or physical therapists will also be given more weight by most insurance adjusters.
Estimating Your Damages
It can be quite difficult to accurately estimate financial recovery. It will be your lawyer's job to persuade the other party that you deserve a high amount of compensation.
Some damages, such as medical expenses and lost wages, are usually easy to predict and quantify, as there is concrete evidence showing how much money you lost out on. However, damages such as pain and suffering are subjective, and so your attorney will not know for sure whether these will be awarded, although they can make an educated guess based on past knee injury cases. These damages also vary from person to person – for someone who enjoyed partaking in a variety of sports, damages based on loss of quality of life will likely be higher than for someone who didn't.
On top of this, if the victim has a pre-existing knee injury, the damages will likely be decreased because the defendant's actions were not entirely responsible for the victim's current pain and suffering.
The Liability Factor
Another major factor in any personal injury case is whether or not the defendant will be found liable. If you and your team struggle to provide any evidence that proves that the defendant was at fault for your knee injury, then the value of your case will decrease significantly. Even if you sustained severe damages, the defendant would be unwilling to settle and more inclined to take their chances in court.
For valuable legal advice that you can trust, you should contact The Law Place today. One of our esteemed lawyers will be able to offer you a professional view of your case and provide you with information.
Can You Get Compensation for a Knee Injury?
If you have suffered a knee injury, then it is possible for you to be entitled to compensation. Our team at The Law Place has helped countless clients receive thousands of dollars for a range of knee injuries. Some of the most common damages we've recovered compensation for include the following:
Medical expenses.
Physical therapy.
Lost wages.
Reduced earning capacity.
Property damage.
If you are considering filing a claim after sustaining a knee injury in an incident that was not your fault, then contact The Law Place today for a free case evaluation. We will examine your case so we can give you a rough idea of what kind of settlement you can be expecting to achieve.
Contact The Law Place Today!
Here at The Law Place, we don't want you to accept your injury and pain. If you've suffered from a knee injury through no fault of your own, then we want to help you. You could be entitled to thousands of dollars in compensation, and we're here to make sure you get every cent of it.
Our personal injury attorneys promise to fight tirelessly on your case. Each of our lawyers is highly skilled and qualified and has an extensive range of resources at their fingertips, so you know that by working with us, you'll be giving yourself the best chance at securing the justice and compensation that you deserve.
Our phone lines are open 24 hours a day, seven days a week, so don't hesitate! Call us now at (941) 444-4444 and schedule your free consultation.