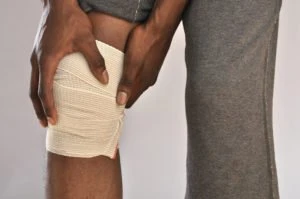 The knee is one of the most complex joints of the human body, and it is therefore prone to many injuries. The most common knee injuries include dislocation, sprain, fracture, or ligament tear. Even a light knee injury should be taken seriously, and it is important to treat it as soon as possible so that it does not lead to more serious health complications in the future.
A knee injury can occur, for example, during sports, slip and fall accidents, or car accidents. However, it can also be caused by somebody else's negligence. If this is your case, you have the right to compensation in Florida, and you should claim it. However, you should not attempt to pursue the matter on your own. Personal injury cases are very complicated and require experienced lawyers who can confidently deal with insurance companies.
The Law Place is a professional law firm with offices in almost every county in Florida. Our North Port team of experienced personal injury lawyers will help you claim the compensation you deserve. Call us today for a free consultation at (941) 444-4444. We are available 24 hours a day, 7 days a week.
Knee Injury Caused by Slip and Fall
The best thing you can do to avoid injury is to focus on prevention. You can do this by wearing good quality shoes, focusing on proper nutrition, and giving yourself enough rest. However, you cannot prevent everything. And if you get injured, you may be entitled to compensation, especially if it happens despite your cautiousness.
One of the most common causes of knee injuries is slip and fall. If it happens on private property, it is possible that it was caused by someone's negligence. When you get injured because you slipped and fell due to the property owner's action, or rather inaction, in this case, you can claim compensation under premises liability as defined by Florida Statute 768.0755. For example, they may have failed to inform you that the floor is wet or that the stairs are uneven. In either case, they knew about the condition and did not adopt appropriate measures to protect you against injury.
However, if you decide to take action and claim your compensation, you will most likely find yourself dealing with an insurance company. Any insurance company will always try to find ways to pay you lower compensation than you deserve. Hiring an experienced personal injury attorney, such as the ones from The Law Place, really makes a difference, as we know what you are entitled to and can fight for it.
Knee Injury Caused by a Car Accident
The Florida motor vehicle no-fault law defines the "no-fault" principle. This means that victims of car accidents must claim compensation from their own insurance company first. This applies regardless of fault up to the limit of your insurance policy. In some cases, this may be enough. However, in more serious car accidents, where the crash was not your fault and the damages exceed the limits of your policy, you have the right to claim compensation from the other driver's insurance company.
Dealing with any insurance company can be tedious and often futile if you do not have the experience to handle the tactics that these companies use. Let us help you with this so that you can fully concentrate on your recovery. Contact us for a free consultation with a personal injury lawyer and find out your options.
What Are the Symptoms of a Serious Knee Injury?
A knee is a complex joint consisting mainly of bones, ligaments, tendons, and cartilage. All of the components are interconnected, so an injury can affect more than one of them and therefore cause serious and complicated health issues. Those can then endanger your ability to walk or perform your job. You should seek medical attention as soon as possible in the following cases:
You are unable to stretch or bend the knee properly or move it at all.
You have persistent knee pain and cannot walk without limping.
Your knee is swelling.
The knee is buckling and feels unstable.
There was a popping sound at the time of the injury.
Do not hesitate to contact us today for a free consultation with a personal injury lawyer. Our team will evaluate your case and provide you with legal advice regarding your injury and the accident that occurred.
Consequences of an Untreated Knee Injury
The severity of knee injuries differs in each case. You should visit your doctor if you experience persistent pain and the injury significantly limits your everyday life. However, it is also advisable to consult a medical professional even when the injury is minor. You never know whether it is something serious, and if left untreated, even a mild knee injury can lead to bone deformation, early onset of knee arthritis, and even limited walking ability.
Medical expenses are high in Florida. The cost of a knee replacement can easily amount to $50,000. And this is just the surgery, without the cost of rehabilitation, loss of income due to prolonged absence from work, and even home adjustments, which may be required afterward. As you can see, the costs can accumulate quickly.
To What Damages Are You Entitled in North Port, Florida in Case of a Knee Injury?
If you sustained a knee injury due to somebody else's negligence, you have the right to compensation for its consequences in Florida. Our personal injury lawyers will help you reach a settlement that will reflect the extent of your suffering. Damages that you may be entitled to claim include:
Medical Expenses
If you have suffered a personal injury, including a knee injury, you are entitled to compensation covering all your medical bills. This may include any surgery, hospital care, and rehabilitation.
Pain and Suffering
A knee injury does not cause only physical issues; it can also affect your mental health. As a result of limiting your mobility, your injury may leave you unable to play your favorite sport, do your job, or even walk your dog. All this may have a profound psychological impact on you. However, these consequences are hard to justify, so you are going to need an experienced attorney trained in personal injury law to get the compensation you deserve. Pain and suffering are usually assessed based on your medical costs. These are then multiplied by a number based on how severely the consequences affected your life. Generally, this will be from 1-5, with 5 being the highest.
Loss of Wages
If you injure your knee, it can affect your ability to perform your work. This means that you may no longer be able to stand at the checkout or walk around the premises for long periods of time. For some jobs, this may be crucial, and a knee injury could force you to leave your position. In such a case, you could be compensated for both wage loss, lost earning potential, and even the cost of retraining for a new job.
Call us today for a free case evaluation. Our personal injury attorneys will assess your circumstances, and if they believe that you have a valid claim, they will help you reach the settlement you deserve. We will present you with the options that you have; then, you can decide whether you wish to be represented by us or not. We work on a contingency basis in Florida, in accordance with the State Bar Association. This means that we do not get paid unless we win a settlement. We are also honest about all of our costs, so there will be no unpleasant surprises.
Time Limit for Filing a Personal Injury Lawsuit in North Port, FL.
Florida Statute 95.11 explains various time limits for filing a lawsuit in Florida. In most personal injury cases, you usually have four years to make a claim. But if you lost a loved one due to a personal injury resulting in wrongful death, you only have two years. However, the statute of limitations also sets some exceptions, for example, when your injury does not allow for you to file the lawsuit on time.
It is therefore very important to contact a law firm with specialized personal injury attorneys as soon as possible. Firstly, you need to comply with the set period, and secondly, there is a lot of evidence that can get lost with time. Uneven floors get fixed, witnesses may forget the details, or the CCTV recording may get erased. Our lawyers will make sure that evidence is protected and that the lawsuit is filed on time.
Contact The Law Place Office in North Port, FL., for a Free Case Evaluation
The Law Place has more than 75 years of experience in helping its clients claim their compensation for personal injury. We have lawyers that specialize in personal injury law, and most of our attorneys are rated AVVO.10, which is the highest possible rating. If you are still not sure and do not want to commit to anything, schedule a non-binding, free consultation. We will present you with your options, and then you can decide if you want us to represent you or not. Call us at (941) 444-4444 and learn more about what we can do for you today. Phone lines are open 24/7.