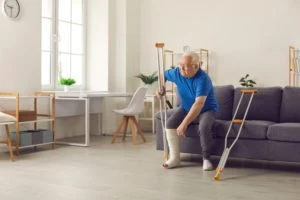 The roads of Florida are busy and complicated, making for a potentially dangerous environment. Crashes are commonplace in North Port, FL., and one type of crash that often occurs is T-bone accidents. When the front of one vehicle impacts the side of another, we call this a T-bone crash. Accidents of this nature typically occur at intersections due to the failure of a driver to follow traffic signals or stop signs. It can also happen when a driver fails to give an oncoming driver the right of way and instead continues through the intersection.
When a T-bone accident involves a truck, the damage can be severe. The sheer size and weight of a truck mean that when involved in a collision with a car, it can result in a potentially fatal outcome which will devastate the lives of many people. Our car accident lawyers at The Law Place are experienced in dealing with auto accidents and have used their skills to help many victims recover compensation.
If you or a loved one has been involved in a T-bone accident in North Port, FL., then you need The Law Place. Call us today at (941) 444-4444 for a free consultation with one of our team and let us help you get your life back on track. Our lines are open 24 hours a day, 7 days a week, so you can always get the justice you deserve.
Common Causes of Truck T-Bone Accidents in North Port, FL.
Time and time again, T-bone accidents happen at intersections on the roads of Florida. The laws set out by the government are designed to make sure that auto accidents do not occur. However, careless driving sees many people suffering the consequences of truck accidents in North Port, FL. Fortunately, the negligence of a truck driver can be relatively easy to prove if you have an experienced personal injury attorney on your case.
Here are some common causes of T-bone car accidents in North Port, FL.:
Problems with the intersection – Accidents can easily occur if there is a fault at the intersection. Maybe a traffic signal is damaged, or a sign is improperly marked. In such cases, it is the job of your accident attorney to determine who is liable for the car accident. It may be that the fault lies with the local authorities who failed to provide clear signals, or it may be the fault of a third-party driver. In some cases, it may even be both.
Human error – This is the most common cause of T-bone accidents, as there are a variety of ways a person can cause a car accident. Drivers can make an error due to distracted driving (such as using their cellphone) as well as breaking the speed limit.
Reckless driving – Reckless driving is an extremely common error that drivers make on the roads of North Port. We often see this with truck drivers in particular, as they are under pressure to complete their trip as quickly as possible, leading to corners being cut. Truck drivers also face fatigue when they are on the road, with companies often allowing their drivers to work over the legal time limit.
Driving under the influence – When in control of a vehicle, you need all of your faculties in order to drive safely. Whilst under the influence of drugs or alcohol, a driver no longer has the ability to perceive or react quickly to situations. This recklessness is common on the roads of America, and any victim of such behavior needs The Law Place to help them get the compensation they deserve.
Mechanical problems – In the event that the truck faced a mechanical problem leading to the car accident, then it may not entirely be the driver's fault. Or, in some cases, it may not be the driver's fault at all. A lawyer will be able to help you determine who is, in fact,

liable

for this malfunction. If the accident was caused by faulty brakes, then the blame may lie with the mechanic or the trucking company.
Who May Be Liable for My Truck T-Bone Accident?
Liability can be difficult to determine following a truck T-bone accident. This is because there are several parties who are potentially liable, and often more than one of these parties is responsible. The following is a list of those parties commonly responsible for truck T-bone accidents:
The truck driver – In the event that the truck driver was operating the vehicle negligently, then they would be liable for your accident.
Trucking company – They may be responsible if they failed to provide appropriate training for the driver or if they allowed the truck to be on the road for longer than is lawful. Furthermore, the trucking company may have failed to properly maintain their vehicle, leading to a mechanical issue that caused the accident.
The mechanic – The mechanic might hold the responsibility if they failed to repair or maintain the vehicle to regulation standard.
The third-part driver – The roads of North Port are busy, and this high volume of traffic often sees accidents involving more than two vehicles. You may have been an unfortunate victim of a third-party driver's negligence. If this is the case, your personal injury lawyer will fight to hold them responsible for your injuries.
The local authorities – Car accidents can also be caused by a local authorities' failure to maintain the road itself or the signage that is vital for drivers' safety. Your lawyer may find the government body in charge of road maintenance ultimately liable for your car accident.
Whilst this list outlines commonly liable parties, it is by no means entirely comprehensive. All manner of individuals may have played a part in your auto accident. It is also very likely that more than one party will be found liable, and therefore your accident lawyer may suggest filing a case against multiple parties.
As daunting as this may sound, The Law Place has injury lawyers with the necessary experience to help you navigate this complicated process. You will need the guidance of an injury lawyer to avoid making the kind of mistakes that could damage your case in the long run. Contact The Law Place for a free consultation and take the first step towards justice.
What Damages Am I Entitled to After a T-Bone Truck Accident?
Depending on the suffering you have endured as a result of your car accident, there are a number of damages that you can claim in your case. Some of the most common are:
Medical bills – Medical expenses, unfortunately, accumulate rapidly following a car accident. Any treatment you receive for physical injuries sustained in your car accident should be compensated.
Pain and suffering – Compensation may also cover

pain and suffering

, which can be difficult to define exactly. A reduction in your quality of life, emotional suffering, and a painful recovery are all common examples following truck accidents.
Loss of income – If you have suffered injuries in a truck accident, the chances are that you will need to take off time from work. This can make it difficult to pay for your medical expenses and recovery process and should be compensated appropriately.
Damage to property – Your vehicle will inevitably sustain damage if involved in a truck accident. The cost of repairs to both your car and property, such as your cellphone, can be included in your lawsuit.
Wrongful death – In a worst-case scenario, a truck accident may lead to a fatality. The family of a victim has up to 2 years to file a

wrongful death

case, which would see them compensated for funeral expenses as well as the

loss of consortium

.
How Much Will My Accident Lawyer Cost?
The Law Place works on a contingency basis, meaning that you won't face any costs upfront. When your case has been settled, and compensation received, all legal fees will be taken from the final figure. As our contingency work is monitored by the State Bar Association, you can be sure that you will be guaranteed security. Ethical practice is extremely important to the team here at The Law Place, and we do our utmost to provide a secure service for all of our clients with no hidden costs!
Claim for Compensation Following a Truck T-Bone Accident Today
The roads of North Port, FL., are busy and see many accidents occurring every year. Do not let the suffering you have experienced stop you from getting the justice you deserve. At The Law Place, we have over 75 years of combined experience that we put into every case we work on. Our team will work diligently to build you the strongest case possible so that you can feel safe in the knowledge that we are on your side.
If you or a loved one has suffered in a T-bone truck accident, then you will need a truck accident lawyer who is not afraid to take on big businesses on your behalf. Call us today for a free consultation and case evaluation at (941) 444-4444. Our lines are open 24 hours a day, 7 days a week, so you can contact us when you need us most.