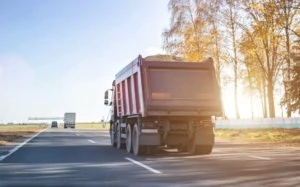 Commercial truck accidents are one of the most dangerous accidents that can happen in North Port, and these types of accidents result in devastating consequences when the truck is carrying an oversized load. Although there are strict regulations already in place for large commercial vehicles, these large trucks still continue to cause road accidents. Whether the load the truck is carrying is balanced, if the load is secure, the height of the cargo, and even the total weight of the load within the truck, will all consequently affect how a truck will perform on the roads and will therefore affect the likelihood of an impending truck accident.
If you or a loved one has been the victim of a trucking accident in the North Port area, then you may be entitled to some compensation for any personal injuries you sustained. If you think this is you, then it's time to contact The Law Place today. At our law firm, we have over 75 years of combined experience. After you have made the call, we will then offer you a free consultation where we can establish if you have a valid case or not. Following this, we will explain the next steps you will need to take in the legal process of your case in order to get the compensation you deserve.
Call The Law Place today on (941) 444-4444. Our lines are open 24 hours a day, seven days a week.
How Will I Know If a Truck Has an Oversized Load?
In North Port, all the roads and highways have strict regulations for the limits on the size and weight of trucks driving in the area. If a truck is found to be over these limits, then this will mean a truck will be classed as an oversized load truck. Additionally, there are restrictions in place for the weight each axle can carry. If it is found that the truckload does not exceed the overall maximum weight, but it does exceed the weight limit for each axle, then this will also result in the truckload being classed as oversized. An oversized truckload is more likely to cause truck accidents.
Within trucking companies, truck drivers are required to be provided permits when they are required to drive an oversized load legally. Additionally, in order to prevent accidents in both North Port and the rest of Florida, there are certain hours that trucks are permitted to transport an oversized load, depending on the physical size of the load and truck. These restrictions, laid out by the Florida Department of Transportation (FDOT), are in place for truckloads are in place across the whole of the Florida state, including North Port. These regulations have been put in place to try and reduce the number of accidents happening in the area. However, this is unfortunately not always effective.
What Causes Large Truck Accidents in North Port, FL?
When an accident occurs due to an oversized truckload, the victims are often quick to blame the truck drivers themselves. Here are some of the most common contributing factors to accidents involving oversized truckloads here in North Port. These include:
Distracted drivers.
Tired drivers, which is common for truck drivers who have been driving for long hours, impairing the driver's ability on the road.
Speeding trucks, for example, driving around a corner quickly in a tall truck. This can easily cause a truck accident.
Any untrained or inexperienced truck drivers.
Negligence within the trucking company. For example, breaching the Federal Motor Carrier Safety Administration (FMCSA)
Whatever the consequences of the truck accident that you or your loved one was involved in, you may be entitled to compensation. Contact The Law Place today so you can talk to an experienced North Port truck accident lawyer and discuss your case. From there, we will be able to evaluate your claim. If you do choose us to represent you in your case, then we will guide you through the legal system and take away any extra stress.
How Is a North Port Big Truck Accident Investigated?
In order to begin the investigation into your claim, we strongly advise that you get in contact with our experienced truck accident lawyers as soon as possible. Here at The Law Place, our team of accident attorneys is prepared and ready to carry out a thorough investigation into your case. Every lawyer here at our law firm has a wealth of experience behind them and will fight to get you the compensation you deserve.
The accident attorney assigned to your case will become your advocate. They will carry out an investigation at the site of the truck accident. We will check the site of the crash and will look for anything else they maybe have missed at the time of the truck accident incident. Then, our team will interview any key eyewitnesses. Furthermore, Florida law states that all commercial trucks are required to have an EDR or 'black box' installed into the vehicle. Any information that is received from either the EDR can be extremely important for whether your claim will succeed. Examples of the sort of data the black box will log relevant to the truck accident include the truck driver's speed, the application of brakes, etc.
However, it has been known for EDR's to be tampered with or even destroyed. It is vital that you act as quickly as possible so that your truck accident attorney can retrieve the black box before anything like this can happen. Other information that is at risk of being destroyed or tampered with by the trucking company includes maintenance records, personal information about the truck driver or trucking company, and also employment records.
In order to prevent yourself from losing information that may prove vital to your overall case, you need to get in contact with The Law Place today so you can organize a consultation with one of our experienced accident lawyers. Here at The Law Place, we will not waste any time when we are recovering all the needed evidence for your case so that we can get the justice and compensation you deserve.
How Is Liability Determined in a North Port Accident Case?
Determining any type of liability within these sorts of cases can, at times, be very difficult. Truck accidents are commonly some of the worst accidents on the roads of North Port, Florida, simply due to the weight of the truck and the large cargo within these trucks. Any truck accident can result in long-lasting and life-changing injuries for the victims, and in the worst circumstances, death.
A large majority of the trucks that are on the roads of Florida are commercial vehicles. It is for this reason that the liability after a truck accident has occurred can go even further than just the truck driver. As you begin to look at some of the most common causes for a truck accident here in North Port, it quickly becomes clear that finding out where liability lies is far from a simple task. Some parties that may be found to be liable in these types of cases include:
The truck drivers.
The trucking company.
The insurance company.
The truck manufacturer.
Here at The Law Place, we can offer you a law firm when excellent personal injury and accident lawyers. Any lawyer here will happily take the case off your hands, and they will make it their job to ensure they find out who the liable party or parties are in your case.
What Damages Am I Able to Claim?
All types of road accidents will likely end up with similar damages. Here are some of the most common damages that occur in truck accidents:
Medical bills – If after a truck accident you suffer an injury or multiple injuries and they require medical attention, then you may be able to claim compensation. You are able to claim back any bills that you pay after your accident, such as any surgery costs.
Loss of earnings – After your accident, if you are forced to take any time off, then you will be able to claim for all your lost wages during this period. If you are unable to return to work at all due to this accident, you will be able to claim any future loss of earnings as well.
Property damage – If your vehicle was damaged in any way, you would be able to claim for any repairs or replacement parts that are required.
Wrongful death – Under the Florida Statute 768.21, if the accident that occurred resulted in the wrongful death of one of your family members, then you are within your rights to claim compensation for any damages, such as funeral expenses, their medical bills, and loss of income from your family household.
Pain and suffering – This will include any physical or mental suffering you face after the accident as well as a loss of enjoyment in life. However, these damages may be hard to quantify and translate into monetary compensation. This is why it is in your best interest to hire a personal injury lawyer.
If you can relate to any of these circumstances, and you have been involved in a truck accident in North Port, FL., then it is time to contact The Law Place. From your call, we will be able to determine whether we think you have a strong enough claim to be able to get some sort of compensation. Call now for a free consultation.
How Much Will It Cost to Hire a Truck Accident Lawyer?
Here at The Law Place, all of our lawyers work based on a contingency basis. If you do not know what this means, it simply means you will not be charged upfront as all necessary fees for our services will be deducted from your settlement after we have won your case.
If we do not win your case, then you will not be charged anything for our service, as we work on a no-win, no-fee guarantee. This means you will be able to avoid the added stress of having to pay legal fees out of pocket and will be able to put all your energy into recovering from physical and mental damages after your accident. There are no hidden costs with The Law Place!
Any of the contingency work that is carried out by our law firm is monitored by the Florida State Bar Association. At The Law Place, we follow the strict guidelines that have been set out under this, as these guidelines have been put in place to ensure all clients are treated fairly. This fee system will be explained to you more in-depth when you attend your consultation. We will make sure you are fully aware and not be surprised by any bills you receive.
Contact The Law Place Today in North Port, FL!
If you or your loved one has been involved in a trucking accident that was not your fault, then you may be entitled to compensation for any injuries you received. This is when it is time to contact The Law Place. At our law firm, we have a dedicated team of lawyers who are here to ensure you get the compensation you deserve.
Due to our 75 years of combined experience, you can have confidence in the abilities of our legal team. Call us today at (941) 444-4444. Our lines are open 24 hours a day, seven days a week, and we are waiting for your call.