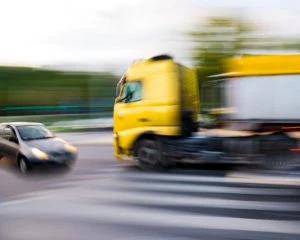 According to the Federal Motor Carrier Safety Administration, 415,000 accidents involved large trucks in 2015 in the United States. These accidents are often devastating for the people involved in them, especially those who were driving or passengers of smaller vehicles. This is because these trucks can be twice the size of a regular vehicle, and so crashes are often much more fatal than regular car accidents.
If you or a loved one have been involved in a truck accident that wasn't your fault, then you could be entitled to compensation. With over 75 years of combined experience in dealing with the Florida legal system, you can trust that the truck accident attorneys at The Law Place have the resources, knowledge, and skill needed to represent you and your case. Call us now to book your free consultation at (941) 444-4444. Phone lines are open 24/7.
Common Types of Truck Accidents
Some of the most common truck accidents that occur in Florida are listed below:
Jackknife – This is where a truck's trailer swings out next to the truck, similar to a folding jackknife. A jackknifing trailer has the potential to collide with cars in the neighboring lanes, which can cause widespread destruction and injuries.
Runaway truck – This is where a driver loses the ability to slow or stop their truck, often when they are driving downhill. The vehicle will hit anything in its path.
Rollover – It is not uncommon for trucks to tip over if the driver is traveling too fast around corners and bends. Trucks can also tip over if they're traveling fast in high winds or for many other reasons.
Override – When a truck rear-ends a smaller vehicle, the truck may actually drive onto the back of the car and sometimes even over the back seat, which can often be lethal for any passengers in the backseat.
Underride – When a smaller car crashes into the back of a truck, it can lead to the smaller vehicle becoming wedged underneath the truck, which can be deadly for the driver and any passengers in the front seats.
Cargo spills – Cargo that falls off a truck can cause serious crashes.
Common Causes of Truck Accidents in North Port, FL.
There are many factors that can cause a truck collision, although driver error is usually the main cause. Below are some ways that negligence is commonly involved in truck accidents:
Distracted driving.
Fatigued driving.

Driving

under the influence

(DUI).

Speeding, and other reckless or aggressive driving.
Improper securing or loading cargo.
Inadequate inspection or maintenance of trucks.
Hiring unqualified or dangerous drivers.
In order to determine and prove what caused your crash and who was at fault, you will need the help of a North Port truck accident lawyer who will be able to investigate the crash and examine all relevant evidence and documents. If your attorney can successfully prove that someone else was negligent, then you can hold them liable for the losses you endured and claim compensation. To begin your journey to securing the compensation you deserve, contact The Law Place today to schedule a free consultation.
Common Injuries Caused by Delivery Truck Accidents
Injuries caused in truck accidents in North Port can often be severe and commonly include the following:
Head or brain injury.
Internal organ damage.
Internal bleeding.
Neck, back, or spinal cord injury.
Broken bones or fractures.
Burns, lacerations, bruises.
If you are suffering from any injuries sustained in a truck accident that wasn't your fault, then you may be entitled to compensation. Contact The Law Place to schedule a free consultation and discuss your case with an established North Port truck accident lawyer.
Who Is Liable for Your Damages in North Port, Florida?
One of the first things you must do before filing a lawsuit is to work out who is liable for the accident and your damages. This can often be a complex process, as the various insurance companies, plus the involved trucking company, will argue back and forth to try and avoid blame. As well as this, there are many different statutes in place to protect the trucking industry.
However, our North Port personal injury attorneys have decades of legal experience. They have the skill and knowledge necessary to be able to aggressively fight for your right to receive a fair amount of compensation
Some of the parties that we may hold to account for the truck accident are listed below:
The truck driver.
The owner of the truck and/or trailer.
The business or person who leased the truck.
Truck manufacturers, if the truck or trucking equipment was defective.
Cargo shippers.
What Damages Could You Be Entitled To?
Once your truck accident lawyer has determined who is at-fault for your accident, they will be able to assess your losses and work out how much compensation you deserve. Some of the most common damages that the attorneys at The Law Place have secured compensation for are listed below:
Medical bills – You are entitled to compensation to cover the costs of any past and projected medical expenses, including related bills, such as transportation costs.
Lost wages – If you could not go to work because of the injuries you received in the truck accident, then you deserve to be reimbursed for any past and projected lost wages.
Property damage – Your vehicle was likely damaged in the accident. You should receive compensation to cover the costs of vehicle repairs.
Pain and suffering – If you are experiencing mental trauma or emotional distress following the accident, then you may be entitled to compensation. However, this can be difficult to prove, so it is important you have a truck accident lawyer on your side to fight for your case.
Related expenses – If you have sustained damages in any other way, then you may deserve compensation.
We know compensation will not fix the trauma or injuries you may be suffering from after being in a truck accident. But, it will help you with any financial burdens you've been left with. This is why you should contact our law firm today and schedule a free consultation with one of our highly-qualified North Port truck accident lawyers.
The Law Place, North Port, Florida
The aftermath of a truck accident can be incredibly difficult to deal with for the victim, and so it's vital that you hire a personal injury attorney to guide you through the stressful legal process. By hiring a personal injury lawyer based in North Port, you will be guaranteeing you have the best chance at receiving the compensation and justice that you deserve.
To ensure you're not taken advantage of, call The Law Place today and schedule a free consultation at (941) 444-4444. Phone lines are open 24/7.