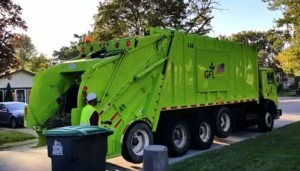 Despite the fact that garbage trucks are known for driving slowly and operating locally, they can also cause serious accidents. In fact, there are a number of garbage truck accidents and fatalities each year in North Port, Florida.
Being involved in an auto accident of any kind can be life-altering, especially if you were injured and it wasn't your fault. You could be suffering from physical injuries, emotional distress, and even property damage. In a case such as this, it's important to know your rights, as well as whether you're entitled to any kind of compensation.
So, whether you were a pedestrian or a driver involved in an accident involving a commercial waste vehicle, you should get in touch with an experienced garbage truck accident lawyer immediately. Here at The Law Place, we can help you to achieve the best possible result for your case and discuss whether you might be entitled to any compensation. Schedule a no-obligation, free consultation with one of our personal injury lawyers today. Our phone lines are open 24/7, so call us now on (941) 444-4444.
Garbage Truck Accidents in North Port, Florida.
Garbage trucks usually only drive locally, along a set route. Drivers are also trained to higher standards and often need special commercial licenses to operate waste-carrying vehicles.
However, this does not mean that they are exempt from accidents. In fact, collisions involving garbage trucks can be particularly serious as they operate in local neighborhoods, where not only drivers but also pedestrians could get hit.
A garbage truck accident could involve:
A parked car.
The driver of a moving vehicle.
The passenger of a moving vehicle.
Pedestrians.
Cyclists.
What Are the Main Causes of Garbage Truck Accidents in North Port?
According to the Department of Transportation's Federal Motor Carrier Safety Administration, there are several leading causes of accidents involving garbage truck drivers:
Impaired driving – The operator of the waste disposal vehicle may have been intoxicated or impaired by alcohol or drugs, resulting in a collision with pedestrians or other drivers.
Distracted driving – A garbage truck driver could suffer a lapse in concentration due to factors such as listening to the radio, momentary distractions, or poor sleep, particularly if they've spent too much time on the road.
Violating traffic laws – An accident could occur due to a violation of traffic laws, such as the driver checking their mobile phone or running a stop sign.
Blind spots – Many dump trucks and garbage trucks do not have reverse cameras installed and therefore have large blind spots. So, if a car or pedestrian sits within this area, it is unlikely that they will be seen by the driver, which often leads to serious car accidents.
Vehicle malfunctions – Failing hydraulic systems, issues with brakes or tires, or other vehicle mechanism malfunctions could result in the truck driver losing control and causing an accident.
Other drivers failing to adhere to the 'move over act' – The law requires motorists to move over or slow down for emergency vehicles and commercial vehicles such as garbage trucks that are stopped at the side of the road. Failure to comply with this rule may cause an accident if a garbage truck driver attempts to pull out and you have not moved into the appropriate lane or reduced your speed.
Compensation for Personal Injury From a Garbage Truck Incident
If you've been injured by a garbage truck driver and it wasn't your fault, you could be entitled to compensation. Through the help of an experienced law firm, accident victims could receive payment for damages including:
Medical bills and expenses for any injuries.
Pain and suffering.
Loss of potential earnings.
Any damage to property, including your vehicle.
Personal Injury Protection (PIP) for Truck Accidents
As laid out in Florida Statute 627.7407, Florida is a no-fault state. This means that all drivers need to have personal injury protection (PIP) and file a claim within 14 days to receive up to:
80% of medical expenses.
60% of lost wages caused by the accident.
$5,000 in benefits in the case of a death.
However, it will be up to your insurance company to decide how much you will receive in terms of medical benefits. If they decide that your injury was not serious enough, you could only receive 25% of medical expenses.
Florida insurance companies recognize serious injuries as causing:
Substantial risk of death.
Serious disfigurement.
Impairment of function to any body part or organ.
Of course, it is possible to contest your insurance company's decision and the amount awarded because of your car accident involving a garbage truck. However, you'll need the help of an experienced truck accident attorney to have the best chance of receiving a fair amount of compensation.
Who Can Be Held Liable for a Garbage Truck Accident?
Garbage truck drivers – If the accident was the fault of the driver, they could be held liable for damages.
The employer – The commercial truck driver's employee could be liable for an accident, for example, if they required their driver to drive without legally required breaks, provided improper training, or hired an unqualified driver.
The truck manufacturer – If a garbage truck accident was the result of a faulty vehicle or failing mechanics, the vehicle or part manufacturer of the garbage truck could be at fault.
The injured party – In many cases, accidents involving garbage trucks are not caused by the truck drivers themselves. In some cases, victims who become injured in a garbage truck accident could share some of the blame. In this case, the injured party could be held liable for some damages. To avoid this happening to you, get in touch with The Law Place today.
What to Do if You're Involved in a Garbage Truck Accident
If you've been involved in a waste vehicle truck accident, you should always make sure to:
Receive medical attention for any injuries – If you make a personal injury claim, you'll need to have a record of any injuries that occurred as a result of the accident. If your case is brought to trial, insurance companies and juries could argue that the injuries you sustained were not particularly serious if you did not need to be seen by a medical professional.
Document and record – You'll need to make sure to keep a thorough record of any damage or injuries caused by the accident to provide evidence to your insurance company, your personal injury attorney, and a court of law. Remember, it can sometimes take months or years for personal injury cases to be brought to trial, and injuries heal over time. So, make sure you keep a thorough record. Take as many photographs as possible and write a detailed note of what happened before, during, and after the incident.
Note the driver's name, vehicle registration, and vehicle DOT number – Make sure you have collected the Department of Transport (DOT) number of the garbage truck involved in the accident. Many commercial vehicles have an event data recorder (EDR), which records things like vehicle speed, seatbelt usage, and hours on the road. This information could be crucial to proving that the garbage truck operator was at fault for a crash.
Contact a vehicle accident attorney immediately – It's important that you get in contact with a lawyer to discuss your garbage truck accident as soon as possible. You should only speak with your attorney regarding the incident and should avoid giving information to the commercial vehicle company, their insurance provider, or their claims adjuster without first receiving legal advice.
How Can a Garbage Truck Accident Attorney Help Me?
There are many cases in which a pay-out from your insurance company may not cover your medical bills or lost wages. In this case, you can work with a law firm that specializes in waste vehicle accidents to file a personal injury lawsuit.
Should you choose to file a lawsuit, lawyers can help you with:
Negotiation – Your lawsuit could be settled out of court through negotiations between your lawyer and the insurance companies involved.
Legal advice – It's up to you whether you decide to take your personal injury lawsuit to court or accept an offer during the negotiation phase. Your lawyer will help you to decide this, as they'll likely know whether you could be entitled to a higher level of compensation by bringing your case before a jury.
Taking your case to court – Should you choose to take your case to a court of law, your attorney will present your case evidence, communicate with the jury, and question any witnesses if applicable.
Personal injury laws in North Port and the State of Florida are too complex to navigate on your own. That's why it's important to receive legal help and advice to achieve the best possible outcome for your case.
Free Consultation With a Garbage Truck Accidents Lawyer in North Port
Dealing with the legal process following an accident or injury can be intimidating. It can be difficult to know where to turn for support and legal help. However, if you've been involved in a garbage truck accident or truck collision, don't suffer in silence. With the help of an injury and accidents lawyer serving North Port, Florida, you could be entitled to valuable compensation for your injuries, damages, and lost earnings.
Here at The Law Place, our team of experienced lawyers has over 75 years of cumulative experience. Our law firm is committed to helping people all over the State of Florida with dedication and attention to detail to achieve the compensation we know our clients deserve.
So, if you've been involved in a garbage truck or commercial vehicle accident in Florida, schedule a free consultation with a garbage truck accident lawyer near you. Call The Law Place today on (941) 444-4444. Phone lines are open 24/7.