The term "T-bone car accident" refers to a collision when the front of one vehicle crashes into the side of another vehicle. T-bone crashes usually occur at intersections where one vehicle fails to obey the stop sign or runs a red light. The severity of these accidents depends on many factors, for example, the speed or size of the vehicles. There is a big difference if you are hit by a passenger car or a truck. However, any car accident can cause serious injuries and have life-altering consequences. That's why it's so important to seek legal assistance if you find yourself in such a situation.
If you have been involved in a T-bone truck accident in St. Petersburg, Florida, contact The Law Place as soon as possible. You are probably entitled to compensation, and our car accident attorneys could help you claim it. At The Law Place, we hire attorneys who specialize in many practice areas, including car accidents and personal injury. They have already helped many clients who were in a similar situation, so they should be able to help you as well.
Contact The Law Place and schedule a free consultation with a St. Petersburg truck accident attorney. Our phone lines are open 24 hours a day, 7 days a week, at (941) 444-4444.
Most Common Causes of Truck T-Bone Accidents in St. Petersburg, FL.
There are many rules and regulations in place to minimize the number of accidents on the roads of Florida. However, they alone can never prevent all accidents from happening. Many car accidents occur due to somebody's negligence. The most common causes of car or truck accidents in general include:
Human error – Human error is the most common cause of all accidents. This includes distracted driving (e.g., using your smartphone, eating, or chatting with other passengers), fatigued driving, or reckless driving (e.g., speeding, tailgating, and unpredictably changing lanes). Truck drivers, in particular, can be under a lot of pressure. Their employers often ask them to skip their obligatory breaks or drive fast to meet tight deadlines. Therefore, truck drivers often drive tired and stressed, so it's no surprise that the probability of an accident rises.
Driving under the influence – While driving a motor vehicle, the driver needs all their faculties to drive safely. However, if they drive under the influence of alcohol or drugs, their judgment is impaired, and they can no longer react to unexpected situations in time. Alcohol use often leads to overconfidence, which is very dangerous. Moreover, it is the responsibility of the trucking company to randomly test all their truck drivers for drugs and alcohol. Their negligence in this regard might also lead to an accident.
Mechanical problems – If the truck had a mechanical problem, the driver usually isn't the one to blame. They probably tried to do everything to prevent the accident from happening. Mechanical problems like this usually occur due to somebody else's negligence. It can be the trucking company, which failed to comply with the mandatory maintenance check-ups, or it can be the car repair company, which might have installed a faulty part in the truck. These accident cases can get quite complicated and require a thorough investigation, as the car parts manufacturer may also be to blame if the part was faulty from the beginning. It will require a skilled truck accident attorney to untangle such a case and find the liable party.
Problems with the intersection – Sometimes, there may be an error in the programming of the intersection, which can quickly lead to an accident. In such cases, the local authorities could be held responsible for your car accident. Here too, the help of a St. Petersburg truck accident lawyer will come in handy.
Our team of dedicated attorneys fight and win for Floridians.
Assigning Liability for a Truck T-Bone Accident in St. Petersburg, FL.
Sometimes, the case is very straightforward: the truck driver made a mistake, overlooked a traffic signal, and caused an accident. Other times, however, an intricate investigation is needed to uncover who is liable for the crash. The most common parties that may be found responsible for your St. Petersburg truck T-bone accident and resulting personal injury include:
The truck driver – The truck driver may be held liable for the truck accident whether they deliberately ignored a traffic rule or just made a mistake.
The trucking company – The trucking company may be at fault if they failed to provide proper training for their drivers, didn't perform obligatory maintenance check-ups, or kept an old truck in operation longer than they should have.
The mechanic – The mechanic or the car repair company may be liable for the accident if they overlooked a defect or knowingly installed a faulty part. Their task is to check whether the vehicle functions correctly and is safe to use. They need to perform their work with due care. If they fail to do so, they should be held responsible for the consequences of the accident.
The third-party driver – A T-bone accident can also occur as a consequence of a third-party driver's negligence. This might require an exhaustive investigation, so it is advisable to hire an experienced truck accident attorney. They will know what needs to be done to find the liable party and hold them responsible.
The local authorities – If the truck accident happened because the local authorities failed to maintain the roads or the traffic signals, they could be held liable too.
When determining the liable party in St. Petersburg, Florida, it is better to have a skilled car accident attorney at hand. They will know how to conduct a proper investigation and won't be afraid to confront a strong opponent. In fact, often, more than one party can turn out to be liable for an accident.
In any case, having the support of a professional truck accident attorney is very advantageous and comforting. You have someone who you can trust, knows the laws of Florida like the back of their hand, and is always available to you. Contact us today for a free consultation with a truck accident attorney in St. Petersburg and find out what we can do for you.
Most Common Injuries Sustained in Truck T-Bone Accidents in St. Petersburg, FL.
Different types of car accidents result in different types of injuries. Their seriousness varies depending on the circumstances of the accident. However, truck accidents, in general, tend to be more serious due to the weight and size of the truck. The most common truck accident injuries include:
Broken bones.
Cuts, burns, and bruises.
No matter the injury, it is important that you receive medical attention after the car accident. You need to do so within 14 days to be entitled to claim compensation in Florida. You can let the paramedics check you on the spot, or you can visit a doctor on your own. The important thing is that you get checked even though you feel fine. After a car accident, you might be in shock, and your body is likely full of adrenaline, so you might not feel your injuries yet. Moreover, some car accident injuries take longer to manifest fully. And if you don't receive proper medical treatment, they might get worse and significantly limit your everyday life.
Contact The Law Place and schedule a free consultation today. Our personal injury attorneys will advise you what you need to do to claim compensation and what damages you could be entitled to.
We're Florida's top litigation team with over 75 years of combined experience
Most Common Damages Following a Truck T-Bone Accident in St. Petersburg
Every auto accident is different, so the amount and type of damages really depend on the particular circumstances. There are two main kinds of damages you can claim in Florida:
Economic Damages
Medical bills – You should have all your medical expenses reimbursed as long as you stick to the prescribed treatment and keep the bills. This includes the cost of surgery, medication, x-rays, or rehabilitation, but also related costs, like traveling to your doctor appointments. Moreover, it doesn't only cover your past medical bills but also your projected future ones.
Lost wages – It is possible that you may have to take some time off from work to recover from your injuries. In such a situation, most people receive a reduced or no income.
Loss of earning capacity – If you sustain serious injuries, they may have long-lasting and life-altering consequences. It's also possible that they will force you to change your profession. If you start earning less, you should be compensated for that as well.
Property damage – T-bone accidents usually lead to significant car damage. If the accident wasn't your fault, you should be compensated for all the repair or replacement costs. This can also include any valuables damaged in the accident, for example, a laptop or mobile phone.
Non-Economic Damages
Pain and suffering – Victims of truck accidents often experience mental anguish. It's very common to suffer from PTSD, for example. So, pain and suffering damages were created to literally compensate for your pain and suffering. They are often calculated by multiplying your medical expenses by a number from 1 to 5 according to the severity of your injuries.
Wrongful death – If you have lost a loved one in a truck accident, we would like to offer our deepest condolences. We understand that no amount of money can bring that person back. However, it can at least improve your economic situation. A wrongful death claim could reimburse your funeral expenses, compensate you for the loss of family income, and take into account your loss of consortium.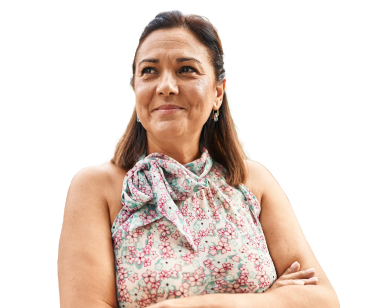 From the initial call to updates on your case status, we are here to get you answers.
Advantages of Cooperation With a St. Petersburg Truck Accident Attorney From The Law Place
If you have been involved in a St. Petersburg truck accident, we strongly recommend you find a reliable attorney from the area. They will provide you with the legal advice that you need in this situation, stand by your side if you decide to file a lawsuit, and make sure that you proceed in accordance with the rules and regulations of Florida. Moreover, they will also be able to help you deal with insurance companies.
At The Law Place, we have more than 75 years of combined experience in many practice areas and have already handled many truck accident cases. Furthermore, most of our lawyers have been rated 10.0 by the AVVO, so with us, you are in good hands.
Our law firm offers a non-binding, free consultation to all our potential clients. You can meet with a St. Petersburg truck accident attorney and discuss your case with them for free. They will go through the details with you and provide you with their professional opinion regarding your next steps. Afterward, you can decide if you wish for us to represent you or if you prefer to pursue the case on your own. If you agree on legal representation with The Law Place, you will be assigned a personal attorney. They will become your primary advocate and point of contact for all matters regarding your case.
Investigating Your Case
As soon as you agree on cooperation with The Law Place, our people will start investigating your truck accident case. They will work hard to gather all the available evidence by reviewing the CCTV footage, interviewing witnesses, and examining the site of the collision. Only this way is it possible to determine correctly who actually caused your accident. Once they find sufficient evidence, they will seek an out-of-court settlement or file a lawsuit on your behalf.
Dealing With Insurance Companies
If you end up in an auto accident, you are required to inform your insurance company about it within 24 hours. However, it's good to consult your truck accident lawyer first, as they will advise you how to react to their question and offers. The insurance company might try to devalue your claim so that they don't have to pay you that much money. Luckily, our truck accident attorneys know their tricks and can protect you against them.
Representing You at Court
If you aren't satisfied with the outcome of the out-of-court settlement, you can decide to file a personal injury lawsuit. Your attorney will discuss all the details with you, and if they believe that your claim deserves a higher settlement, they will take your personal injury case to court for you. Based on the gathered evidence, they will build a strong case for you to improve your chances of receiving the compensation you truly deserve.
Contact The Law Place Today
Have you been involved in a St. Petersburg truck accident that wasn't your fault? Then don't hesitate and schedule a free case evaluation with a St. Petersburg truck accident attorney from The Law Place. We are a reliable law firm that believes in creating a strong attorney-client relationship. Our services are discreet and tailored to your needs. Try them out for free! Schedule a free consultation at (941) 444-4444.