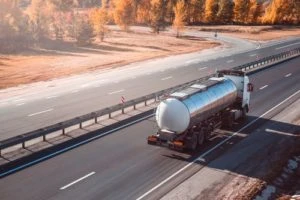 Driving is, unfortunately, one of the most dangerous activities we do every day. Collisions involving any sort of motor vehicle can be dangerous. However, this is particularly true when the collision involves a heavy vehicle such as a truck, and even more so if it is a fuel truck. Fuel trucks are large commercial trucks that carry liquified gases such as gasoline or fuel. The size of the vehicle and its flammable contents means that accidents involving fuel trucks can often be catastrophic. The crash can sometimes lead to an explosion, which means assessing damage and fault can be very challenging. This makes it difficult for victims to receive sufficient compensation without the right representation.
If you or someone you know has been the victim of an accident involving a fuel truck, then don't hesitate to contact us today for free legal advice relevant to your case.
Our phone lines are open 24hrs a day, 7 days a week. Call one of our injury lawyers today for a free consultation at (941) 444-4444.
Common Causes of Truck Accidents
There are many possible causes of an auto accident involving a fuel truck. Tanker trucks, as with all large vehicles, are susceptible to blind spots. Their size and weight also mean that truck drivers will find it difficult to stop or change direction quickly in the case of another smaller vehicle swerving or breaking suddenly. Drivers of other vehicles on the road may maneuver in front of or next to a fuel truck without correctly estimating the vehicle's size or the distance required between themselves and the truck, which can lead to a collision. The accident could also be the fault of the truck driver, for example, if they are driving recklessly or under the influence of a substance.
Some common causes of fuel truck accidents include:
Driving while tired. This is common with truck drivers who may be expected to work long hours.
Distracted driving.
The driver was not properly trained.
A vehicle in front of the truck made an unexpected maneuver, which the truck was unable to react to in time.
Overloading.
Speeding.
Blindspots.
Burst tire.
Equipment/vehicle malfunction. For example, if a vehicle's indicators or tail lights are broken, making other drivers unaware that the driver is breaking or indicating.

Driving under the influence (DUI)

. This refers to any motorist driving under the influence of alcohol or drugs.
Whatever the cause, if you were involved in an auto accident that involved a fuel truck, then we know that the consequences can be far-reaching and traumatizing. If you were not to blame, we could help you prove this and build you a strong case to give you the best chance of receiving the compensation you deserve.
Dangers of Fuel Truck Accidents
As with all motor accidents, fuel truck collisions can lead to severe life-changing injuries and sometimes death. The increased size and weight of this sort of vehicle, along with the fact that it is often carrying explosive substances, mean that accidents involving fuel trucks are often far more devastating than passenger vehicle crashes.
Some of the most common injuries that result from collisions involving a fuel truck include:
Spinal cord injury.
Burns.
Internal injury and bleeding.
Broken bones.

Wrongful death.
Here at The Law Place, we understand that if you have suffered injuries following a truck accident, no amount of money can make up for the pain and suffering you have endured. However, recovering the compensation you deserve can give you one less thing to worry about when it comes to medical expenses, loss of income, and other damages. If the accident was the cause of another driver's reckless behavior, then you shouldn't have to face the consequences alone. Allow us to help you seek justice so that you can focus on your recovery. Call us today to speak to one of our personal injury lawyers for free, no-obligation legal advice.
Who Can Be Held Responsible for a Truck Accident
Fuel truck drivers have the responsibility of transporting large quantities of substances such as gasoline that have the potential to be extremely dangerous. The presence of these substances means that an accident involving a fuel truck is often the cause of devastating injuries and even loss of life. For this reason, it is the responsibility of truck drivers to take extra care in their road safety.
In the case that an accident occurs, it can sometimes be difficult to determine who was to blame. It could be, for example, that the truck driver acted recklessly or was under the influence of drugs or alcohol. However, the blame instead often lies with the trucking company. They could have failed to train their drivers adequately, to properly maintain their vehicles, or to monitor a driver's working hours or the loaded weight of their trucks. If an accident was caused by improper processes such as these, then the trucking company in question must be held to account.
Filing a suit against a fuel truck company can be complicated, particularly as their cargo means that they must comply with the Federal Motor Carrier Safety Administration.
The legal process might seem daunting, but rest assured that here at The Law Place, we have extensive experience in taking on large companies such as trucking companies and insurance firms. We can help you fight your case with a no-win-no-fee guarantee so that justice can be served and you can recover the compensation you deserve. Call us today to speak to a personal injury attorney about the specifics of your case in a free consultation.
What Damages Will an Attorney Help Me to Claim in North Port?
If you have been the victim of a truck accident in North Port, this can cause an enormous impact on your life as well as huge financial loss. If the accident was not your fault, then you may be entitled to claim compensation for the suffering and damages caused. These sorts of motor accidents often cause severe injuries that require long-term medical care, which is unlikely to be covered by your regular insurance policy. A personal injury lawyer will be able to help you calculate the damage caused by the auto accident and build a case to fight for the compensation you deserve.
Common damages that you may be able to claim include:
Medical bills – The long-term recovery from injuries sustained in a fuel truck accident can be severe, particularly if they require surgery, medication, and long-term rehabilitation.
Lost wages – If the injuries sustained during the crash force you to take time off work, this can have a huge impact on you and your family's economic stability.
Loss of future wages – If the injuries could reduce your ability to earn money in the future, then you could also be entitled to claim compensation for lost earning potential.
Pain and suffering – We can help you to calculate damages that are less tangible but still important, such as emotional distress and suffering.
Property damage – If your vehicle or personal possessions were damaged or broken during the crash, then you may be able to claim the cost of replacing these items.
Wrongful death – Tragically, fuel truck accidents can often lead to fatal injuries. If you have lost a loved one in this way, we can help you to seek justice and compensation.
Over the past few years, victims of truck accidents have recovered millions of dollars from trucking companies. If you have been in an accident caused by the actions of a truck driver in North Port, Florida, then call us today. Allow one of our injury lawyers to help you build a case and fight for the justice that you deserve. Our accident attorneys have years of experience dealing with cases involving truck accidents and can help you calculate how much you could be owed and deal with any third-party insurance firms that might be involved. Call us today for free, specialized legal advice.
How a Truck Accident Lawyer Can Help You
Following an accident involving a fuel truck, it can be difficult to establish who was to blame. There are various factors to consider as each situation is different, and the destruction caused by this type of accident often leaves little evidence. Furthermore, insurance firms will likely try to reduce what they have to pay even if you do make a claim. For this reason, we recommend that you seek legal representation from a personal injury lawyer as soon as possible.
If you call us for a free consultation, one of our attorneys will go through the specific details of your case with you and help determine whether you are likely to have a good case against a third party. This could be the truck driver, the trucking company, mechanics, or manufacturers. Our team has over 75 years of combined experience dealing with cases just like this, so our lawyers are not afraid to stand up to big companies. We have an in-depth understanding of state-specific laws and procedures to make the process as stress-free as possible for you.
One of our North Port, Florida, attorneys can help you to build a case using:
Visual evidence. Photographs of the scene or of sustained injuries.
Witness testimonies.
Police reports made following the crash.
Safety reports of the involved vehicles.
Blood alcohol tests to determine if intoxication may have been an underlying factor.
Medical bills to determine the extent of medical treatment costs.
Dealing With Insurance Companies in Florida
If you have been involved in a truck accident in Florida, you might find it difficult to claim compensation from your insurance company. Under Florida Statute 627.7407, Florida is a no-fault state. This means that, following a motor accident, drivers are required by law to claim from their own insurance company first. However, the damages caused by a fuel truck accident are likely to be extensive and exceed the limit of your insurance policy. Therefore, if you want to recover more than this limit, you will need to claim compensation elsewhere.
After a motor accident, you may not have much time to contact your insurance company. Some policies require the driver to contact their insurance firm within 24 hours of the accident. Check your policy to find out how quickly you need to contact them for your claim to be valid. When you inform your insurance company about your crash, you should be clear and concise. Do not give them any specific details, such as the extent of your injuries or your assumptions about who was to blame. These details could be used by them to later devalue your claim. If you are worried about speaking to them yourself, The Law Place can help. Contact us today for free advice about what to say to them, or we can even speak to them on your behalf if you choose to let us represent you.
It is also worth remembering that insurance companies, like all big businesses, are mainly focused on profit. This means that they are likely to try to profit from your accident by any means possible, including hiring claim adjusters to help them devalue or even reject your claim. If there is a third-party insurance firm involved, they will likely try to do the same. Or, they may try to get you to accept a low settlement offer as quickly as possible to avoid having to pay out the larger amount you might be owed.
All of these processes can be intimidating, but we have the knowledge and experience to deal with these types of insurance companies, so you don't have to. We will make sure that you are not taken advantage of. We will calculate the value of the damages and injuries you suffered from in your accident and fight for your right to this compensation. We will be the point of contact between all involved parties, including insurance companies, so that you can focus on your recovery.
Contact The Law Place Today
After an accident in North Port, the best thing you can do is to seek representation from a personal injury lawyer. Research has found that victims who seek help from an accident lawyer receive a payout that is 60% higher than those who do not. If the pain and suffering you have endured were caused by the actions of a truck driver, trucking company, or vehicle manufacturer, then you deserve justice.
Contact The Law Place for a free consultation about your case. We can give you advice about your case and whether we think you have a valid claim. If you wish, we can then arrange a meeting to explain our services, discuss your options, and clarify how our fee structure works. If you decide to let us represent you, you will not have to pay anything up-front, and any fees incurred will instead be deducted from your final settlement only if you win your case. So what do you have to lose? Contact us today for free legal advice about your situation.
Our phone lines are open 24hr5s a day, 7 days a week. Call us today at (941) 444-4444.