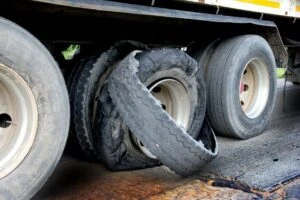 A tire blowout might not seem like a big deal. You would think that it poses a danger only to the vehicle in question and that if you follow your maintenance plan, it is not your problem. However, if it happens to a fast or large vehicle, like a truck, things can quickly escalate into a more serious accident. This can then lead to many serious injuries or even death.
If you have been involved in a car accident caused by a truck tire blowout, you could have the right to compensation. At The Law Place, we hire experienced attorneys who will assess your case and provide you with legal advice regarding your next steps. Call us today and schedule a free consultation. You can reach us 24 hours a day, 7 days a week at (941) 444-4444.
What Causes Truck Tires to Blow Out in North Port, FL?
Truck tire blowouts are more common in Florida than you might think. The biggest contributor is the famous Florida heat. Fast driving in this heat constitutes a higher risk of wear and tear for the tires. It is therefore important to have your tires checked regularly. Unfortunately, many truck drivers in Florida are not aware of the dangers that worn-out truck tires pose.
Other common factors that can contribute to the serious wear and tear of truck tires include:
Driving with too high or low tire pressure.
Frequent driving on bad quality roads.
Using a defective tire.
Driving on tires with tread worn down.
Driving with extra heavy loads.
These are only some examples of the most common causes of tire damage. The most important thing is prevention. Do not forget to have your car checked regularly, especially your tires. Find a reliable auto service center and schedule regular maintenance meetings with them. They are professionals and will know how to take care of your vehicle. This way, you will make sure that you and your family are safe while traveling and that you don't pose a danger to other people on the road. The more drivers that do this, the safer our roads will become.
Who Can Be Held Responsible for a Tire Blowout in North Port, FL?
To be able to assign liability, your accident attorney must first determine whether the collision was, in fact, caused by a blown-out tire and what the reason was for the tire to burst. The tire may be damaged and explode, for example, due to negligence of the following parties:
The truck driver was driving recklessly.
The trucking company if it failed to perform a regular check-up of the vehicle.
The manufacturer of the tires if the tire in question was defective.
The mechanic if the tire was installed incorrectly.
The government if the road was in bad shape.
A third-party driver when, for example, they were supposed to secure their freight against falling off the trailer, and the fallen object then caused the blowout.
Truck accidents involving a tire blowout are usually quite complicated as they tend to involve many parties. We do not recommend taking action into your own hands and dealing with this matter on your own. At The Law Place, we hire professional attorneys who have the knowledge and experience to gather the necessary evidence so that you get the highest compensation possible. Contact us today for a free consultation to learn your options.
What Damages Can I Claim Following an Accident Caused by a Truck Tire Blowout in North Port, FL?
A truck accident is usually associated with more serious damages. They tend to cause more injuries and property damage, as trucks are generally larger and heavier than personal vehicles. Your personal injury attorney will help you determine what damages you are entitled to. They could include, for example, some from the following list:
Medical Bills
If you were injured in an accident caused by a truck tire blowout, you could have the right to compensation for all your medical expenses, both past, and future.
Pain and Suffering
A truck accident does not cause only physical injuries. Victims can also be left with psychological trauma – caused either directly by the accident or indirectly by the injuries incurred. That is why you can also get compensated for your pain and suffering. This compensation is based on your medical expenses, which are then usually multiplied by a number from 1 to 5, with 5 reflecting the highest level of suffering.
Property Damage
You could be qualified to get compensation for any damage to your property. This typically means your vehicle but can also apply to things like your mobile phone or any other object damaged during the crash.
Lost Wages
If you sustain an injury in a truck tire blowout accident, you might need to take a prolonged leave of absence from work. During this period, your income might be significantly lower than normal. Such a situation creates a lot of stress. Compensation can bring you peace of mind and allow you to take time off to recover.
Wrongful Death
If you have lost a loved one in a truck tire blowout accident that was not their fault, this is considered wrongful death. You might have the right to be compensated under Florida Statute 768.21.
Punitive Damages
Punitive damages are meant as a punishment for the defendant if they were knowingly and willfully negligent, and the settlement is considered too low for their offense. However, awarding punitive damages is quite rare as they are hard to prove.
Why Is It Important to Contact a Personal Injury Lawyer in Case of a Tire Blowout Accident?
A good personal injury lawyer will assess your case, determine what damages you are entitled to, and win the highest possible settlement for you. At The Law Place, we hire the best of the best to ensure that our clients really get the compensation they deserve. As a result, most of our attorneys have an AVVO ranking of 10.0 – the highest possible rating!
To get started on your case, call us today. If we believe your claim is valid, we will invite you to a free consultation. During the consultation, we will further discuss the case with you. This might include a series of questions to understand the details of your case. Our attorneys are discreet and fully understand how difficult a situation after a truck accident is, but you do not have to worry. We pride ourselves on an attorney-client relationship built on understanding and trust.
During the consultation, we will also explain and break down our fees. We do not believe that surprising our clients with hidden costs would be beneficial in any way, so we are upfront about all our charges. Our law firm works on a contingency basis. This means that we do not get paid unless we win a settlement for you.
After that, you can decide what to do – whether you want us to represent you or not. However, it is important to know that having an attorney at your side will give you an enormous advantage. If you hire an experienced accident lawyer, like the ones at The Law Place, your case will be taken more seriously. This way, you have a chance to win a higher settlement just because a reliable law firm is backing you.
If we agree on representation, your case will be reviewed by our team of lawyers, so you can benefit from the combined knowledge of more than one experienced attorney. Afterward, an attorney will become your advocate. They will support and guide you through the whole process and fight for your rights. We will start working on your case immediately, as time is of the essence. We want to be able to gather as much evidence as possible to support your claim.
How Does an Investigation of a Tire Blowout Accident Look Like?
Our team will perform a thorough examination of the place where the accident occurred to see whether defective tires or any other factor played an important role in the collision. This includes searching for evidence at the site of the accident. Our investigators will also measure the skid marks left at the site and examine all the vehicles involved, focusing particularly on their tires. Furthermore, we will also interview any eyewitnesses of the collision and review the CCTV footage if there is any. Then, we will combine all the information gathered and use it as evidence for your case.
Car accidents involve evidence that can get lost over time. Road gets cleaned, cars get repaired, witnesses forget, and footage expires or gets deleted. It is, therefore, extremely important to initiate the investigation as soon as possible in order to ensure the best quality of evidence for your case.
How Should I Deal With the Insurance Company?
Insurance companies, like any other business, focus mainly on profit. They do not become this large by giving out generous compensation to everybody. It is therefore important to be cautious when dealing with them. They might try to use tricks to convince you that you are entitled to less compensation than you really are.
In Florida, you are required by law to inform your insurance company about an accident within a specific time frame. This depends on the conditions of your policy, but it usually is 24 hours. However, we recommend contacting your lawyer first where possible. Or you can contact the insurance company and inform them about the accident, but tell them you will provide all the details later. Then get in touch with your attorney immediately.
The reason for this is that after an accident, you might be in shock or even injured. It is understandable that in such a situation, it is hard to think clearly, so you might say something you would later regret. For example, the insurance company could try to get unnecessary and inaccurate details from you, which could damage your chance to get the compensation you deserve. Or they could offer you a settlement that might sound generous in the moment but is actually much less than you are entitled to.
Insurance companies are famous for hiring professional lawyers that specialize in devaluating their clients' claims. Therefore, you ideally should not deal with them without your attorney at all. It is absolutely essential that you do not sign anything that they give you without your lawyer present. However, we also do not recommend dealing with them alone over the phone. They usually record their calls, and anything you say may later be used against you in court.
Our lawyers are experienced and trained to be able to deal with insurance companies accordingly. Their dirty tricks will not work against us. This way, you can get the compensation you deserve without needing to go through extra stress. Instead, you can focus on your recovery and spend time with your loved ones.
Call The Law Place Today
If you have been involved in a collision caused by a truck tire blowout, then please contact The Law Place today. You can schedule a free consultation with a professional accident lawyer from our team at any time.
The Law Place offers more than 75 years of combined experience. Our attorneys work together as a team, which ensures the highest quality of service. We pride ourselves on communication with our clients – our advice will always be clear, honest, and unbiased. We understand how stressful truck accidents can be and will take appropriate measures to relieve you from the stress as much as possible.
So, do not hesitate to call today. Our phone lines are available 24/7 at (941) 444-4444.