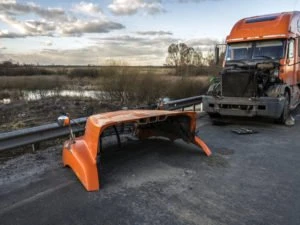 Due to their unique design, tractor-trailers can often get into serious accidents. They are much heavier than most vehicles on the road, and sometimes they are carrying hazardous goods. If they are operated incorrectly or if they have any faults, there is a major risk of an accident occurring.
It is common in North Port that drivers of tractor-trailers are overworked and put under a lot of pressure to deliver their goods on time. As a result, drivers are often fatigued and find themselves rushing to meet these deadlines. In many cases, this means that drivers are distracted and fail to follow the rules of the road by speeding or not paying proper attention to their surroundings. This often results in severe truck accidents happening, leading to personal injury or damage to property.
Here at The Law Place, our truck accident lawyers are here to assist you if you have been in a tractor-trailer accident in North Port. We have over 75 years of combined experience in dealing with personal injury cases, including all kinds of truck accidents. Our team of lawyers are skilled in dealing with these type of cases and are ready to take over the investigation for you to ensure you receive compensation.
Contact us at The Law Place today at (941) 444-4444, where we will provide you with a free consultation to discuss the best route for you to take. Our lines are open 24/7 for your convenience.
Truck Accident Investigations
When investigating an accident in North Port, a truck accident lawyer will carry out a thorough investigation to determine what happened. This will include hiring experts, such as private investigators, to collect any evidence from the accident. Once the evidence has been collected, the accident lawyer will usually hire an expert who can reconstruct the scene based on the evidence they have found.
This investigation and reconstruction of the accident will be necessary in order for the truck accident attorney to determine liability. There is a possibility that there will be other contributing causes, such as faulty parts in the truck, the weather, and if the driver was driving distracted.
In any truck accident in North Port, the primary focus of an investigation will always be the driver of the vehicle. Their conduct at the time of the accident will be the starting point of the investigation, and their conduct up until that point can play an important role in determining what happened. On investigating a driver's history, a truck accident lawyer may discover that the individual was not qualified to be driving a tractor-trailer and should have never been hired. In other instances, it may be discovered that a driver was never given proper training or didn't receive the correct supervision by the company.
Our team of truck accident lawyers will thoroughly investigate the accident to determine what went wrong. We will fight to get possession of the data recording device in trucks known as the black box, which will be of huge assistance in determining liability. This recording device will contain evidence related to the accident, including:
The time of the accident.
The speed at which the truck was driving.
How forceful the impact was.
Whether warning lights were active.
The angle of the steering wheel and brake usage.
This information may be helpful in determining whether any vehicle defects caused the accident or whether the driver of the tractor-trailer was at fault. In order to make this information available as evidence in court, it may be necessary for a truck accident lawyer to conduct an expert analysis.
Driver Negligence
In many tractor-trailer accidents in North Port, Florida, the driver's conduct is the primary cause. This conduct can include:
Being distracted.
Using a phone while driving.
Driving while intoxicated.
Breaking traffic laws, including tailgating or speeding.
Being exhausted.
Lacking proper training.
Failing to ensure cargo has been properly loaded and secured.
If a driver has engaged in any of these actions while driving and an accident resulted from this, they can be found to have been negligent. If negligence can be proven and any property damage or personal injury occurred, a victim may be entitled to claim compensation from the driver, their employer, and their insurance company. In this situation, a victim should get in contact with a truck accident lawyer that can assist them with their claim.
It is necessary that all truck drivers in North Port abide by federal regulations and those put in place by the state. Regulations that set out the minimum training required for tractor-trailer drivers and the length of time they should be on the road are there to ensure road safety.
What to Do at the Scene of a Truck Accident in North Port, Florida.
If you have been involved in a truck accident in North Port, it is important that you follow specific steps. These steps include:
Checking-in – Immediately following an accident, you should always check in on yourself for personal injury. If you are able to remove yourself, you should relocate to a safe place off the road.
Calling emergency services – If you have suffered a personal injury, you should call an ambulance to the scene to ensure you are taken care of.
Reporting the accident – If the tractor-trailer accident caused any considerable personal or property damage, the law in North Port states that it must be reported to police within 10 days. If another witness of the accident hasn't called the police, then it is important that you do so.
Avoiding giving statements to law enforcement – If a police officer suspects that your actions have caused the truck accident, you should refrain from giving a statement, either written or oral. Any statement given to law enforcement should come after you have received advice from a North Port truck accident lawyer.
Collecting information – If possible, you should always gather the information of everyone at the scene of the accident, including other drivers involved and any witnesses. This information should include names, phone numbers, and the vehicle information of other parties if relevant. In the event that you are accused of being at fault, having this information can be vital to your case.
Taking photos of the scene – Having pictures of any physical evidence, including the vehicles involved in the accident, any surrounding damage, skid marks, and parked cars, is important to your personal injury claim.
Cooperating with police testing (or not) – In many situations, you will be asked to take a chemical or field sobriety test by police to determine whether you were under the influence at the time of the accident. Law in North Port requires that you take a breath or chemical test when requested. Failing to comply can result in you having to pay penalties.
Remaining at the scene – Regardless of whether you suspect you have been at fault for a truck accident, it is essential that you stay at the scene. Not only could this impact your personal injury claim, but it could also result in you being accused of a hit and run, which is a felony in North Port, Florida.
The Benefits of Having a Legal Representative
If you have been involved in a tractor-trailer accident in North Port, Florida, it is important that you get in contact with a truck accident attorney. It has been shown that having legal representation will increase your chances of receiving compensation if you have suffered a personal injury. Here at The Law Place, we work on a contingency basis, which means that if your case is unsuccessful, you won't lose any money.
If you decide to receive representation from our law firm, our team of truck accident lawyers will assist you by conducting a thorough investigation and taking over your case. If you are not at fault for your North Port truck accident, our lawyers will ensure that you receive the full compensation for injuries you have suffered. It is common for insurance companies to find an excuse not to compensate you. Having representation from an accident attorney means that every effort will be made to assess who the negligent party is and to get adequate compensation for your suffering.
How Long Do I Have to File a Lawsuit?
Florida's statute of limitations requires that you make a personal injury claim within four years of the accident happening. However, the more prompt you are in filing a lawsuit, the easier it will be for your North Port truck accident lawyer to make a strong claim on your behalf. If you delay the process, it may become difficult to collect evidence, get in contact with witnesses to the accident, and obtain clear information on what happened. For this reason, we advise getting in contact with one of our truck accident lawyers as soon as possible.
Contact The Law Place Today
If you or someone you know has been involved in an accident involving a tractor-trailer in North Port, Florida, you should get in contact with our law firm today. Our team of experienced truck accident attorneys has the necessary skills to help you win your personal injury case and receive the compensation you deserve.
We will offer you a free consultation in which our accident attorneys will provide you with clear, unbiased advice on what we think are your best options. We understand that truck accidents can be traumatizing and that you may be under stress from insurance companies and numerous medical bills. This is why we want to help you.
Contact The Law Place for your free consultation today at (941) 444-4444. Phone lines are open 24/7.