The roads of Florida are nearly always busy, which means that, unfortunately, accidents are not uncommon. One type of collision that often happens in Venice and elsewhere in Florida is T-bone accidents. A T-bone crash is where the front of one vehicle hits with the side of another, which is where it gets its name, as these collisions look like a 'T' from an aerial view. These types of collisions frequently occur at intersections when a driver fails to obey traffic signals and can often leave people suffering from horrific injuries. However, when you're involved in a T-bone crash with a truck, the consequences can be even more severe.
Trucks are much larger and heavier than a regular motor vehicle, which means that when involved in a collision with a car or motorcycle, the damage and injuries caused are often much more extreme and can be completely life-changing. The accident attorneys at The Law Place have helped many clients who went through accidents similar to yours, and so we understand how devastating a truck T-bone accident can be. We also know how to help victims recover the compensation that they deserve, and we may be able to help you too.
If you or a loved one have been involved in a truck T-bone accident that wasn't your fault, then you need to contact The Law Place. Our Venice personal injury lawyers have over 75 years of combined experience in helping clients secure the justice they deserve, so don't delay in calling us to schedule a free consultation with one of the skilled members of our team.
Call us now at (941) 444-4444. Phone lines are open 24/7.
Common Causes of Truck T-Bone Accidents in Venice, FL.
T-bone accidents, unfortunately, occur much too often at Florida intersections, despite laws being set out that are designed to make sure these kinds of auto accidents don't happen. Any driver, including a professional truck driver, can be careless and ignore these laws and their duty of care to the road users around them, which can lead to many people suffering for their actions. Fortunately, with the right Florida personal injury attorney, the negligence of the truck driver can be somewhat easy to prove.
While every case is different, listed below are some of the common causes of T-bone truck accidents in Venice:
Human error – This is the most common cause of T-bone accidents, partly because it covers a wide variety of ways that someone could cause a car accident. Examples of this include distracted driving (such as using their cellphone while driving), speeding, and fatigued driving. However, reckless driving, such as failing to stop at a red light, is an extremely common reason why T-bone accidents occur on the roads of Venice. This is often seen with truck drivers, as they may feel pressured to complete their journey as quickly as they can, which leads to them cutting corners.
Driving under the influence – When a driver is operating a motor vehicle, they must have all of their faculties in order to ensure they can drive safely. When under the influence of alcohol or drugs, drivers are no longer able to perceive danger and react quickly, which can lead to a serious car accident. This recklessness is, unfortunately, common all over America, and any victim of this behavior should contact The Law Place immediately to get the compensation that they deserve.
Mechanical problems – It is possible that the truck may have experienced a mechanical problem, which is what caused the car accident. If this is the case, then the accident may not have been the truck driver's fault. A skilled car accident attorney would be able to determine who is liable for the malfunction, and therefore the accident, and will help you file an accident claim against them to get the compensation that you deserve.
Problems with the intersection – Occasionally, there may have been a mechanical fault with the intersection, which caused the accident. Perhaps a traffic signal was damaged, or a sign was improperly marked. In these types of cases, your personal injury attorney will investigate who is at fault for the car accident, such as the local authorities or a third-party driver, or even multiple parties.
Our team of dedicated attorneys fight and win for Floridians.
Common Injuries That Are Sustained in Truck Accidents
All types of car accidents can lead to people suffering from catastrophic injuries, and in severe cases, sometimes even fatalities. However, because of the large scale and bulk of trucks compared to other motor vehicles that they could be in an accident with, truck accidents have a greater chance of causing extreme devastation and destruction.
Here are some of the most common injuries sustained in truck accidents:
Traumatic brain and head injuries.
Neck injuries, such as whiplash.
Back and spinal cord injuries.
Lacerations, soreness, bruises, and burns.
Broken bones and fractures.
Internal organ damage.
Internal bleeding.
Wrongful death.
If you were involved in a truck T-bone accident and have suffered from any injuries, either listed above or not, then you should get in touch with The Law Place to book a free consultation with one of our experienced accident lawyers. No matter how minor or major you may think your injuries are, you could still be owed compensation, and our personal injury lawyers are ready to fight on your behalf for the justice you deserve.
Who May Be Liable for My Truck T-Bone Accident?
It can be complicated to work out who is liable following a truck T-bone collision, especially as in some cases there are multiple parties at fault. Each case is different, and there are many different parties that could be liable for an accident. Below is a list of the parties who have often been found liable for truck T-bone crashes:
The truck driver – This is the most obvious potentially at-fault party. If the truck driver was operating the vehicle negligently or recklessly, they would likely be liable for the accident.
Trucking company – If your accident attorney can prove that the trucking company failed to provide adequate training for the driver, they did not maintain their vehicle properly, or if they allowed the truck to be on the road for longer than what's lawful, they might be responsible if any of these factors caused the accident.
The mechanic – In the event that mechanical problems caused the collision, the mechanic may be the one responsible for failing to appropriately maintain or repair the vehicle to regulation standard.
The third-party driver – The roads in and around Venice, Florida, are often very busy. This means that it's not unlikely for an accident to involve more than two vehicles. It's possible that you were the unlucky victim of a third-party's negligent driver. If this is the case, your accident attorney will fight to ensure they're held responsible for your injuries.
The local authorities – If the local authority failed to adequately maintain the road and put up suitable signage, then the public body in charge of road maintenance may be liable for the car accident.
While listed above is the parties that are commonly found liable for car accidents, this doesn't mean it's comprehensive – there is a chance that the party responsible for your accident is someone completely different. It's also very possible that there is more than one party at fault for the accident, and once discussing your case with you, your personal injury attorney may suggest filing a lawsuit against multiple people/organizations.
While this may sound very complex and daunting to you now, the team of injury lawyers at The Law Place has the experience and knowledge needed to be able to navigate and support you through this complicated process. By enlisting the guidance of a personal injury lawyer, you will be ensuring that you don't make any mistakes that could damage your case, and you'll be giving yourself the best chance at securing the compensation that you deserve. So contact The Law Place today to schedule a free case evaluation.
We're Florida's top litigation team with over 75 years of combined experience
Florida's Comparative Fault Law
The State of Florida has a comparative fault law, which is explained in Florida Statute 768.81. This law means that any party that was involved in an accident can be assigned a specific percentage of the fault based on the circumstances of the incident. This means that even if you were a victim of a truck T-bone that you don't think was your fault, you could still be deemed partially to blame if you acted in any way that could have led to or exaggerated the crash.
An example of this is if you were speeding just before the accident, the court could declare you to be 20% at fault for the accident. While you'll still be able to file an accident claim, any compensation you win will be reduced by 20%.
This can be hard to understand and predict if you're filing a lawsuit by yourself, which is one of the reasons why we strongly recommend that you hire an auto accident lawyer who can guide you through this process and provide you with valuable legal advice. By working alongside our team at The Law Place, you will be giving yourself the best chance at securing the compensation you deserve, so contact us today for a free consultation.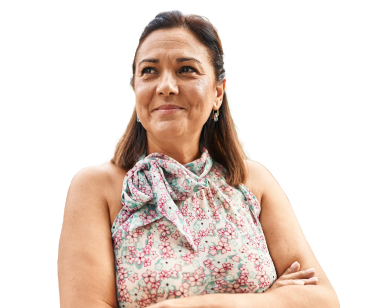 From the initial call to updates on your case status, we are here to get you answers.
What Damages Am I Entitled to After a T-Bone Truck Accident?
There are a number of damages that you can claim after being involved in a T-bone truck accident, depending on the suffering that you endured. Some of the most common damages that accident victims can be awarded compensation for are:
Medical bills – If you have received medical treatment following a car accident, then it's like that you're burdened with expensive medical bills. Therefore, any medical help you received for physical injuries you sustained in the car accident, and any other related expenses, should be compensated.
Property damage – It's likely that your vehicle sustained damage from the truck accident. The costs of repairs to your motor vehicle and any other property should be covered by compensation.
Loss of income – If you suffered injuries in a truck accident, it's likely that you needed to take time off from work or may still need to. This means you'll have missed out on wages. You may also have suffered from injuries so severe that your future earning potential has been affected, and so you should be compensated appropriately.
Pain and suffering – If you have experienced trauma and emotional pain and suffering from the truck accident, then you may deserve compensation. However, as this is hard to prove in court, it's crucial you have a car accident lawyer on your side to fight on your behalf.
Wrongful death – If you have lost a loved one in a truck T-bone accident, then you may deserve compensation to cover funeral costs and loss of consortium.
We understand that no amount of money can heal the injuries and trauma that you're suffering from, but compensation will help you manage the financial burdens caused by the collision and serve as proof that justice has been served.
This is why it's crucial that you contact The Law Place for advice and help. Our team will fight for the compensation that you deserve while you rest and focus on healing from the accident. So call The Law Place today so you can rest assured that your case is in the hands of an experienced and trustworthy personal injury attorney.
When Should You Contact a Venice Car Accident Lawyer?
If you have been involved in a truck T-bone accident in Venice, then you need to act immediately. Under Florida Statute 95.11, victims only have four years after the date the accident happened to file an accident lawsuit. If you wait longer than four years, your case will likely be dismissed, regardless of how serious the accidents may have been, which will prevent you from securing the compensation that you deserve. This means that you shouldn't hesitate to file any claim – instead, contact The Law Place as soon as possible. The sooner you do, the more time you'll be giving our lawyers plenty of time to thoroughly investigate and build your case, meaning you have a better chance at receiving compensation.
So if you've been injured in a T-bone truck accident, then you should contact The Law Place. Once you've hired us, we will deal with the complicated legal system and stubborn insurance companies on your behalf, meaning you can focus on recovering from the traumatic experience. The sooner you call us, the sooner you can rest and put the traumatic event behind you, so don't delay! We offer a free consultation to anyone who believes they have a case, so call us today.
How a Venice Car Accident Lawyer Could Help You
It's crucial that when you want to file a lawsuit, you hire a personal injury lawyer who has previous experience in working on cases similar to yours. This means they will have the skill and knowledge necessary to build a strong case on your behalf. Some more specific ways that our Venice attorneys could help you are:
Provide valuable and reliable legal advice and answer any queries or questions you may have about the legal process in general or your specific case.
Investigate your case and gather relevant evidence, such as police reports and witness statements, which will strengthen your case.
Determine the value of your case and how much compensation you deserve based on your medical bills, doctor's statements, employment records, any receipts, and more.
Communicate with the defense team and insurance companies to negotiate a fair settlement if that's the best option for you.
Fight for your rights in court if we believe the settlement offered is too low.
The State of Florida offers auto accident victims the right to hold at-fault drivers responsible for the damages they received for the driver's negligence. Our team of experienced Venice lawyers will fight to ensure that you receive the justice that you deserve, so don't hesitate to contact us today to schedule a free case evaluation!
How Much Will My Accident Lawyer Cost?
Many people are at first reluctant to hire a personal injury attorney and file a lawsuit because they are, understandably, concerned that they won't be able to afford worthwhile legal representation and don't want to be facing anymore surprise costs on top of the financial burdens they're already struggling to manage.
However, if you hire our team at The Law Place, we can assure you that there's nothing to fear. Our truck accident attorneys work on a contingency basis, more commonly known as no-win-no-fee. This ultimately means that unless we win your case, we will not earn a single cent. Even if we are successful, you will not pay our law firm anything directly from your pocket. Instead, we will subtract our legal fees from the finalized settlement.
And you don't need to be concerned about any unexpected costs: all contingency work that our law firm undertakes is strictly monitored by the State Bar Association, so you can trust us and our legal fees.
How Should I Deal With My Insurance Company?
Under Florida law, accident victims must notify their insurance companies as soon as they've had an accident, often within 24 hours of the incident happening. However, we advise that you contact a personal injury lawyer within that time and before you contact your insurance company.
If you have to speak to them first, then we recommend you to keep your statements short and stick to the truth, but don't offer any more detail than what's absolutely necessary. They will have claim adjusters and their own personal injury lawyers who will work to discredit your claim and ensure they pay out as little as possible. This means you should avoid speaking about your injuries and are careful with what you say until you've spoken to an attorney, else you may damage your lawsuit.
Contact The Law Place Today!
Devastating accidents happen all too frequently in Venice, Florida. Victims of car accidents are often left suffering from serious injuries and trauma, despite the accident not being their fault, and we want to help you get the compensation and justice you deserve.
If you or a loved one have been involved in a truck T-bone accident, then you need to hire a reputable Florida law firm to fight on your behalf for the compensation and justice that you deserve. Here at The Law Place, we promise to work diligently and use all to build a strong and solid case on your behalf and fight tirelessly to secure your compensation. Our phone lines are open 24 hours a day, 7 days a week, so don't delay in contacting us!
Call us today to book a free consultation at (941) 444-4444.