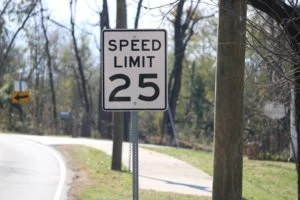 In Venice, Florida, speeding is taken very seriously. Florida has many laws in place to try to reduce speeding, and if you are caught whilst driving over the posted speed limit, then you will most likely face charges. Whether you're exceeding the speed limit by 5 miles per hour or 30 miles per hour, you risk facing serious consequences due to the kind of accidents and injuries that it can cause. This can be seen in Florida Statute 316.813. Speeding doesn't only affect the driver of the vehicle but the pedestrians around the driver, other drivers on the road, and passenger's in the negligent driver's car. It's no laughing matter. Lives can be put at risk.
If you or a loved one have found yourself on the receiving end of negligent drivers' actions and have been involved in a car accident, then you should contact an experienced personal injury lawyer, as you may be entitled to compensation for the accident. In most cases, if a driver is driving over the speed limit by any amount of miles per hour, then they are usually to blame for the car accident. You can find more information at The National Highway Traffic Safety Administration (NHTSA).
The Law Place has talented and experienced personal injury lawyers who deal with car accident cases in Venice and elsewhere in Florida daily. We offer a free consultation for any case, and our phone lines are open 24/7. We understand how important attorney-client relationships are and will work day and night to achieve the best possible outcome for your case. We work on a no-win-no-fee basis which means, unlike some other law firms, we want to win your case as much as you do. So what are you waiting for? Contact The Law Place today at (941) 444-4444.
Traffic Laws in Venice, FL.
Florida Statute 316.183 explains the traffic laws around speeding. In Venice, Florida, the driving laws are very simple to follow. If you see a sign posted next to the road that reads 30 miles per hour, then you must drive at that speed. Negligence to these posted speed limits can result in serious charges and a day in court, as can be seen in Florida Statute 775.083.
One of the most common traffic law violations in Venice is speeding. Unfortunately, despite how dangerous speeding can be and the gravity of the consequences which can be involved, it's a very common occurrence. There are plenty of reasons and explanations for why people choose to break these laws. An experienced personal injury lawyer will look at many different angles when looking at a case. They will look at the lead up to the incident, the incident itself, and the actions that the drivers took in order to gather evidence and understand the details of your case.
Reasons for breaking Florida traffic laws can vary but listed below are some of the most common reasons given for speeding that our personal injury lawyers see daily:
Weather changes – Weather changes in Florida can be common. Due to this, it can be difficult for drivers to slow down to the appropriate speed limit, as it takes longer to slow down in wet/snowy conditions.
Detour to route – A detour to the driver's route can put them on roads they may not know and, as such, they make a mistake with the speed limit.
Traffic – Traffic can make everyone late. Due to this, a driver might become agitated and go above the speed limit once the traffic has cleared to make up for the lost time.
Facelessness – Being unable to see the driver clearly may give the driver a sense of anonymity, and they might believe they can get away with speeding because no one will be able to recognize them.
Being late – Being late is the most common excuse for people speeding. Being late for work agitates people and makes them rush to their workplace or appointment by speeding.
Driving while under the influence of alcohol or drugs – Driving under the influence can make the driver ignore traffic laws. They are much more likely to speed when under the influence.
Ignorance – Some people believe that the law doesn't apply to them and that they can get away with breaking it. So they completely ignore the traffic laws and speed as they like, not thinking of the possible consequences.
This is why it's imperative that if you or a loved one have been involved in a car accident with a driver who was driving above the speed limit, that you contact a personal injury lawyer who has experience dealing with these cases. Doing this can help relieve stress and may possibly help you get more compensation for your case. At The Law Place, we understand that being involved in a car accident is a very stressful experience for anyone, but by working with us, we will help take away the stress of court fees, medical bills, and understanding the details of the case so that you and your family can focus on a healthy recovery. We offer free consultations so get in touch to book one with an experienced lawyer today.
Different Types of Injuries You Can Get in a Car Accident That Was Over the Speed Limit
When involved in a car accident, you can sustain many different types of injury. These injuries can differ in severity and can result in hefty medical bills for you or a loved one. This can be stressful for a lot of people, as a car accident is usually unexpected and can result in life-changing injuries and bills that you were not prepared for. This is why it's important to seek legal counsel in these circumstances.
Although injuries can be very different in every case, here are some of the most commonly incurred injuries from car accidents:
Head or brain injuries.
Neck injuries, such as whiplash.
The loss of limbs.
Death
Broken bones and fracturing a the bone.
Cuts, sprains, and bruising.
Internal injuries.
If you or a loved one was involved in a car accident because a driver exceeded the speed limit, then you could have faced some of the injuries above or worse. If you've received any of these injuries listed, then you may be liable to claim compensation for the accident. In this event, please contact some of our highly experienced and skilled personal injury lawyers who regularly win cases like these. We offer a free consultation for any case and will work day and night with you on your claim. So what are you waiting for?
What Type of Car Accidents Are Caused By Speeding in Venice, FL.?
One-third of all car accidents in Florida are caused by negligent drivers who have ignored the speed limit, creating a dangerous situation for everyone nearby. Accidents that are caused by speeding can result in major, life-threatening injuries, and so these accidents are not taken lightly by the Florida legal system. When a driver is going above the speed limit, it can affect them or their vehicle in many ways and cause an accident. For example:
Increased braking distance to stop your vehicle – When moving at an increased speed, the weight of your vehicle makes it harder to come to a stop. This means that if a pedestrian were to walk in front of a speeding car, then it would take them longer to stop, possibly resulting in an accident.
Protective gear ineffective – A vehicle's safety features, such as airbags, may have less of an effect when driving at higher speeds. This is because they are only effective at saving your life up to certain speeds.
Losing control – When a negligent driver is traveling above the speed limit, every little action they take can have larger impacts on the car and how much control the driver has. This may lead to the sliding and/or crashing of a vehicle.
The severity of the car accident – The higher the speed of a vehicle, the more impactful and life-threatening a car accident can become. For example, if two cars collide at higher speeds, their chances of survival go down dramatically.
There are many other ways in which a car accident can happen. All car accidents can possibly lead to major injuries, fatalities, and massive medical bills for you or your family. This is why it's always encouraged to travel at the recommended speed limit and to seek legal counsel if you are involved in a crash.
If you find yourself in an accident in which another driver has been negligent, then you may need to hire an experienced personal injury lawyer to handle your case. The Law Place has a team of capable attorneys who can help you win your case and get the maximum compensation available in order to help you and your family through these stressful times.
What Damages Can Be Claimed in a Venice Car Accident?
When a car accident happens, two types of damages affect those involved and are used as reasons to claim compensation. These are economic damages and non-economic damages.
Economic damages can include, but aren't limited to, the following:
Medical expenses – Expenses that you will have to pay due to injuries from the crash.
Lost wages – Lost wages for the time you or a loved one was in the hospital, and you weren't able to work.
Property damage – Property damage might include the car you were driving, anything within the car, and anything that might be replaceable.
Non-economic damages cover the suffering you experienced after a car accident. You can claim compensation for any of the following:
Significant or permanent injuries, internal or externally.
An injury that caused you to lose mobility or function of a body part or your entire body.
Significant disfigurement, e.g., the loss of an arm.
If the accident resulted in a fatality.
If any of these damages apply to you, then you will likely be able to apply for compensation through a court ruling. However, if none of these criteria apply to your case, then the no-fault law applies in which you're only entitled to what your insurance permits. For more information that's specific to your case, you should contact The Law Place today.
Another type of damage that victims can claim is wrongful death. If your loved one died due to a car collision, you might file a claim for wrongful death. When this happens, it's a very stressful experience for everyone involved. This is one of the reasons why we highly recommend seeking legal counsel from The Law Place. We have experienced and skilled lawyers who can take away all of the stress that comes with navigating the Florida law system, and we can deal with your compensation claim, a wrongful death claim, or offer some valuable advice. We offer a free consultation and are happy to take your call 24/7.
Contact The Law Place Today!
If you have been involved in a car accident and need professional legal help, contact one of our injury lawyers for a free consultation about your case today! We understand that fighting through a court battle for compensation is scary, and we're happy to help navigate it for you. We work on a no-win-no-fee basis and not only want you to win your case, but we want to fight for the maximum compensation too.
We also understand that being in any sort of accident is a traumatic experience for everyone involved. Sadly though, it can quite easily happen to anyone, and a negligent driver can ruin your day by speeding. Speeding should never be tolerated as it can cause such catastrophic injuries, and as such, the best thing you can do for yourself and your family is to get a personal injury lawyer to help you with your case.
No one should have to suffer for another person's mistake, so contact The Law Place today to ease this suffering. We will handle all aspects of the case for you, gather evidence, and fight for compensation. We offer a free consultation for any case, and our phone lines are open 24/7.
So contact us today at (941) 444-4444.