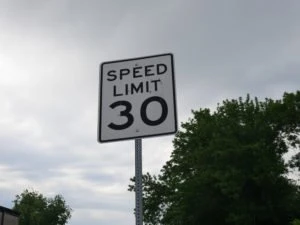 There are more cars on the roads in the Sarasota then there has ever been before. Owning a car has become the norm for the majority of Americans; many households even own multiple cars. Driving is an American past time, and a large percentage of the population take to the roads every single day for pleasure and for commuting to work. Florida, however, is one of the most dangerous places in the entire country to be a driver. Every single year the Florida Highway Safety and Motor Vehicles (FHSMV) releases their data, and over 400,000 crashes happened in one year alone.
If you have been injured in an accident in Sarasota because a reckless driver was exceeding speed limits, then you should seek help from a Sarasota personal injury lawyer dedicated to fighting for your right to compensation.
With this huge rise in the number of accidents happening every year, Sarasota has spent a lot of money investing in infrastructure to combat dangerous drivers. Although the number is decreasing, there are still a large number of cases every year of pedestrian and car accident crashes happening as a result of drivers exceeding the maximum speed permitted. There are speed limits for a reason, and following the posted speed limit not only protects those on the road, but it also protects you in the case of an accident.
Contact The Law Place today on (941) 444-4444 for a free consultation.
Damages and Compensation
If you have been involved in an accident due to someone ignoring the posted speed limits, you may be entitled to seek compensation for any damages that you have incurred as a result. Sometimes vehicles travel many miles per hour over the speed limit, however speed limits are in place for a reason, and going even a little faster than what is permitted can have devastating consequences.
Some of the most common damages that can be claimed are:
Medical bills – Any medical bills that you have had to pay as a result of your traffic accident.
Future medical bills – If you have received an injury that might require long term medical care or rehabilitation, your personal injury attorney should be able to seek compensation for any future medical bills with the help of a health professional.
Property damage – If you were in a vehicle at the time and your vehicle has been damaged or written off, or if your phone was damaged during the crash, you can seek compensation for these damages.
Pain and suffering – If the accident has caused you mental anguish or stress or has affected the way that you live your life, you are entitled to compensation for your pain and suffering. This isn't as tangible as other damages and will need to be worked out by a competent attorney.
Transport and house improvements – If your accident has led to a loss of the ability to drive or the need to adapt your house and car to accommodate your injuries, then you should be able to seek this in compensation.
If you are found to be at fault for driving over the speed limits set on the road in Sarasota, and you cause an accident, not only will you be liable for paying the above damages, you may also face criminal charges too. Breaking the speed limit is illegal, and you may have fines and criminal charges laid upon you as well as the civil suits and damages you have to pay to your victim.
Common Injuries From Breaking the Speed Limits
Speeding traffic accidents can often result in serious injuries. As the cars involved were traveling faster than the speed seen as relatively safe, the injuries are usually much more severe. Here are the common injuries we see as a result of speeding accidents in Sarasota county:
Whiplash – Whiplash is a type of soft tissue damage caused by a jerking motion of the neck, spine, and head. This causes damage to the vertebral joints that are in between your spinal discs. This makes whiplash a tricky injury, sometimes it lies dormant for months, only causing pain as the inflammation goes down.
Traumatic brain injuries (TBI) – TBI can be life-altering. When you hit your head hard against an object or receive a blow to the head, your brain collides with the inside of your skull, causing a bruising concussion or brain damage. This may heal, or it may be permanent, causing paralysis or, in severe cases, coma and death.
Leg and knee injuries – These injuries occur during an impact when your legs are forced into the hard plastic of your vehicle. This can cause cartilage and joint pain to your knees and, in some cases tearing of the cartilage.
Chest injuries – A common injury caused by a vehicle traveling at high speeds, is the impact from the salt belt holding you in place. Although this may have saved your life, it can also cause your bones to bruise or break.
How Much Over the Speed Limit Can You Go on The Highway
On every Florida road, there should be speed limits posted on sigh posts in a clear and easy to understand manner. Often the maximum speed is 70 miles per hour for a vehicle traveling on rural highways and 55 miles per hour on urban multi-lane highways that require lower speed.
This is the law as outlined by the Florida Department of Transportation (FDOT), although there are lots of rumors going around and many people will tell you that you can go up to 10% over the current speed limit, this is not a real law. You may be capable of going 10% over the speed limit without being caught or charged, but this is not the law, and you are gambling with your license and the safety of others by doing so.
What Is the Maximum Speed Limit in a Residential Area in Florida?
Florida law is extremely clear on what the speed is in residential areas. In all business or residential districts, the speed limit is a strict 30 miles per hour. For any areas that do not fall into those categories, the maximum speed limit is usually 55 miles per hour, but signposts should always be followed. Occasionally, in areas that see a high number of traffic incidents, the local authorities will lower the maximum speed limit of 20-25 miles per hour in order to reduce the number of accidents.
What Are the Speed Limits If There Are No Signs?
If there is no clearly posted speed limit, you should never exceed 30 miles per hour, and this is the best possible way you have of avoiding charges. Lots of roads across the state lack signage, sticking to 30 miles per hour will mean that you are never unwillingly breaking the law.
Types of Car Accident
Car accidents can come in a range of different categories, and the severity of each one can vary massively.
Rear-end crashes – Caused by sudden braking or slowing of a vehicle and a car moving too quickly to break behind them, this type of crash can quickly multiply into a multi-car pileup.
Side-impact collisions – Commonly known as a T-Bone, this is where one vehicle collides with the side of another. These can be severe due to the lower amount of protection in the door panels.
Head-on collisions – When two cars collide head-on, these accidents usually cause the worst injuries and have the highest fatality rate.
Sideswipe collisions – Usually, when two cars move into the same lane without looking, their vehicles scrape together. These crashes usually result in minor damage and injury.
Vehicle rollovers –When a car is forced to turn at high speed or hit extremely hard by another vehicle, this can cause the vehicle to flip.
Multi-vehicle pileups, or multiple vehicle collisions – When one of the traffic accidents above caused more than one car to be involved in the accident, this becomes a multi-vehicle pileup.
How Many Car Accidents Are Due to Speeding?
Speeding killed over 9,000 people in 2018 alone, which is over 25% of all fatalities caused by car accidents. When you ignore the speed limit, you risk the following consequences:
The potential to lose control of your vehicle.
Seatbelts and airbags become less effective at higher speeds.
The distance takes to break increases monumentally when you are speeding.
The results of a high-speed crash are almost always more severe than lower speed accidents.
Much higher consumption of fuel.
Why Do People Speed?
When people decide to speed, they do it for a number of reasons. They might be:
Running Late – When people have not left enough time to get ready, sometimes they speed to try and get there on time.
Racing – Some road users like to risk the lives of everyone else on the road by racing with other road users. This often causes aggressive driving with a disregard for the safety of the other vehicles on the road.
Bubble – When driving becomes natural to us, it is easy to let our attention wander. When this happens, it can be easy to let the speed creep up without realizing it.
How to Deal With Speeding and Racing Drivers
Road rage is an issue that many of us face on a day to day basis. When we see another car do something that could endanger you or your loved ones, it can be easy to see red and to chase after that driver. This is always a mistake. When you face a reckless driver, here is what we advise you to do.
If you are in the fast lane and a car is very close behind, move over and let them pass, even if they are speeding, and you don't agree with their behavior.
Put some space between dangerous speeding drivers and yourself. When a speeding driver loses control, it can easily turn into a large accident that could involve you.
Call the police if the other driver is showing a blatant disregard for the safety of others or seems under the influence.
How Do You Prove a Speeding Accident Claim?
To make a successful claim when it comes to a traffic accident that has happened due to speeding, you will need to prove the other driver negligent or that they have breached their duty of care. In Florida, every single driver has a duty of care to every other user of the road.
Speeding is classed as negligence for the following two reasons:
Exceeding the MPH Speed Limit – The state of Florida sets the speed limits of all local roads and highways. These limits state the maximum miles per hour you can travel legally. If you are found traveling faster than these designated speeds limits, you will be found guilty of wrongful conduct.
Going too fast for the Road Conditions – A driver will also be seen as negligent if they decide not to drive in a reasonable manner in conditions that could lead to an accident. Driving too quickly on icy roads or during heavy rain or fog are all examples of this.
Proving the fault lies with someone else during a speeding accident claim, your Sarasota car accident lawyers will not only need to prove that the other party was speeding, but also that this speeding led to the injury or death of you or a loved one.
Some great forms of evidence that you can use to do this are:
Witness Statements – Witnesses are a great way to prove the fault of someone else. They can testify on your behalf and state the exact series of events that led to the traffic accident.
EDR (black box) – Most new generation cars come equipped with a black box like an airplane. These can give information on the miles per hour the car was traveling at before the impact.
Crash scene evidence – Expert crash scene investigators can look at the skid marks and damage done to the vehicles and the road to deduce what actually happened. An accident reconstruction specialist may also be used.
What to Do If You Are in a Speed Related Crash
If you have been involved in a speed-related crash that wasn't your fault, the most important thing you must do is ensure that you are safe and that anyone else you can make safe is also safe. Once you have done that, and are in a well enough state to do so, you should start collecting evidence. You should:
Take pictures of everything, the crash scene, the vehicles, any injuries, the more you can document the better.
Take note of any details you can of the other car, the make, color, reg, etc.
Get the details for any other drivers involved, their name, address, details, etc., the more, the better.
Draw a sketch of the traffic accident, showing the directions the cars were traveling and the general area.
Make sure the police have been informed, even if the crash is minor, their accident report will be valuable later on. Get the officer's badge number for later reference.
Besides doing all you can to ensure the safety of the other party, do not speak to them about the crash, the fault, or anything else that could be used against you later on.
What Will a Personal Injury Lawyer in Sarasota Do for Me?
We always recommend speaking to a personal injury lawyer after an accident, and a reputable law firm will offer a free consultation that consists of honest, unbiased advice for you to follow after your incident. They will also evaluate your case and decide if it is worth pursuing and how much it is worth.
If you agree to representation, your attorney will lay out their fee structure, making sure you are crystal clear on what you will have to pay. Once you have agreed to this, you sign on the dotted line. At this point, you will have a more in-depth interview; during this, your lawyer will ask some more detailed questions and get any of the evidence you have collected from you.
At this point, you can relax, from here on out they will liaise with all of the parties involved, doing the paperwork and protecting your interests. They will get witness reports, speak to first responders and the police, get your police accident report, and negotiate with the other parties' insurance company.
After their investigation, they should have a rough idea of what your case is worth. They will then use this figure to seek a settlement figure from the insurance company out of court. If the figure they offer is acceptable to you, then you will get your money, and the case will be closed. If they play hardball or refuse your claim, we will move to the trial phase. At this point, we will use the strong case we have built for you to convince a judge and jury that you deserve what you are asking for in court.
Contact The Law Place Today!
Here at the law place, we have dealt with cases just like yours all across Florida. We have a skilled team of attorneys who boast over 75 years of collective experience. When you hire us, you get a car accident lawyer who is ready to stand toe to toe with the insurance company to seek what you are rightfully owed.
Don't let other drivers get away with traveling at high speeds, and putting countless lives in danger, choose the right attorneys to fight your corner. Choose The Law Place and call us on (941) 444-4444 for your free consultation today!