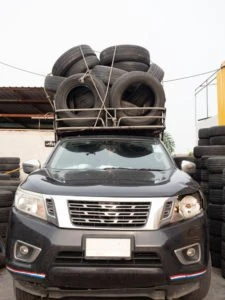 If you have driven on the roads of Venice, Florida, then it easy to assume that you have seen discarded objects scattered along the side of the road. In most cases, this scattered debris has been purposefully thrown out by drivers so they can remove waste from within their vehicle. However, it is also sometimes the case that these loose objects have accidentally fallen from a truck because of the truck being overfilled or due to faulty restraints. If a truck is traveling at high speed when the object(s) falls from it, then the damage that follows can be very serious. If you or a loved one have experienced a car accident because of loose objects on the roads of Venice, then you could be owed compensation.
Here at The Law Place, our team has over 75 years of combined experience in winning cases such as your own, and many of our injury lawyers are AVVO 10.0 rated. We will work closely with you to ensure you are well informed every step of the way. Our free consultation will provide you with the chance to ask all the questions you need so you can make an informed decision before choosing your car accident lawyer. Call or text us today at (941) 444-4444. Phone lines are open 24/7.
What Should I Do After Being Involved in a Car Accident in Venice?
If you or somebody you know has just been involved in a car accident and are searching for some rapid advice on what to do and not to do, then here are some basic tips to keep you safe and to ensure you have a strong case in the future. However, it is of paramount importance that you prioritize protecting yourself and others from any further injury. If you do not feel safe or well enough to carry on with the following steps, then do not do so, as this could cause even more harm.
Prioritize your safety and that of others involved- Before you do anything, if you are well enough, you should ensure you are in a safe spot and that you do not have any serious injuries. If you are able to, you should then move yourself and your vehicle (if it is moveable) to a safe place and move away from the flow of traffic. However, it is important you do not move so far away that the first responders cannot access or find you. If it's possible, then you should also try and make sure any other people involved are safe. If they appear to be seriously injured, do not attempt to move them as this could potentially make their injuries worse (especially if they have a neck and/or back injury).
Alert the emergency services- As soon as you and any other individuals involved are safe, and if they have not already been alerted, then you should call 911 immediately and let the emergency services know of the accident. This is a legal requirement as per Florida Statute 316.062. First responders will be able to check for and treat any possible injuries, and officers will write up a police report, which may be very useful for your case in the future.
Take pictures – Take pictures of the accident scene, other vehicles involved, the road conditions (e.g., if the vehicles left skid marks or the objects in the road), and any damage to your vehicle. If you are not well enough, then you could always ask somebody to do it for you but make sure you get the pictures on your own device or get the person's details so they can send them to you later on.
Gather any necessary contact details- Get the contact details of any witnesses, as well as the details of the other driver. The details for the attending police officers (including badge numbers) can also be beneficial for your case.
Seek medical care as soon as possible- You must seek medical treatment as soon as possible following your car accident, not only for your own health and safety but also to benefit your insurance claim. Florida Statute 627.736 outlines that you are required to seek medical care within two weeks of your car accident, or else the insurance companies have an excuse to devalue or even deny your claim altogether. In addition to this, even if you feel and look fine, there could be an injury not visible to you that only a medical professional could recognize, such as a concussion.
Contact an experienced personal injury lawyer- Once you are physically and mentally well enough, it is advisable to contact an experienced accident attorney. The sooner after the accident, the better, as this will mean they can get to compiling the necessary evidence as soon as possible and ensuring it is of good quality. The longer you leave this then, the harder it will be to make sure the quality of the evidence found is good enough to win your case or to find any evidence at all.
Never accept liability- All of the people at the scene of your accident may take what you say to them and twist it to their particular narrative so that the fault can be placed on you. Sadly, many people fail to receive compensation because they apologize or outright accept fault at the scene of the accident!
What About Accidents Caused by Loose Objects Within My Own Vehicle?
More often than not, there will be a range of loose objects within a car; this can include CD cases, water bottles, cell phones, makeup items, and wallets. These items can become a very serious distraction for drivers. They can easily fall from the dashboard onto your lap or at your feet. When this happens, it is easy to become distracted and take your eyes away from the road to retrieve the item(s). However, this can significantly increase the risk of an accident. Furthermore, if the item falls to your feet, it could easily become lodged beneath the gas or brake pedal. This has the potential to easily cause a devastating collision. Sadly, loose objects in vehicles are believed to be the cause of 13,000 injuries every year in the United States of America.
It is important that you keep any loose objects within your car in a safe place where they cannot become a distraction or risk to your safety or that of others, for instance, keeping your phone in the glove box or keeping any water bottles in a cup holder.
What Are the Laws Surrounding Trucking Companies?
In Venice and the State of Florida as a whole, there are often trucks on the road whose presiding companies have allowed them on the road despite failing to meet the standard requirements laid out by the state. As per the Federal Motor Carrier Safety Administration, there are many requirements a truck driver and trucking company must adhere to on the roads of Florida. For instance, there is a limit on how heavy the load can be on a truck. The trucking companies are required to have permits that ensure their trucks are only on the road at the quietest times of the day, and sufficient training must be administered to all employees. These requirements are all put in place to reduce the risk of accidents, as well as to prevent loose objects from falling from the trucks.
Despite these laws, malpractice within the trucking world is still common as it makes room for companies to make or save more money. Overloading a truck, for example, is only done to increase the company's profits, but doing so can greatly increase the risk of objects falling into the road and causing a crash. Because of this, it is important such companies are held accountable for any instances of negligence. Ensuring that the companies are held responsible and penalized is the best way to make sure they follow the necessary safety guidelines in the future.
What Damages Could I Be Owed Following a Car Accident?
If you or a loved one have unfortunately been involved in a car accident because of loose objects on the road, then it is common to suffer from financial, mental, and/or physical harm. Following your collision, you may wish to file a lawsuit, which could award you a range of different damages to compensate for your suffering. Some common types of damages that could be included in personal injury claims include:
Medical bills- If you have sustained an injury or multiple injuries in your car accident that have needed medical care, then you may be able to include any medical expenses within your final settlement value. Additionally, if the injuries you suffered are long-lasting or sadly permanent, then you may also be able to include any projected medical bills as well as any necessary costs needed to alter how you live (e.g., hiring a carer or amending your home, so it is more user friendly).
Lost wages- If your accident means that you have had to have time off from work and have consequently lost some wages, then this should be taken into account. If your collision has sadly made returning to work impossible (e.g., your injuries are permanent), then you could also be able to claim for a loss of earning potential and for any future lost wages.
Pain and suffering- Pain and suffering is a very complex form of damages. It includes any physical or mental suffering caused by your car accident, as well as any loss of enjoyment in life. This could mean you are now unable to play an instrument or a sport that was previously a big part of your life. Victims who include pain and suffering in their lawsuit should have a personal injury lawyer onside due to the fact pain and suffering is very difficult to prove and to calculate into a reasonable settlement figure.
Property damage- It is very likely that if you have been involved in an accident, there will be some element of property damage, most likely being the vehicle you were driving. If the damage is bad enough that it requires professional maintenance, then any repair or replacement costs can be included within your final settlement value.
Wrongful death- If you have sadly lost a loved one in a car accident, then Florida Statute 768.21 outlines all of the necessary information needed to file a wrongful death This form of the lawsuit will provide you with a settlement that will cover any funeral expenses and for a loss of consortium.
If you believe that you could be owed compensation because of a car accident that was not your fault, then get in contact with a personal injury lawyer at The Law Place today. A lawyer on our team will be able to identify what specific type(s) of damages you could be owed and will establish enough evidence so that this claim can amount to a suitable settlement. Call us today to organize a free consultation with a member of our law firm.
What Are Some Common Injuries Caused by Car Accidents?
Car accidents can occur anywhere between two vehicles, a pedestrian, an animal, or with the car driver alone. However, the existence of loose objects on the road can significantly increase the risk of such accidents. Examples of serious injury/injuries include (but are by no means limited to):
Spinal cord injury.
Severe burns.
Neck injuries, including whiplash.
Cuts, scrapes, and bruising.
Paralysis.
Soft tissue injuries.
Internal bleeding.
Organ damage.
Traumatic head or brain injuries.
Fractured, broken, and/or crushed bones.
Psychological injuries can also be considered as an injury in a personal injury claim. Examples of psychological distress may include depression, post-traumatic stress disorder (PTSD), anxiety, and isolation.
If you have sustained a serious injury in a car accident that was not your fault, then call us as soon as possible to organize a free legal consultation. The personal injury lawyers at The Law Place will be able to explain to you whether or not you could be owed compensation, and if so, what they can do to help.
How Will Comparative Negligence Laws Affect My Personal Injury Claim?
Florida Statute 768.81 clearly outlines all of the rules regarding comparative negligence within the State of Florida. Comparative negligence means that the law will consider the element of fault to be a central part of any car accident case in Florida. The courts will assign liability to who they believe is the at-fault party and then award a suitable settlement to the victim, based on the laws of comparative negligence. In terms of your case, this means that the Judge will reduce your settlement amount based on the percentage of fault that was proven to be your own.
For example, if your accident was mostly caused by the loose objects on the road, but you were also proven to be distracted on your phone at the time, then the Judge may reduce your settlement by 10%. This reduction reflects your own liability but still allows you to be compensated for the negligence of the truck driver who spilled the objects on the road.
How Will No-Fault Insurance Laws Affect My Personal Injury Claim?
Florida Statute 627.7407 explains all of the necessary information surrounding the no-fault law that operates within the State of Florida. The no-fault laws mean that if you have been involved in an accident, then all of the parties involved are legally required to turn to their respective auto insurance companies in order to make a claim, regardless of who is proven to be at fault. In order to cover these costs, all drivers in Florida are required to have personal injury protection (PIP) Insurance within their own auto insurance policy.
PIP insurance aims to cover any medical bills and lost wages that occur because of your accident, as well as any other expenses you specifically face after the car accident (e.g., you may have had to pay for childcare whilst you received medical treatment). However, it is important to keep in mind that PIP insurance does have a threshold. If the costs you wish to claim to go over the certain amount covered by your PIP insurance, then you may be required to file a separate lawsuit against the at-fault party to make up this gap in costs.
Is There a Time Limit on My Personal Injury Claim?
If you have been involved in a car accident recently, then it is of great importance that you act quickly and hire a personal injury lawyer to help you with your case. In the State of Florida, Florida Statute 95.11 outlines the fact that there is a very strict time limit on how long a personal injury case has before it will not be considered in the courts. This statute of limitations means that after any type of accident in Florida, the people involved will have only have four years from the date of their accident to present the case to court. If you fail to do so within this time limit, then your case will be permanently barred from being heard in court. This means that you will be unable to receive any money that you could be entitled to. If you have sadly lost a loved one in a car accident, then the statute of limitations for filing a wrongful death lawsuit is reduced down to an even shorter two years.
In addition to this, Florida Statute 627.736 also lays out the laws that you will be required to seek medical care within two weeks following your car accident. Even if you believe yourself to be perfectly healthy, there is always a possibility you have sustained an injury that is not visible, such as a concussion. This statute is for insurance purposes, as well as for your own safety. If these two weeks pass by, then the insurance companies working on your settlement could use this as a means to devalue your claim or to completely dismiss it. This is because, in terms of the law, you have left it "too late," and it could be argued your injuries were not serious enough to be compensated for.
If you have been involved in a car accident that was not your fault, then contact The Law Place today to organize a free case evaluation with a dedicated personal injury lawyer serving at our firm.
Contact a Personal Injury Lawyer at The Law Place Today!
If you have recently been involved in a car accident that was not your fault, then contact The Law Place today! Our team can provide a dedicated and supportive attorney-client relationship so that there is no need to worry about the legalities of your case. Contact us today to organize a free case evaluation with injury lawyers at our law firm. Call us on (941) 444-4444. Phone lines are open 24/7 for your own convenience.