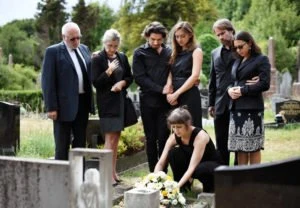 Losing a loved one is painful. Then, there's the added stress of funeral costs, making it an overwhelming time.
This time is even harder when someone dies unexpectedly from another person's negligence. From this, you may be able to file a lawsuit for wrongful death and receive compensation. During this process, you will need the help of a wrongful death lawyer.
If your family has experienced a wrongful death, then it's vital you contact our team for the help of a wrongful death lawyer. We will provide you with suitable representation to secure the justice your lost loved one deserves. Contact us on (941) 444-4444 for a free consultation today.
Do I Have a Wrongful Death Case in Venice, Fl?
Before deciding to speak to a law firm about your potential lawsuit, you may want to seek further information on wrongful death specific to Venice, FL.
It's important to clarify what a wrongful death really is. In layman's terms, wrongful death is death that is the consequence of another individual's negligent actions. In legal terms, these are some common acts that cause wrongful death:
Negligence (e.g., reckless driving).
Assault and battery.
Accidental death that occurs whilst another crime is committed (e.g., robbery)
Vehicular manslaughter.
Manslaughter.
Murder
If your family member died as a result of one of these acts, then you may be able to sue the individual who committed the act. The remaining family members and the executor of the deceased person's estate are able to file for a wrongful death lawsuit.
To determine whether you're entitled to a wrongful death claim in Venice, FL., you must understand the Florida wrongful death act and also what it states. If you're uncertain about your claim, then you can contact a Venice personal injury lawyer who will guide you through the process and explain what you are entitled to. The sooner you contact a representative, then the better the chances are that you will win your case and get the justice your deceased loved one deserves.
Contact The Law Place today for free legal advice for your case in Venice, FL.
Examples of Wrongful Death Lawsuits in Venice, Florida
In 2014, six million dollars was awarded to a woman after her mother died from lung cancer due to smoking. The court found there was enough evidence to show the woman suffered damages by losing a beloved parent. The woman claimed she lost her support in life and the death of her mother, unfortunately, damaged her mental health.
In Venice, the law states that in any wrongful death claim brought to court, compensation can be decreased if the deceased party was at any fault in some way for their death. The woman's mother carried on smoking, so she was 25% responsible, and the settlement was reduced to $4.5 million dollars.
How Does the Wrongful Death Statute Work in Florida?
Under the Florida wrongful death act, a surviving family member is able to seek damages in a wrongful death case.
This means surviving family members may be able to receive monetary compensation equal to the total value from the first date of your loved one's injury up to the date of their death. This law also allows for compensation of any future damages from the loss from the accident.
To determine if you are eligible to file for a wrongful death suit, you must have one of the following relationships with the deceased:
Person suing for emotional and financial support from the loss of a spouse.
A minor receiving compensation for a loss of a parent or guardian.
Adult children suing if there are no minor children and the deceased has no living spouse.
Parents suing for mental pain due to loss of minor.
Parents suing for mental anguish due to loss of an adult child, as long as they have no surviving family, including children or spouse.
You can sue for specific damages, including:
Reimbursement for the cost of a funeral or medical bills
Lost wages the deceased would have provided.
Emotional support due to loss of companionship.
Loss of net income from an estate.
If you decide to proceed with a wrongful death suit, the legal process determines the exact amount of compensation you will receive based on:
Your relationship with the deceased.
The total value of the deceased person's income.
Overall value, both emotional and financial, of the deceased to the survivor.
What Do I Do After a Fatal Car Accident Involving a Family Member?
In 2018, 33,654 fatal car accidents occurred in America, resulting in over 3,000 deaths in Florida.
After the death of a loved one, it's hard to think about the legal consequences. However, if you want to receive compensation for your loss, then it's vital you seek legal support.
If your loved one didn't have a will, this would be discussed with your attorney. You will have to go through the probate court process, where the law dictates how the deceased assets are divided. However, the law states the deceased spouse and children retain some rights to these assets.
There is also a time-limit known as the statute of limitations in wrongful death lawsuits. You will have two years from the date of an accident to file a claim. After this period, you will be barred from making a claim.
Contact The Law Place Today
No money will ever replace your lost loved one, but getting justice for them will provide some closure.
If you believe that your loved one died due to a wrongful act, then call The Law Place today for a free consultation. Phone lines are open 24/7 so that you can reach us when you need us most. You can contact us on (941) 444-4444.