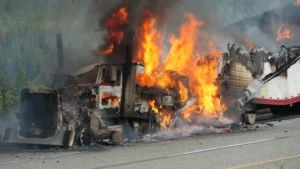 A car accident has the potential to inflict serious injuries, so when a fuel truck is at the center of an accident, the damage caused can be catastrophic. A fuel truck tends to be a large commercial truck to carry liquified loads on the road. Most of the time, a truck will be carrying either liquid fuel or gasoline. Their large size and flammable contents mean that if they are involved in an accident, the results can be deadly. In some cases, the force of the collision can even cause an explosion.
The complex nature of these accidents can make it hard to receive compensation, but if you or a loved one has been a victim of a truck accident, we have a personal injury lawyer to help you. You don't have to suffer alone.
The Law Place law firm in Sarasota, Florida, has a wealth of experience in dealing with truck accident cases like yours, and you can be assured that you will be in the most capable hands in Florida. Don't hesitate to contact an accident attorney at The Law Place today for a free case consultation on (941) 444-4444.
Causes of Fuel Truck Accidents
Just like a car accident, fuel trucks can be involved in major accidents, causing a great deal of damage and catastrophic injuries. This is largely down to the size of a commercial truck, as well as their immense weight and dangerous substance that they are transporting. Just like any large vehicle, fuel trucks are susceptible to have big blind spots and have a chance of being involved in a jackknife and rollover accident. Not only this, but because of their large size, if a smaller vehicle was to suddenly brake or swerve in front of the truck, they are incredibly difficult to stop quicker and control than what a typical car would be. If the truck happens to be carrying a dangerous substance too, the situation dramatically can become more dangerous.
Fuel truck accidents can be caused in the same way that regular trucks can be involved in accidents. For example, a lot of truck accidents can be caused by the reckless driving or behavior of a truck driver. Often, the cause of truck accidents which is at the fault of the truck driver can be blamed on:
Tiredness.
Improper training.
Overloading.
Blind spots.
Blown out tires.
Failures of their equipment.
However, no matter the cause of the accident, whether it was the fault of the truck driver or trucking company, the damage felt by you or a loved one as an innocent victim of the accident can be catastrophic. You may have suffered brain damage or a spinal cord injury, consequently leaving you with a dramatic reduction in your quality of life. It is not fair that you should have to suffer because of the reckless behavior of truck drivers or trucking companies, beyond your control.
We have a personal injury attorney for you, our accident attorneys in Sarasota, Florida, at our law firm The Law Place have the legal expertise to help you win the compensation and justice that you are completely entitled to. Unfortunately, no amount of money will ever remove the pain and damages that you have experienced as the result of being an innocent victim of a fuel truck accident but being able to hold a driver or trucking company liable for the accident is a step forward in winning the justice that you deserve. It also ensures that your suffering won't have to have been in vain.
Call a personal injury accident attorney at The Law Place today for a free case evaluation. You can ensure that the attorney you speak to based in Sarasota, Florida, will have the knowledge and talent to guide you through the complex legal process and fight for the compensation of which you are completely entitled to.
Our team of dedicated attorneys fight and win for Floridians.
Liability in a Fuel Truck Accident
Fuel trucks are responsible for transporting potentially very dangerous substances such as gasoline and other industrial chemicals. As mentioned already, when one of these trucks are involved in a truck accident, the flammable nature of the hazardous substances dramatically increases the risk of a colossal explosion taking place, resulting in a devastating amount of damage and potential loss of life.
Therefore, it is for this reason that fuel truck drivers have to be incredibly cautious when transporting their goods. In a truck accident where it is discovered that the driver's reckless behavior and driving that caused the accident, they may be liable for negligence. However, if the fault of truck accidents lies with the trucking companies, for example, their equipment required maintenance, or they supplied inadequate training to their drivers, it could be the trucking companies who are liable for negligence. Negligence is essentially the failure to adhere to a certain standard of care, which results in a fuel truck accident being caused.
By the very nature of fuel trucks transporting harmful substances, they must all adhere to the specific regulations and laws put to them by the Federal Motor Carrier Safety Administration (FMCSA). The rules that they set out are unique for a fuel truck. It is of utmost importance that if it is found that any of these rules have not been followed or violated, it can be used as further evidence of negligence.
Seeking the compensation of which you deserve may seem like a daunting task, but you can trust that your lawyer at The Law Place in Sarasota, Florida, has the expertise to help you and your case to ensure that you will receive the maximum amount possible. We can't keep letting these fuel truck companies get away with causing catastrophic accidents because of their negligence.
Compensation for Fuel Truck Accidents
If you or a loved one has been the victim of a fuel truck accident, you may have faced an immense amount of financial losses as a result. The injuries you may have been left with could be incredibly severe and debilitating and thus mean that you are unable to return to employment and have to constantly receive medical attention in your recovery. Once an attorney at The Law Place establishes who the negligent party is, they can then assist you in investigating the number of losses you have experienced to ensure that you receive the maximum amount of compensation possible. Some of the areas that we frequently recover compensation for our clients are:
Medical bills.
Lost wages.
Wrongful death.
Pain and suffering.
Loss of future employment.
Permanent damage or disability.
Future medical costs.
No amount of money will ever restore the life you had before you were involved in a fuel truck accident, but The Law Place lawyers can work to win you the compensation to help reduce the stresses that you may face. It is not fair that fuel truck accidents occur and leave innocent people with a lifetime of suffering. You don't have to suffer and experience this alone.
We're Florida's top litigation team with over 75 years of combined experience
Talk to a Sarasota Lawyer
Call The Law Place in Sarasota today for a free case consultation; our practice areas cover Sarasota and the rest of Florida. If you or someone you know has been left with debilitating injuries as a result of a fuel truck accident, you have the right to claim compensation for all the suffering caused.
Unfortunately, the very nature of trucks being at the center of these accidents means that the damage caused is often catastrophic. However, the damage caused in a fuel truck accident can be even worse as the flammable substances that these trucks carry have the potential to cause deadly explosions. You do not have to suffer alone through this.
You may want to speak to one of our attorneys for help and seek representation. You can trust that with over 75 years of combined experience that you are in the most capable hands at The Law Place. Our lawyers have the expertise to win you the justice and compensation that you fully deserve.
We are available 24 hours a day, seven days a week. Contact us today on (941) 444-4444 for a free consultation.