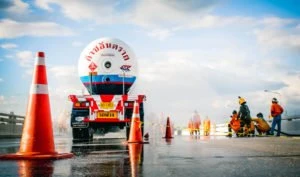 The roads of Florida are some of the most dangerous to travel on across the entire country. On average, 650 crashes occur every day in the State of Florida, many of which have fatal consequences. Annually, approximately 400,000 auto accidents happen in the state, according to Florida Highway Safety and Motor Vehicles (FHSMV). Driving is a highly dangerous activity as even the smallest error can have devastating consequences. The effects of a car accident can be worsened massively if the crash involves a large vehicle like a fuel truck. The nature of the cargo on a fuel truck makes them highly flammable vehicles. Carrying liquified gases like gasoline means that a truck accident in which a fuel truck is involved increases the risk of fatalities significantly. Fuel truck accidents have the chance of causing an explosion which can affect a great number of people, but also makes assessing the crash site difficult. As a result, it can be difficult to properly determine who was at fault and thus liable for the damages. Anyone involved in a fuel truck accident may face difficulty when seeking the compensation they are entitled to without the help of an experienced accident attorney.
We recommend that you begin searching for the right legal representation as soon as possible following your truck accident. Time is of the essence in cases that involve commercial companies. At The Law Place, we have a team of dedicated accident lawyers who have a combined experience of over 75 years. We have successfully represented clients with claims just like yours. For this reason, we are confident that we can get you the compensation you need to get your life back to normality.
Call us now to schedule a no-obligation, free consultation with one of our truck accident lawyers, and take the first step to get the money you deserve. Our lines are open 24 hours a day, 7 days a week, so that we are there when you need us most. Call us today at (941) 444-4444.
Common Causes of Truck Accidents
There are many reasons for all types of auto accidents, and truck crashes are no exception. The damages, however, are often notably greater when a fuel truck is involved in an accident. Irreparable damages and life-changing injuries are not uncommon results of large-scale truck accidents.
Large vehicles are more prone to blind spots than their smaller companions, which makes it more difficult for truck drivers to see hazards with enough time to act appropriately and avoid a crash. As well as this, the sheer weight and scale of a truck give the truck driver more difficulty when making an emergency stop or changing their course so as to avoid smaller vehicles or debris on the road.
Another common cause of truck accidents is other drivers' inability to properly determine the actual size of the truck they are traveling with. This means the smaller vehicle cannot safely maneuver around or beside the truck, creating the chance of a head-on collision or another type of serious accident.
The following are more common causes of fuel truck accidents in Venice, Florida:
The truck was behind a vehicle that made an abrupt maneuver, leaving the driver unable to respond sufficiently.
The truck driver was driving whilst distracted. This may be checking their cell phone, looking at their appearance, or changing stations on the radio.
The truck driver was too tired to be behind the wheel. This is common as trucking companies often break regulations by expecting drivers to work longer shifts than is legal, purely to make a larger profit.
The trucking company failed to train their driver to regulation standards.
The truck's cargo was overloaded, possibly making the vehicle too heavy.
The vehicle had a mechanical malfunction. This can include a number of problems such as faulty brake lights, headlights, or indicators, leaving fellow drivers oblivious to upcoming maneuvers that the truck is going to make.
Maybe the truck driver was driving recklessly and therefore caused the truck accident. Speeding is a common example of reckless driving. If it is found that the truck driver broke their duty of care by failing to drive safely, they may be found entirely responsible for the truck accident. On the other hand, the trucking company may have also had a part to play in the accident by failing to train their driver to regulation standards or maintain the vehicle to a high enough standard.
The truck driver was operating their vehicle whilst driving under the influence.
If you or a loved one has been involved in a fuel truck accident, then you need a truck accident attorney who can properly represent you. At The Law Place, we understand how stressful this period must be for you and your family. Fighting the Florida legal system is a daunting prospect to face, which is why we won't let you do it alone.
No matter the reason for your accident, contact us for a free case evaluation where you will receive impartial legal advice, no-strings-attached. If you were not responsible for your car accident, then you have a great chance of building a strong truck accident lawsuit and receiving the compensation you deserve. Call us today to find out the strength of your truck accident claim.
Dangers of Fuel Truck Accidents
We know that involvement in a truck accident can cause lasting effects. Emotional, financial, physical, and mental damages are likely to be suffered by those affected by a truck crash. However, fuel truck accidents have been seen to cause potentially higher amounts of damage due to their weight, size, and cargo. The impact of a collision can lead to explosions and deadly fires, which create enormous amounts of destruction.
There are many common injuries that a person can endure when faced with a fuel truck collision, including:
Neck and spinal cord injuries.
Burns.
Broken and fractured bones.
Internal bruising and bleeding.
Wrongful death.
We understand that physical injuries cannot be remedied with money, but at least receiving compensation might be able to ease the financial burden you have had to bear as a result. Medical costs and lost income are just two of the consequences the actions of another person can bring into your life. You should not be responsible for the financial hardship that has been forced upon you by the recklessness of another. If we represent you, we will seek to get you the justice that you and your family deserve. We will make sure that all legal documentation and correspondence is taken can of so that you can focus on your recovery. Call us today for a free case evaluation with one of our accident lawyers.
What Is Duty of Care?
Every driver who operates a vehicle on the roads of Florida has a legal responsibility to maintain their duty of care, as per Florida Statute 316.208. This statute seeks to protect the well-being of every driver and passenger who travels across the State of Florida. Duty of care can be defined as the responsibility to protect others on the road from accidents that have the potential to be fatal.
Remember that this statute applies to all vehicles, whether it is a small car or a large commercial fuel truck. If your accident attorney claims that another driver acted negligently and thus broke their duty of care, they will need to provide sufficient evidence for the following:
The victim was owed a duty of care.
The other driver breached this duty of care.
The breach of duty led to an accident that caused the victim's injuries.
Their breach of duty resulted in damages.
If your accident was caused by the actions of another driver, then you need an experienced injury lawyer to review the details of your case. They will be able to collect the evidence that you will need to build a strong case. Call The Law Place today for a free case evaluation and confidential legal advice.
Who Can Be Held Responsible for a Truck Accident?
Oftentimes, determining who is responsible for an auto accident can be challenging. This can become even more difficult in cases where there is extensive damage at the scene of the accident, and with fuel truck collisions, this is usually due to explosions.
Like we have previously seen, there are many reasons as to why your truck accident occurred; driving under the influence, negligent driving, and mechanical defects are only a handful. However, it has been seen that most fuel truck collisions are the fault of the trucking company. A failure to maintain vehicles, asking their drivers to work illegally long shifts, overloading trucks with cargo, and failing to adequately train drivers are, unfortunately, common practices for many companies.
If your accident attorney is able to provide evidence showing that your car accident was caused by the negligence of the trucking company, they will be held responsible. It has to be said, though, that filing a lawsuit against a commercial trucking company can become difficult. However, their actions are all regulated by Federal Motor Carrier Safety Administration, meaning there is a legal body that ensures that they hold legal responsibility for malpractice.
Our team has a wealth of experience in fighting both truck and insurance companies alike. We are confident that in working with us, your case will get the success you need to pay for the damages you are facing as a consequence of someone else's actions. Call us now to schedule your free consultation, no-strings-attached, and get the advice you need to fight your fuel truck accident case.
What Damages Will a Fuel Truck Accident Attorney Help Me to Claim in Venice?
All car accidents have to potential to cause serious damage to those involved. However, a fuel truck accident can have devastating consequences for those involved. At The Law Place, we know how important it is to have a secure recovery process, safe in the knowledge that you do not have to take on the financial stress of fighting a large insurance company. This is why we are passionate about getting our clients the justice they deserve.
A fuel truck accident can have a serious impact on your economic stability, with the repercussions requiring you to pay for expensive medical treatments, many of which your insurance policy will not cover. When working with us, one of our accident lawyers will be able to review your case and estimate the monetary value of the damages you have faced. We will then be able to build a case around the evidence you have, and together we will fight to get you compensation.
The following is a list of the damages that you may be able to claim:
Medical treatment – Unfortunately, medical bills mount up quickly and can continue to grow, depending on the injuries you have sustained. You may be able to claim for a variety of injuries, and in keeping sufficient records, you can claim all appointments, prescriptions, and travel expenses to and from appointments. Furthermore, you may be entitled to claim for past and future expenses that you will face.
Loss of income – As with many truck accidents, your injuries may require you to take time off work. Your personal injury lawyer will be able to determine how much you are entitled to. You have the chance to claim for previous losses as well as future losses of income if your injuries ensure this.
Property damage – Following a fuel truck accident, you will face the cost of repairs to not only your vehicle but any damaged possessions you had at the time of your accident too. Whether it is serious mechanical repairs or a broken cell phone, you have the chance to reclaim the costs of repair.
Pain and suffering – This can be difficult to calculate exactly as it covers the emotional and mental suffering you have faced as a consequence of your accident. However, an experienced personal injury lawyer can help you in evaluating exactly how much you can claim.
Wrongful death – Under Florida Statute 768.21, the family of a victim of a fuel truck accident has the right to claim compensation. Families are often left with large financial burdens that require them to bear the brunt of funeral costs and serious losses of income. This statute allows anyone in this position to seek financial aid.
If your life has been affected by a fuel truck accident in Venice, Florida, then you may be entitled to a substantial sum of compensation. Contacting an accident lawyer is the first step you can take to reclaiming what you have lost. Call The Law Place to schedule a free case evaluation with one of our experienced accident lawyers today.
How Can a Personal Injury Lawyer Help Me?
Determining who is at fault in a fuel truck accident is one of the most difficult parts of a case. In cases where extensive amounts of damage were caused, it can become even harder to pinpoint exactly who should be held responsible. The impact may have caused much of the evidence to have been lost. Unsurprisingly, your insurance company will try to use this to their advantage, taking any available opportunity to reduce the settlement offer they make you. This will also happen if you choose to file a lawsuit against the trucking company that owns the vehicle involved. Large corporations are, ultimately, solely concerned with their profit margin.
It is also important to remember that insurance companies may also attempt to place the blame on you. Florida is a no-fault state, as per Florida Statute 627.7407. This means that an insurance company will review your case and decide on a final settlement figure according to how much blame is placed on each party. Therefore, if you are found to be 20% responsible, say for speeding, then your final settlement will be reduced by this percentage. A $20,000 settlement will become $16,000. For this reason, many insurance companies ensure that some blame is placed on the claimant.
By working with one of our law firm, you will have the representation of an experienced personal injury attorney who can review the evidence and build a case strong enough to fight money-hungry corporations. Our free case evaluation service will give an opportunity to have a lawyer look at the details of your claim and determine how strong your case is.
We will calculate how much you are owed and build your case around the strongest evidence available. Throughout the entire process, you will have someone with whom you can express any queries or concerns. Furthermore, in working with us, you will always have a representative who can file all necessary paperwork, as well as communicate with your insurance provider or any other parties involved.
Do not let the negligence of another driver affect your life any longer. Call us today and let us help you navigate Florida's complex legal system with ease. We are here for you day and night.
Contact The Law Place Today
If you or a loved one has been involved in a fuel truck accident in Venice, Florida, that wasn't your fault, then you need the help of an experienced personal injury lawyer. So often, the reckless actions of commercial truck companies go without serious consequences. Do not let these large corporations affect your life and go unpunished.
At The Law Place, our team of lawyers has the experience you need to take on commercial businesses with confidence. We are committed to helping our clients receive the compensation they deserve in the wake of a life-changing accident. Our attorney-client relationships are extremely important to us. That is why we strive to use our combined knowledge to provide the best impartial advice available.
Call The Law Place today and schedule a free consultation with a member of our team. With our phone lines open 24 hours a day, 7 days a week, we are here for you whenever you need us. Phone us now at (941) 444-4444.