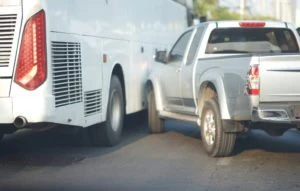 All car accidents are dangerous and have the potential to leave those involved suffering from serious injuries, but the consequences of bus accidents are usually more severe. This is because buses are much larger and heavier, meaning they cause more destruction when involved in an accident and can often result in fatalities.
Because of how devastating the effects of a bus accident can be, it's crucial that if you or a loved one have been involved in a collision, you contact The Law Place as soon as possible. If you were not at fault for the crash, then you may have a right to compensation that will cover the damages you have endured. We know that financial compensation won't fix your trauma, but it will help you deal with the financial burdens it's left you with and serve as proof that justice has been served.
The personal injury lawyers at The Law Place have over 75 years of combined experience in dealing with the Florida legal system and successfully helping clients secure the compensation they deserve. Filing a personal injury claim in Florida can be difficult, which is why you should not hesitate to get in touch with us. By hiring The Law Place, you'll be ensuring that a reputable law firm will be entirely dedicated to fighting for your rights. We offer free consultations for anyone who believes they may have a personal injury claim based in North Port, so don't delay in scheduling your case evaluation.
Call us now at (941) 444-4444! Phone lines are open 24/7.
Types of Bus Accidents in Florida
There are many different types of buses that can often be encountered by drivers in their day-to-day lives. However, all these buses have the potential to cause extreme damage to people and regular vehicles.
According to the Federal Motor Carrier Safety Administration, the following buses are most commonly involved in bus accidents in North Port, Florida:
School bus – These accounted for 40% of buses that are involved in fatal crashes across the country from 2007 to 2017.
Transit bus – These accounted for 35% of buses that are involved in fatal crashes across the country from 2007 to 2017.
Intercity bus – These accounted for 13% of buses that are involved in fatal crashes across the country from 2007 to 2017.
Regardless of the type of bus that caused the accident you were involved in, you may be entitled to compensation. To discuss your specific case in detail with an experienced personal injury attorney, contact The Law Place today and schedule a free, no-obligation consultation.
Common Causes of Bus Accidents in North Port, FL.
Although they should have specialized training, bus drivers aren't immune to the same problems that can cause regular car accidents. Such as:
Fatigued drivers.
Poor weather and/or road conditions.
Inadequate training.
Distracted driving.
Reckless or aggressive driving.
Driving under the influence.
Failure to yield.
However, the driver of the bus involved isn't always the reason for the crash. Bus accidents may also occur because of the bus company if they have unrealistic expectations or don't adequately maintain the bus. Furthermore, the bus manufacturer may be at fault if they did not correctly build the bus or used defective parts, or the accident may even be the fault of another negligent driver.
Regardless of the reason for the accident, you will be entitled to compensation if the accident was caused by someone else's negligence. If you have been in a bus accident in or around North Port, then you should call us at The Law Place for a free consultation today.
What Injuries Can a Florida Bus Accident Cause?
Buses are extremely large vehicles that often dwarf most other vehicles that are on the road. If you get in a collision with any type of bus, then there is an even higher possibility for extreme damage than in regular car accidents. Most bus accidents that involve cars end badly, especially for the people in the smaller vehicle. Many are left with severe injuries, and sometimes the accidents can even result in fatalities.
Some of the most common injuries sustained in bus accidents are listed below:
Burns, lacerations, cuts, bruises, and sprains.
Whiplash and other neck injuries.
Concussions.
Brain damage and head trauma.
Separated joints.
Spinal cord injuries.
Amputations.
Internal bleeding.
Internal organ damage.
Wrongful death.
Regardless of how minor your injuries may have been, you should be aware that you can always seek compensation for any injuries you received in a car accident. Our personal injury attorneys at The Law Place have the extensive knowledge necessary to fight for your rights and secure the justice that you deserve. So contact our law firm today to schedule a free case evaluation!
Determining Who Is at Fault in a Florida Bus Accident
It's possible that numerous parties are at fault for the bus accident you were involved in. Therefore, before you file a claim, you and your personal injury lawyer need to determine who is liable for your accident. Otherwise, your case is unlikely to stand up in court. To be able to do this, you need to work with an experienced accident lawyer, like those at The Law Place. We will gather evidence and speak to witnesses in order to establish what happened during the crash and who was was at fault.
The parties listed below are most likely to be held liable for the bus accident:
The bus driver – The crash may have been caused by an operator error. They may have been distracted or fatigued, or they may have just made a poor judgment.
The bus company – If the company that manages the bus failed to provide proper maintenance, then they may be liable for the accident and your damages.
The bus manufacturer – If the manufacturer poorly built or used defective parts for the bus, then the crash could have been their fault.
Another reckless or negligent driver – There may have been another party involved in the accident that may have driven into the bus or caused the accident in another way.
Often, it can be difficult to determine who is at fault in bus accidents, which is why you need the help of an accident attorney. Our knowledgeable team will be able to guide and support you through the complex legal process from start to finish.
Florida's Comparative Negligence Laws
The legal system in North Port, Florida, works within a comparative fault system, which is described in Florida Statute 768.81. This means that more than one party can be found at-fault for an accident, even if you were a victim. If you are found to be less than 50% at fault, then you will still be able to make a claim, but your settlement will be reduced by the same percentage that you are deemed to be at fault.
This means that if you were judged to be 20% at blame, for example, then you can still file a claim, but your final settlement will be reduced by 20%.
The opposing party's insurance companies will attempt to argue that you were largely at fault, which is why we highly recommend that you hire an attorney to ensure that they don't take advantage of you and that you win as much compensation as possible. So contact The Law Place today to book a free consultation.
Issues You May Face in a Bus Accident Case
No case is easy to resolve, and bus accident lawsuits are no different. It can be particularly difficult to determine liability. There are some reasons for this:
The bus driver is usually not the liable party – The bus company is usually liable for accidents caused by the driver unless the bus driver is an independent contractor.
The company's financial losses may be significant – Unsurprisingly, a bus accident can result in very significant losses for a bus company, meaning you should expect them, their insurance company, and their legal team to fight determinedly to avoid paying you all that you deserve.
Our legal team has extensive experience in handling bus accident cases over many years, and this has allowed our accident lawyers to become familiar with the ways an insurer may try to avoid paying out. This means that our law firm will be able to counter the tactics they use to protect our clients' rights and chances at compensation.
Losses You May Be Able to Recover After a Florida Bus Accident
If you or a loved one were a victim of a bus accident that was not your fault, then our law firm wants to help you secure the compensation that you deserve. We want you to be able to focus on healing without the stress of any added financial burden that the accident may have caused, so call us today.
The most common damages that The Law Place wins compensation for are listed below:
Medical bills – You may be entitled to receive compensation to cover surgeries and other medical expenses you incurred while being treated for injuries caused by the accident.
Loss of wages – If you couldn't attend work, then you deserve to have your lost wages or benefits covered.
Lost earning capacity – If your injuries mean you cannot work as many hours, or you need to take a lower-paying job, or you had to completely retire, then you deserve compensation.
Pain and suffering – You may be experiencing physical pain or emotional trauma from the accident that you deserve compensation for.
Property damage – If your vehicle was damaged in the collision, then any costs for required auto repairs or vehicle replacement should be covered.
Wrongful death – If you lost a loved one in the accident, then you may be entitled to compensation to cover funeral expenses and loss of consortium.
If you were involved in a bus accident that was someone else's fault, then you should not have to face the consequences alone. Compensation may not be able to heal your injuries and trauma, but it will be able to help you financially and serve as some proof that justice has been served. We know that the losses caused by a bus accident can be life-changing, so contact an attorney from The Law Place to get guidance and support through the legal process. Call today for a free consultation.
What Will The Law Place Do for Me?
The first thing The Law Place will do is offer you a free consultation so that you can sit down with one of our experienced attorneys to discuss the details of your case and the legal options available for you. We will also be able to roughly assess how much compensation you could be entitled to.
After this consultation, you will be able to decide whether you want to continue working with our law firm. If you do choose to, we will arrange another meeting with you, where we will be able to explore the accident in much more detail. Our team will take charge of your case by gathering evidence, interviewing witnesses, and liaising with all parties that are involved. This will mean you can relax and focus on healing, knowing that professionals are dealing with your case.
So don't hesitate. Give yourself the best chance at securing the compensation you deserve by scheduling a free case evaluation with The Law Place today.
Contact The Law Place, North Port, FL!
At our law firm, we take all personal injury claims seriously. We are determined to win your case and fight for everything that you deserve. Therefore, if you or a loved one was injured in a bus accident in North Port, you should contact The Law Place to speak to a skilled accident attorney.
With years of experience, and in-depth knowledge of the Florida legal system, we may be your best chance at securing justice and compensation. Our phone lines are available 24 hours a day, 7 days a week, so don't delay! Contact us today to schedule a free consultation at (941) 444-4444!